WonderCon 2023: Harry Potter – Hedwig with Letter Funko Pop!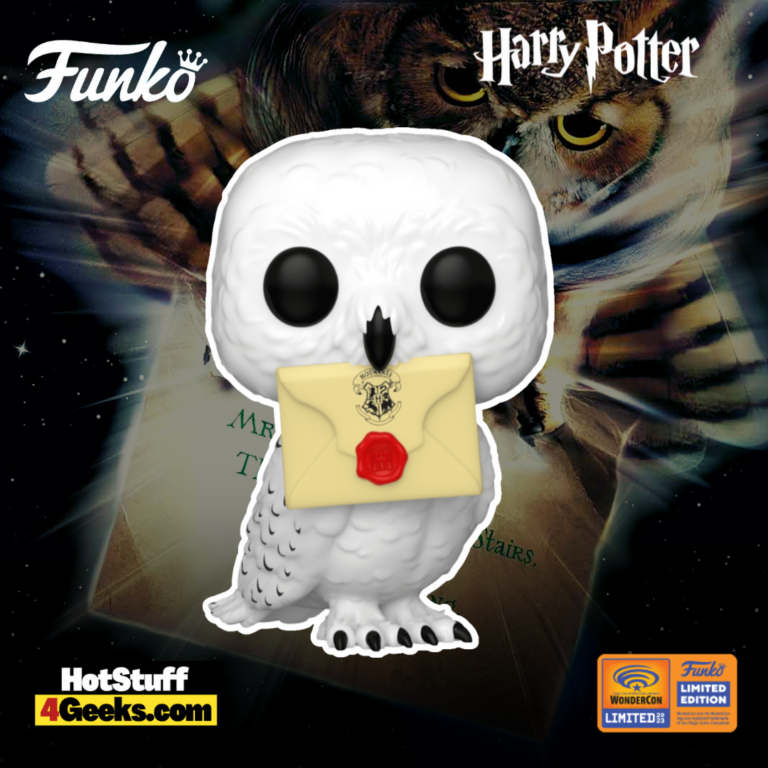 The new Funko POP! Harry Potter – Hedwig with Acceptance Letter Funko Pop! Vinyl Figure – WonderCon 2023 and Funko Shop Shared Exclusive will be available online starting at 6 AM PT on Friday, March 24, at the links below (click to jump!)
A Funko Pop! version of everyone's favorite snowy owl, Hedwig, along with an acceptance letter to Hogwarts, is bringing joy to Harry Potter.
This collectible reminds us of Harry's dreams of attending the wizard school that helped shape his destiny.
Just imagining the scene of seeing Hogwarts' iconic letter coming through the mail slot elicits chills and anticipation.
For younger fans who haven't yet experienced or don't fully appreciate the story, it's an exciting introduction to a world full of magic and endless possibilities.
Regardless of whether you consider yourself a Potterhead newbie or devout patronus, this special edition Funko Pop! is a delightful tribute to one of literature's greatest hero stories.
This Funko Pop! is not only a wonderful addition to any collection but also a reminder of why countless people fell in love with the spellbinding universe created by J. K. Rowling in the first place.
The Wondrous Comic Con 2023 exclusive Hedwig with Acceptance Letter Funko Pop! can be found at the links below as soon as the online sale begins (click to jump!)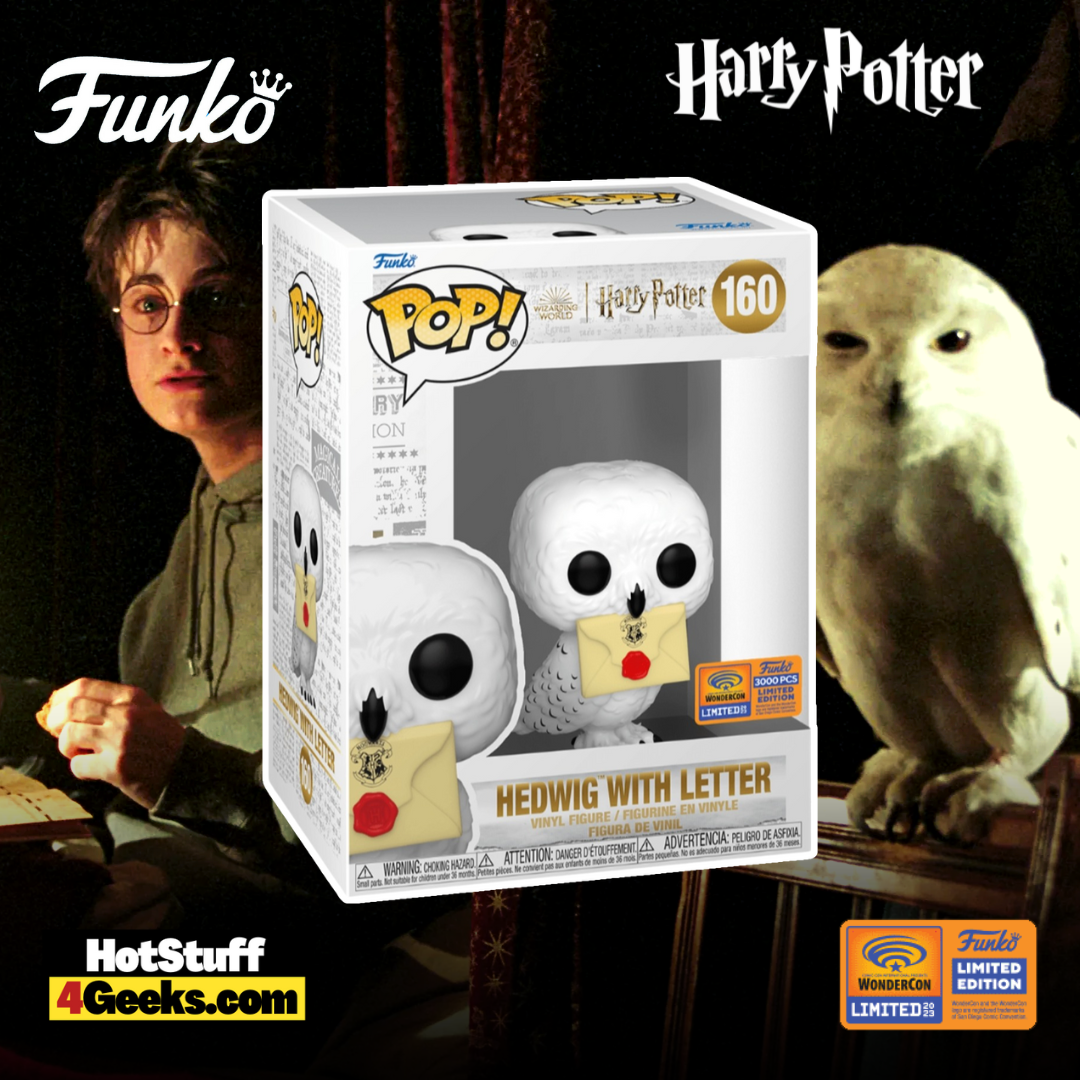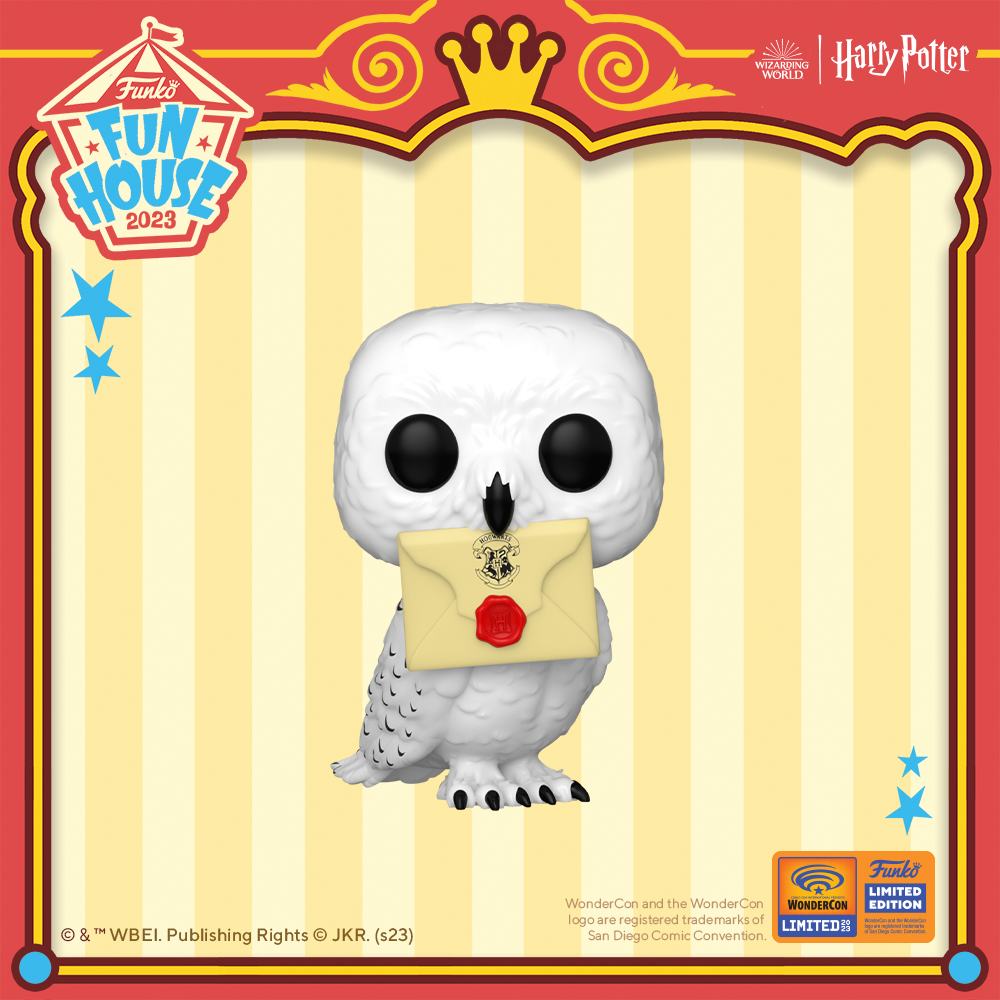 For anyone who has ever felt like they don't quite fit in, Harry Potter's story is a reminder that destiny can arrive in unexpected ways.
For Harry, that moment of truth came when he received his acceptance letter to Hogwarts School of Witchcraft and Wizardry.
And who could forget the magical delivery by Hedwig, the snowy white owl who quickly became Harry's loyal companion throughout his journey as a wizard?
The acceptance letter was a wonder, with its emerald green ink and official seal.
It was the key that would unlock the door to a magical world that Harry never even knew existed.
After years of feeling like an outsider, Harry finally found where he belonged, a place where his unique talents and abilities could be nurtured and celebrated.
But it was Hedwig who truly brought the letter to life.
With her wise and knowing eyes, the loyal owl quickly became one of the most beloved characters in the Harry Potter series.
Her affectionate nips and soothing hoots were a constant source of comfort for Harry as he navigated the challenges of being a young wizard in a world filled with dark forces.
As Harry boarded the Hogwarts Express and left Privet Drive behind, it was clear that his life would never be the same.
With each passing year at Hogwarts, Harry grew stronger, more confident, and more skilled in the ways of magic.
And through it all, Hedwig was there by his side, delivering messages and providing a sense of home in a world that could be frightening and unfamiliar.
Of course, as any true Harry Potter fan knows, Hedwig's story doesn't end happily.
Her sacrifice in the Battle of Hogwarts is a poignant reminder of the high stakes in the wizarding world and the deep bonds that can form between human and animal companions.
But even in death, Hedwig remained a symbol of hope and love, a reminder that the magic of Harry Potter's world lives on long after the final page is turned.
Ultimately, Harry Potter, Hedwig, and the acceptance letter are more than just a story about a young wizard.
They are a reminder that each of us has the potential to be extraordinary, that destiny can arrive in unexpected ways, and that the bonds of friendship and love can transcend even the darkest of times.
So let us all embrace the magic of Harry Potter's world and never forget the power of believing in ourselves and each other.
You can check all the Wondercon 2023 Funko releases here.
Funko POP! Harry Potter – Hedwig with Acceptance Letter Funko Pop! Vinyl Figure – WonderCon 2023 and Funko Shop Shared Exclusive
Available at:
Starting now, you can receive 10% off in-stock items with my special link at Entertainment Earth!
 Enjoy!
As an Amazon Associate I earn from qualifying purchases
Want more stuff like this?
Get the best viral stories straight into your inbox!
Don't worry, we don't spam