WonderCon 2023: Jujutsu Kaisen – Satoru Gojo Funko Pop!
The new Funko POP! Animation: Jujutsu Kaisen – Satoru Gojo Funko Pop! Vinyl Figure – WonderCon 2023 and Hot Topic Shared Exclusive will be available online starting at 6 AM PT on Friday, March 24, at the links below (click to jump!)
This new Satoru Gojo Funko Pop! is as awesome as you could have hoped for. This stunning figure captures all the power and style of the iconic sorcerer, complete with his trademark stoic pose, cool Gi, and signature rat-tail hairstyle.
For those of you who haven't yet seen Jujutsu Kaisen, it's an anime series that follows the story of a young high school student named Yuji Itadori.
After coming into contact with a cursed object, Yuji becomes possessed by a powerful curse spirit, forcing him to join a secret organization of sorcerers tasked with exorcising cursed beings from the world.
Along the way, he meets Satoru Gojo, a legendary sorcerer known for his incredible powers and enigmatic personality.
Thanks to his striking appearance and devastatingly powerful jujutsu techniques, Satoru Gojo quickly became a fan favorite among Jujutsu Kaisen viewers.
And now, thanks to the new Satoru Gojo Funko Pop!, fans can bring home a little piece of that magic for themselves.
The Wondrous Comic Con 2023 exclusive Satoru Gojo Funko Pop! can be found at the links below as soon as the online sale begins (click to jump!)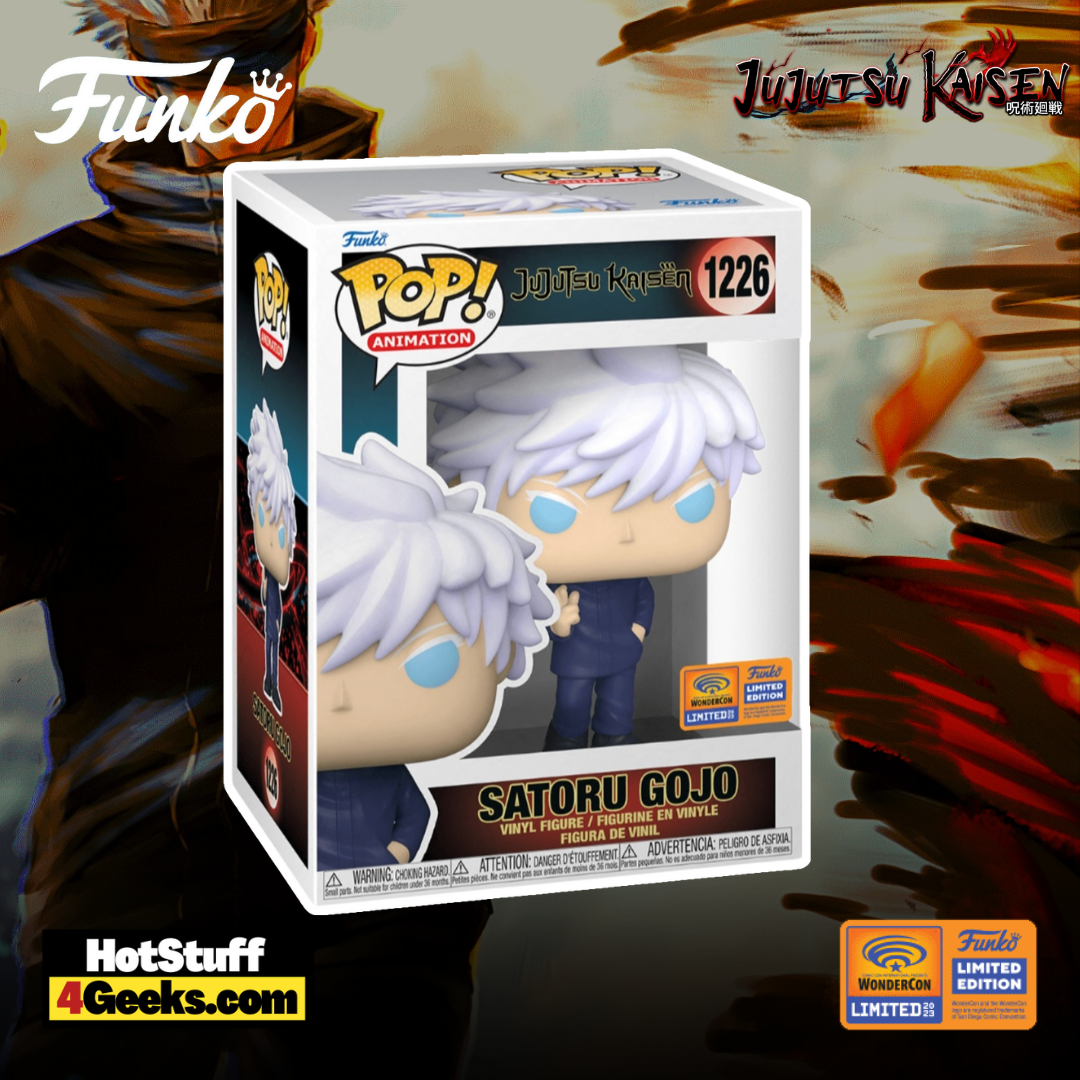 Jujutsu Kaisen has become a worldwide sensation, captivating audiences with its unique blend of supernatural action and gripping storytelling.
One of the series' standout characters is Satoru Gojo, a legendary Jujutsu Sorcerer who mentors young students at Tokyo Prefectural Jujutsu High School.
From the very first scene of Jujutsu Kaisen, it's clear that Satoru Gojo is no ordinary sorcerer.
When he confronts the cursed spirit Ryomen Sukuna, who has possessed the body of high school student Yuji Itadori, Gojo effortlessly overpowers the powerful demon with nothing but his bare hands.
And in a later battle against the evil sorcerer Juzo, Gojo severs all four of Juzo's limbs with ease, showcasing his incredible physical strength and skill.
But Gojo's powers aren't limited to his impressive physical abilities.
He also possesses an unbreakable defense, as demonstrated when he withstands a massive blast of cursed energy that destroys an entire building.
And in his battle against the fiery cursed spirit Jogo, Gojo creates a protective energy bubble that repels even the most intense heat and flames.
Perhaps most impressive of all, however, are Gojo's techniques based on infinity.
Using his powers to create an "infinite distance" between himself and his opponents, Gojo effectively renders himself invulnerable to attack.
Throughout the entire first season of Jujutsu Kaisen, not a single opponent is able to land a hit on him, thanks to his incredible defense and strategic use of infinity-based techniques.
What makes Satoru Gojo such a fascinating character is his incredible powers and how they are rooted in a unique and thought-provoking concept.
The idea of infinity adds a layer of depth and complexity to Gojo's character, elevating him from a mere action hero to a truly compelling protagonist.
You can check all the Wondercon 2023 Funko releases here.
Funko POP! Animation: Jujutsu Kaisen – Satoru Gojo Funko Pop! Vinyl Figure – WonderCon 2023 and Hot Topic Shared Exclusive
Available at:
Starting now, you can receive 10% off in-stock items with my special link at Entertainment Earth!
 Enjoy!
As an Amazon Associate I earn from qualifying purchases
Want more stuff like this?
Get the best viral stories straight into your inbox!
Don't worry, we don't spam