WonderCon 2023: Marvel's Moon Knight – Taweret Funko Pop!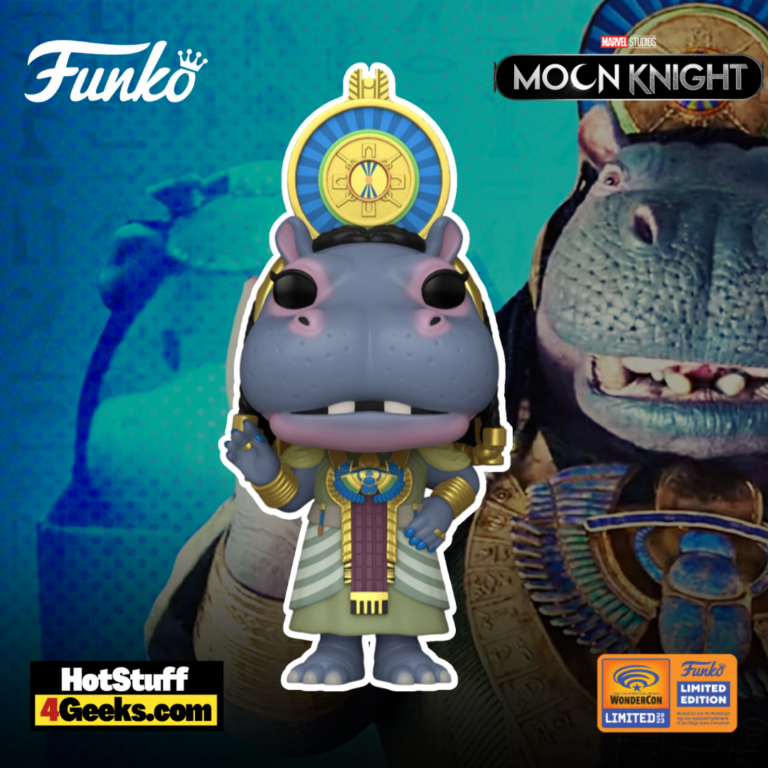 The new Funko POP! Marvel Studios Moon Knight – Taweret Funko Pop! Vinyl Figure – WonderCon 2023 and Target Shared Exclusive will be available online starting at 6 AM PT on Friday, March 24, at the links below (click to jump!)
Moon Knight's TV series has introduced a new Egyptian deity to the Marvel Cinematic Universe – Taweret, the friendly hippopotamus goddess who appears at a critical moment for Marc Spector and Steve Grant in the fourth episode.
After losing his connection with Khonshu and failing to stop Arthur Harrow from reaching Ammit's tomb, the hero finds himself in a mental hospital, with his sanity even more fragile.
Her arrival has certainly made one thing clear – no matter how dark or dangerous the situation may seem, there's always something out there that can help right wrongs and bring balance back into the world.
So fans of Marvel Comics can rejoice with the release of the Taweret Funko Pop! inspired by Marvel Studios' hit streaming series, Moon Knight.
This new figure offers an intriguing take on the comical character and will draw a lot of attention from avid Funko collectors.
The Wondrous Comic Con 2023 exclusive Taweret Funko Pop! can be found at the links below as soon as the online sale begins (click to jump!)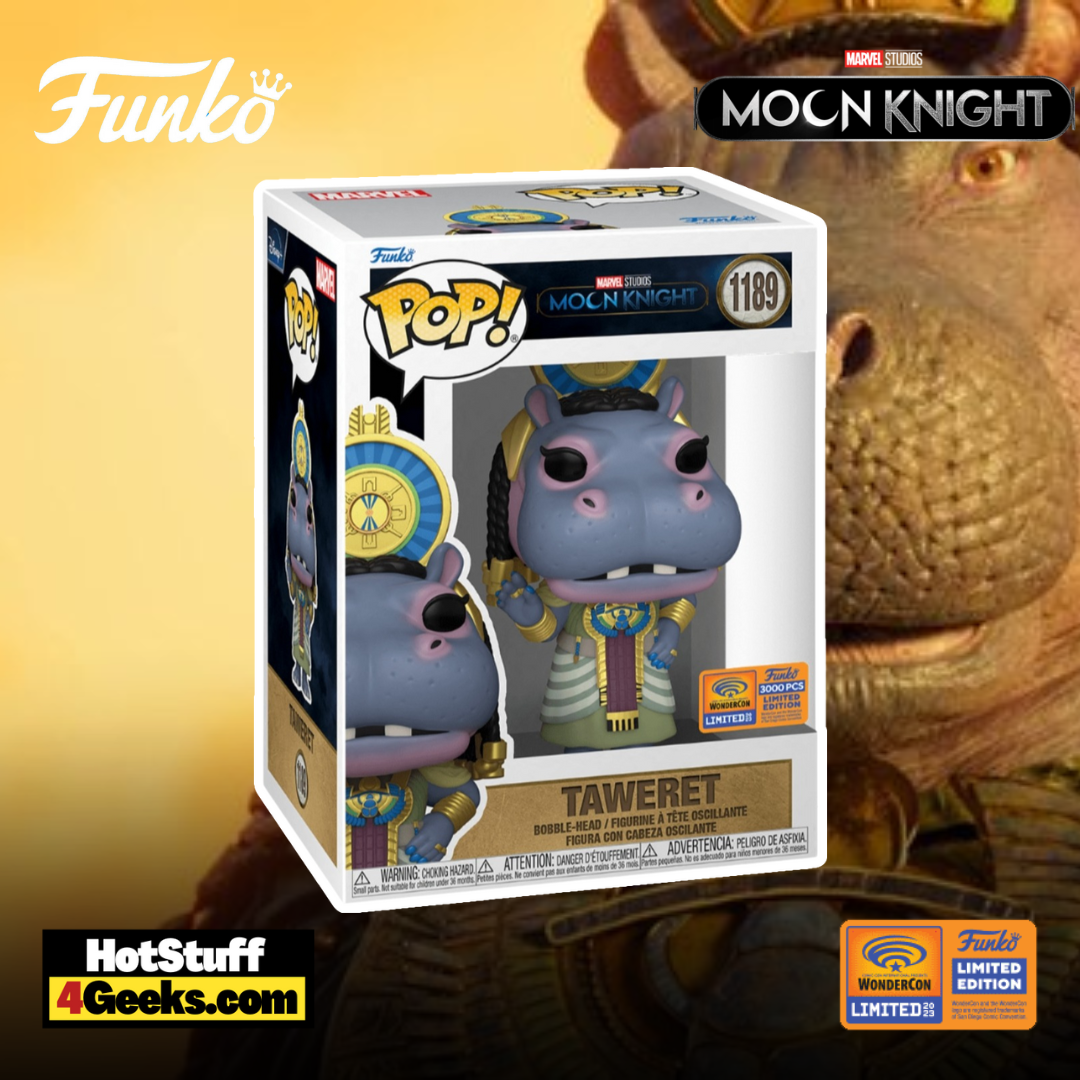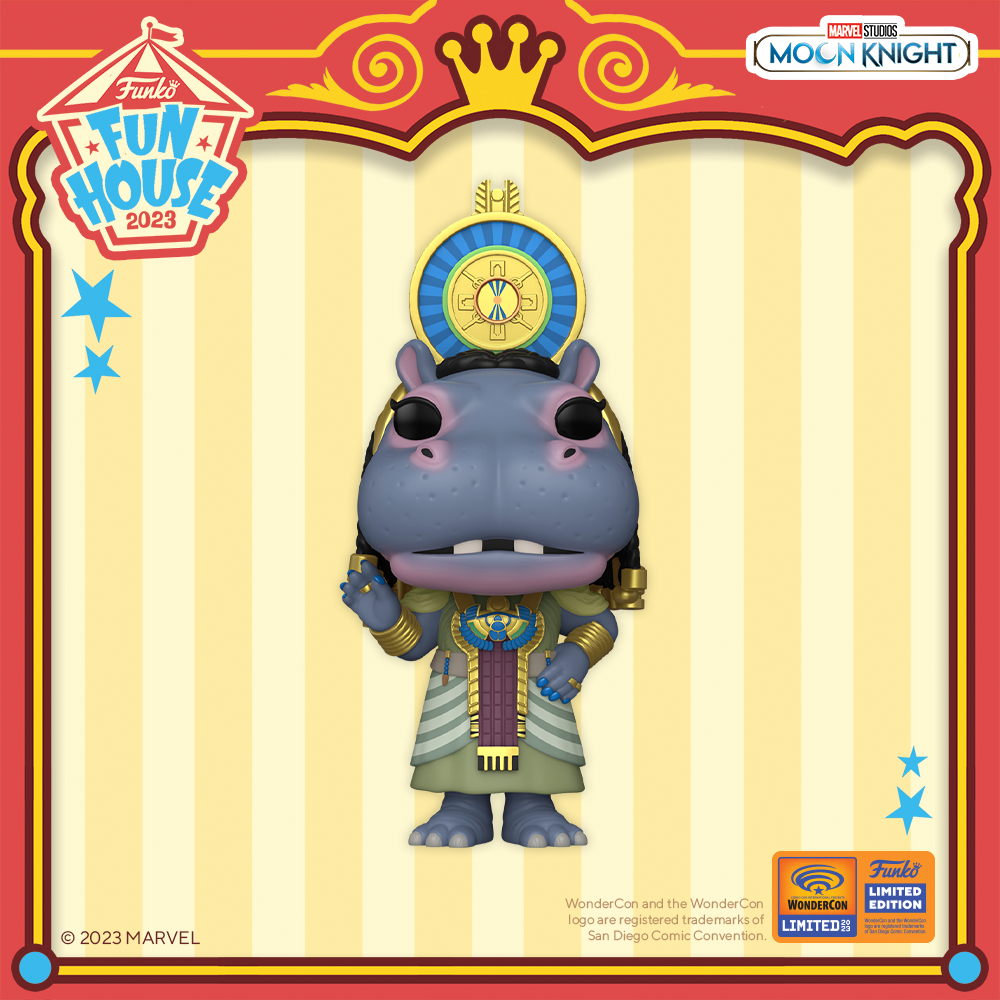 The introduction of Taweret in Moon Knight's fourth episode has left fans of the series both intrigued and curious about the role she will play in the show's plot.
As a goddess of fertility and rejuvenation, Taweret is known for her fierce nature and her ability to protect women and families.
But what else do we know about this newly-introduced Egyptian deity in the Marvel Cinematic Universe?
Taweret, also known as "the great one," was a prominent goddess in ancient Egyptian mythology.
She was often depicted with a hippopotamus head, a lion's arms, and a crocodile's tail and legs.
As the protector of women and children, she was worshipped throughout Egypt as a fierce god who could help during childbirth and ward off evil spirits.
Many Egyptian women wore her amulet to protect themselves and their children from harm.
Taweret was also associated with the Nile River, as she was believed to have the power of renewal and could bring about life through the river's annual flooding.
She was often referred to as "She Who Removes Water," as she could control the river's water levels and bless and cleanse the dead, guiding them through the afterlife and back to the land of the living.
While Taweret is not a well-known character in Marvel Comics, she is referenced in Moon Knight's first episode when Steven is working in the gift shop.
When his museum boss mistakes the plush toys resembling hippos as just that, Steven corrects her, informing her that they are actually representations of the Egyptian goddess Taweret.
In the fourth episode, Taweret makes a more prominent appearance as she opens a door for Marc Spector and Steven Grant in the mental institution afterlife they find themselves in.
As a powerful goddess of protection and renewal, Taweret brings a unique and compelling element to the series, adding depth and intrigue to an already thrilling psychological adventure show.
As a protector of women and families and a powerful force of renewal and rebirth, Taweret adds a fascinating and engaging layer to the already intriguing world of Egyptian mythology in the Marvel Cinematic Universe.
You can check all the Wondercon 2023 Funko releases here.
Funko POP! Marvel Studios Moon Knight – Taweret Funko Pop! Vinyl Figure – WonderCon 2023 and Target Shared Exclusive
Available at:
Starting now, you can receive 10% off in-stock items with my special link at Entertainment Earth!
 Enjoy!
As an Amazon Associate I earn from qualifying purchases
Want more stuff like this?
Get the best viral stories straight into your inbox!
Don't worry, we don't spam