WonderCon 2023: Powerline Diamond Glitter Funko Pop! & Bag
The new Funko POP! Disney: Powerline Diamond Glitter Funko Pop! & Glow-In-The-Dark Bag Vinyl Figure – WonderCon 2023 and Funko Shop Shared Exclusive will be available online starting at 6 AM PT on Friday, March 24, at the links below (click to jump!)
If you were a child of the 90s, chances are you've heard of Powerline. The electrifying artist was the fictional pop sensation in Disney's hit film A Goofy Movie.
With his iconic red suit and dazzling dance moves, Powerline captivated audiences and left an indelible mark on pop culture.
Now, movie fans can relive their childhood memories and dance with their musical idol thanks to the new Powerline Pop! and Diamond Glitter Pop! & Glow-In-The-Dark Bag set.
This collectible set features Powerline in his signature yellow suit, complete with a Diamond Glitter finish that sparkles in the light.
But that's not all! The set also includes a matching Glow-In-The Dark Loungelfy Mini Backpack to carry him around in style.
With this set, you can take Powerline wherever you go, so you're always ready for an impromptu dance party.
The Wondrous Comic Con 2023 exclusive Powerline Diamond Glitter Funko Pop! & Bag can be found at the links below as soon as the online sale begins (click to jump!)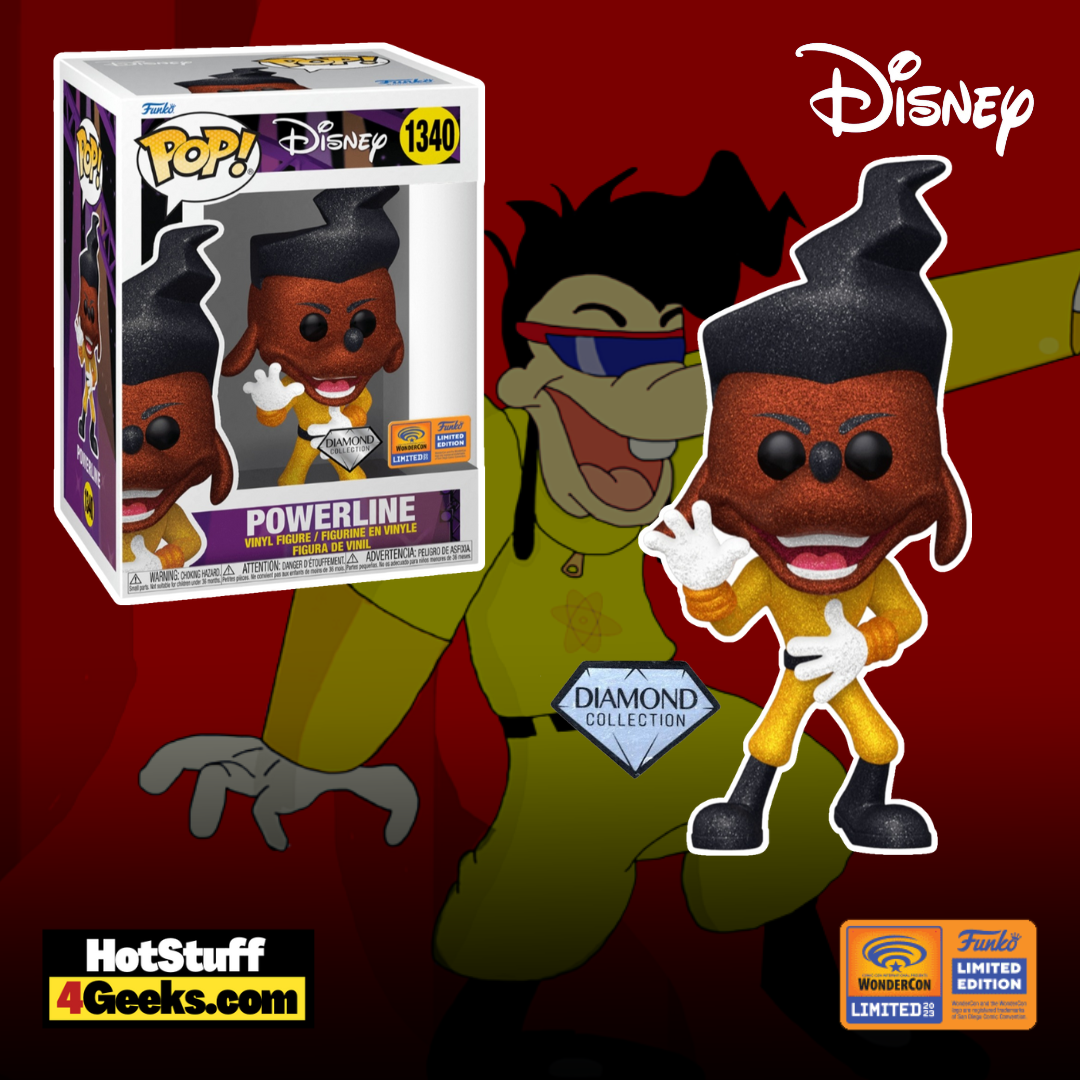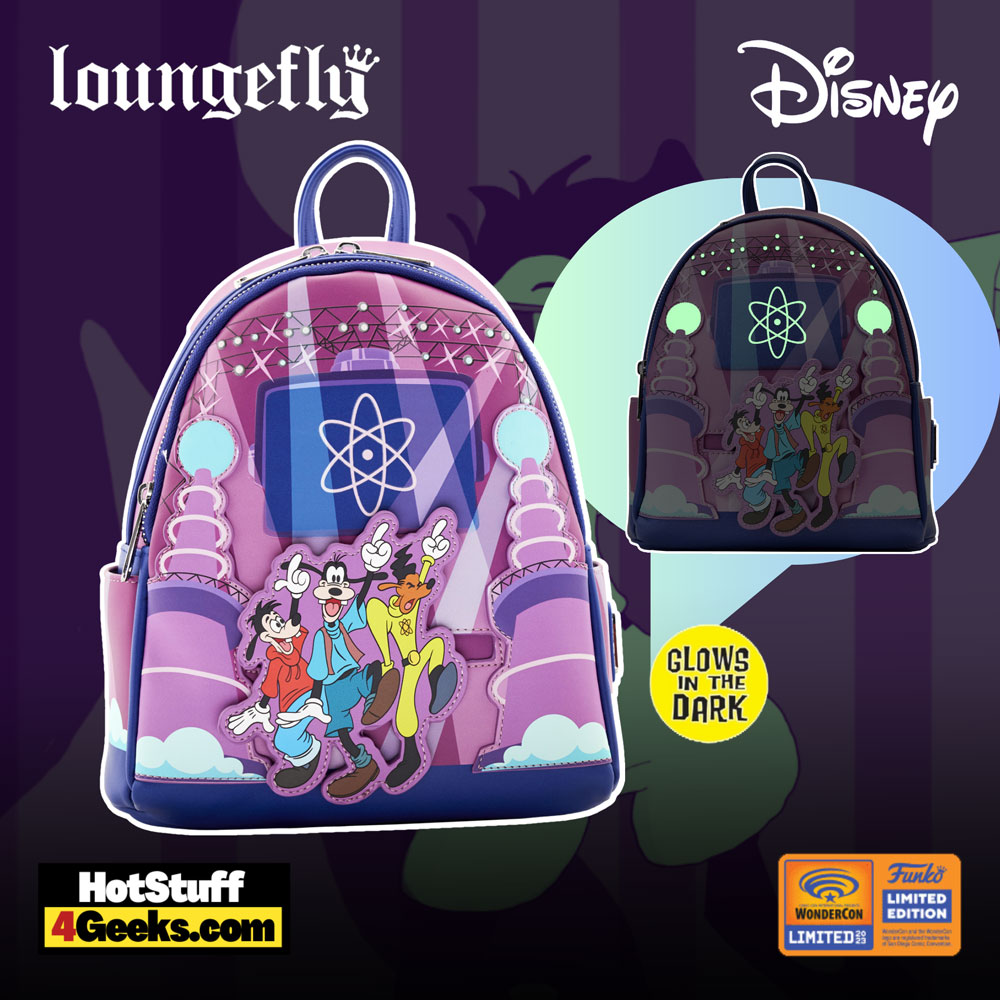 In 1995, Disney released a film that would become a classic among kids and adults: A Goofy Movie.
One of the standout characters in the film is Powerline, an animated musical sensation who was the central figure in a dream sequence that Goofy imagines his son Max performing in.
Powerline's influence has endured over the years despite being a fictional character, inspiring generations with his catchy tunes and signature style.
Voiced by real-life pop star Tevin Campbell, Powerline was the ultimate rockstar.
His hits "Stand Out" and "Eye to Eye" have become instant classics with their upbeat rhythms and catchy lyrics.
His performances were electric, with his signature dance moves and vibrant outfits that screamed 50's rock 'n' roll.
He was everything a young viewer could want in a hero: cool, confident, and always ready to put on a show.
One of the most exciting things about Powerline is that his identity is never revealed.
We never learn who is behind the superstar persona, which has led to much speculation and fan theories.
Some have suggested that he was based on real-life performers such as Michael Jackson or Prince, while others believe he was an original creation by the animators at Disney.
Regardless of who inspired the character, there is no denying his impact on the film and its audience.
Perhaps the most enduring legacy of Powerline is how he brought classic 50's rock 'n' roll themes back to the forefront of popular culture.
His performances were a throwback to the golden age of rock 'n' roll, with their energetic beats and slick guitar riffs.
For many young viewers, Powerline was their first exposure to this genre of music, and his influence can still be felt today in the many artists who draw inspiration from this era.
Even after nearly 28 years since the release of A Goofy Movie, Powerline remains an iconic image associated with the film.
He also has inspired countless Halloween costumes, fan art, and even a line of merchandise.
You can check all the Wondercon 2023 Funko releases here.
Funko POP! Disney: Powerline Diamond Glitter Funko Pop! & Bag Vinyl Figure – WonderCon 2023 and Funko Shop Shared Exclusive
Available at:
Starting now, you can receive 10% off in-stock items with my special link at Entertainment Earth!
 Enjoy!
As an Amazon Associate I earn from qualifying purchases
Want more stuff like this?
Get the best viral stories straight into your inbox!
Don't worry, we don't spam