WonderCon 2023: Snagglepuss Funko Soda with Flocked Chase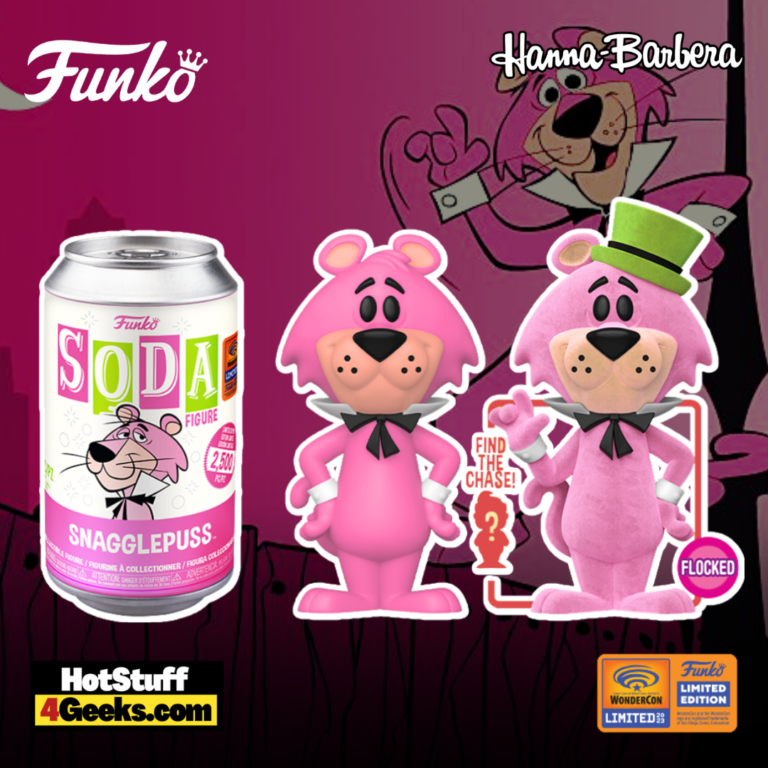 The new Funko POP! Hanna-Barbera – Snagglepuss with Flocked Chase Funko Soda Vinyl Figure – WonderCon 2023 and Funko Shop Shared Exclusive will be available online starting at 6 AM PT on Friday, March 24, at the links below (click to jump!)
If you're a fan of Hanna Barbera's classic cartoon characters, you will surely want the Snagglepuss with Flocked Chase Funko Soda Vinyl Figure in your collection!
This limited edition figure recreates the pink mountain lion with his signature southern drawl. It will surely be a coveted piece among collectors and fans who have grown up watching Snagglepuss.
And with the popularity of all things Hanna-Barbera currently in full swing again,n now is an ideal time to get in on the action with the captivating Snagglepuss Funko Soda Pop!
Whether you're an avid collector or are just looking to bring back some nostalgia from your childhood, this fun figure is perfect for adding a little personality to your collection.
The Wondrous Comic Con 2023 exclusive Snagglepuss Funko Soda with Flocked Chase can be found at the links below as soon as the online sale begins (click to jump!)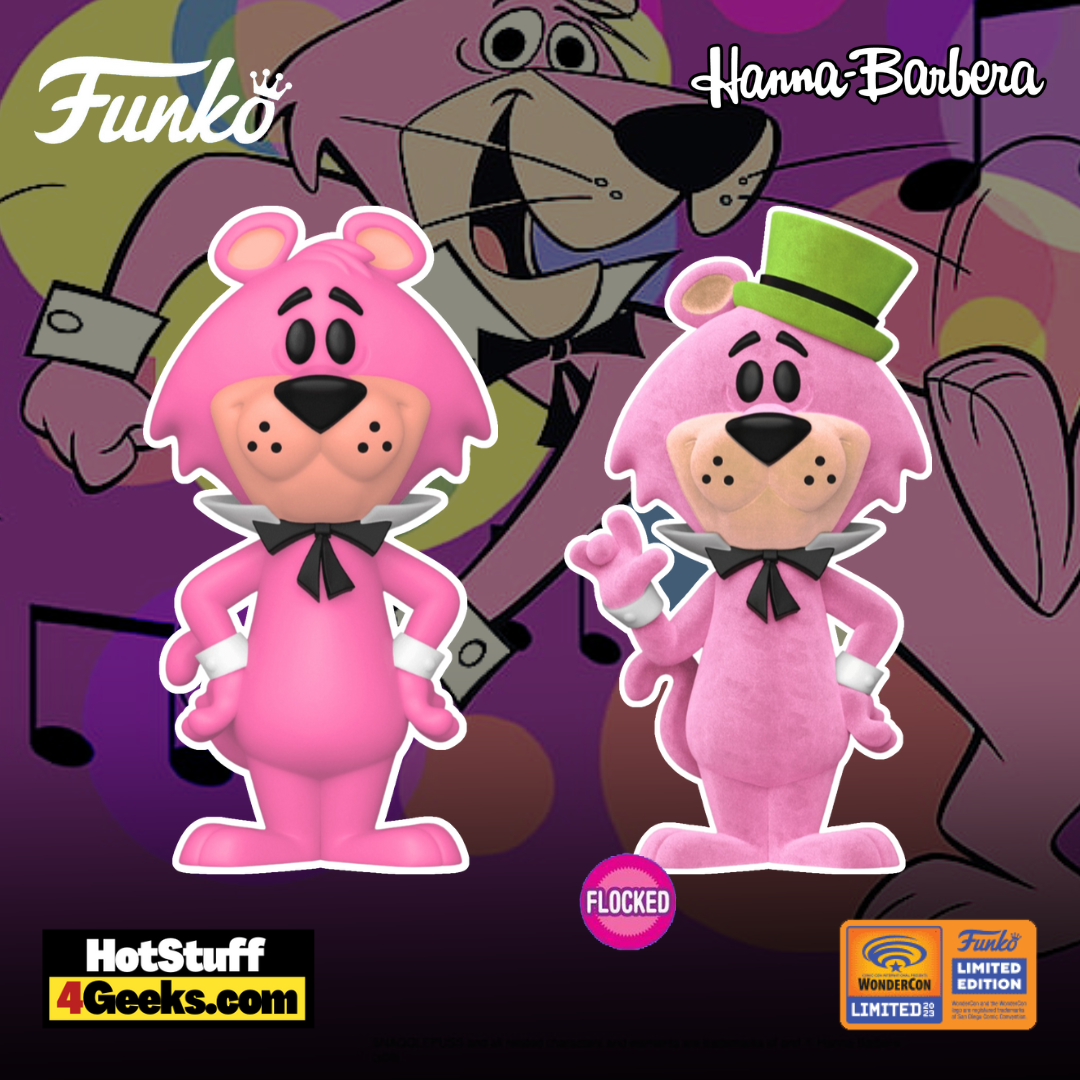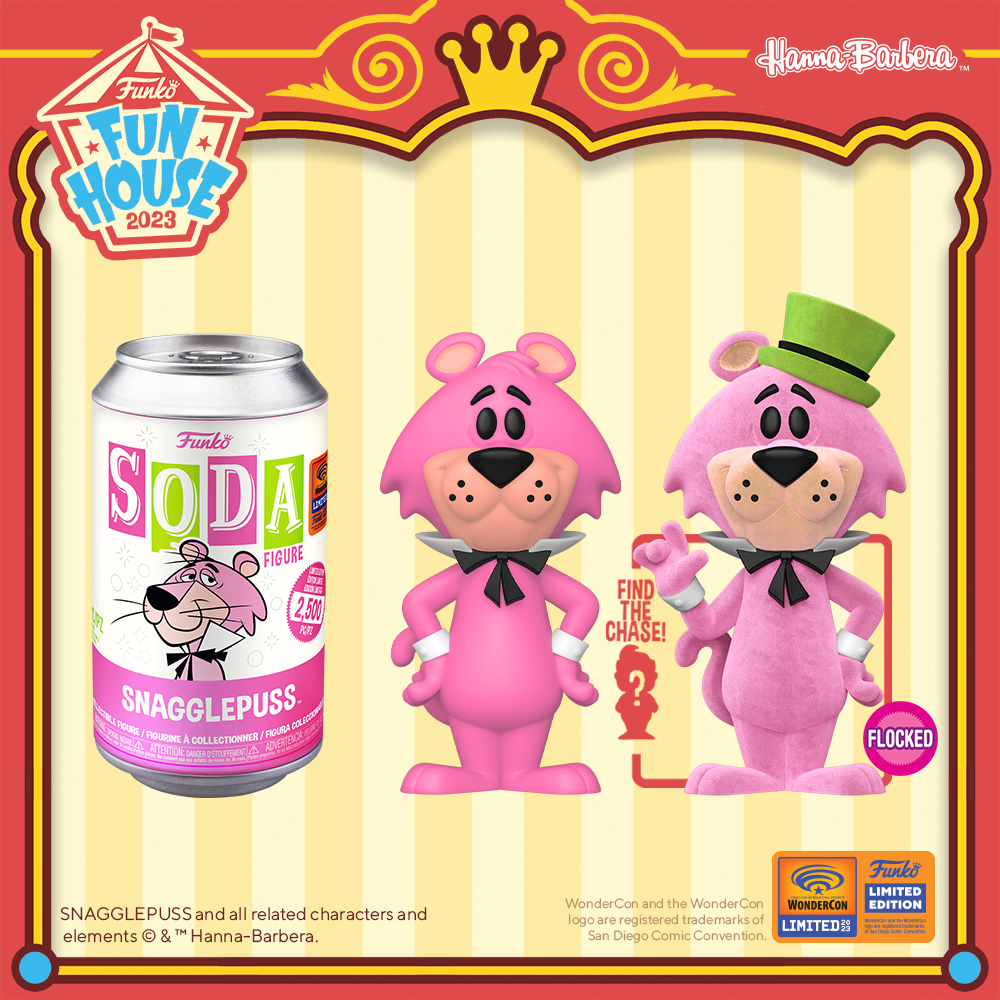 Welcome, my fellow cartoon lovers!
First introduced in the 1950s, Snagglepuss quickly became a fan favorite with his unique voice and charming personality.
Voiced by Daws Butler, who also voiced other iconic characters such as Yogi Bear and Huckleberry Hound, Snagglepuss has a distinct Southern drawl that is instantly recognizable.
But Snagglepuss is much more than just a pink mountain lion with a fancy bow tie. He is a true icon of perseverance and positivity in the face of adversity.
Despite being constantly pursued by the police or escaping from King Ravina, Snagglepuss never loses his cool.
Instead, he simply utters his famous catchphrase, "Exit, stage left!" and carries on with his life.
And let's not forget Snagglepuss's relatability.
Although he is a cartoon character, he deals with everyday problems just like the rest of us.
Whether dealing with a demanding boss or trying to make ends meet, Snagglepuss faces his challenges head-on with a positive attitude.
One of the things that makes Snagglepuss so endearing is his sheer determination.
He never gives up, no matter how difficult the situation may be.
His tenacity and resilience make him a true inspiration for both children and adults alike.
You can check all the Wondercon 2023 Funko releases here.
Funko POP! Hanna-Barbera – Snagglepuss with Flocked Chase Funko Soda Vinyl Figure – WonderCon 2023 and Funko Shop Shared Exclusive
Available at:
Starting now, you can receive 10% off in-stock items with my special link at Entertainment Earth!
 Enjoy!
As an Amazon Associate I earn from qualifying purchases
Want more stuff like this?
Get the best viral stories straight into your inbox!
Don't worry, we don't spam