WonderCon 2023: Toy Story: Lotso Bear Funko Pop! 25 Years
The new Funko POP! 25 Years  – Disney Pixar Toy Story: Lotso Bear Funko Pop! Vinyl Figure – WonderCon 2023 and Funko Shop Exclusive will be available online starting at 6 AM PT on Friday, March 24, at the links below (click to jump!)
If you're a fan of Toy Story, then this new Lotso Bear Funko Pop! collectible set is perfect.
Inspired by the beloved antagonist from the classic franchise, this adorable collectible is perfect for any fan of Pixar's masterpiece.
Boasting an enamel pin, metal coin, and a foil certificate card, this set proves that sometimes it's better to be bad!
The Wondrous Comic Con 2023 exclusive Lotso Bear Funko Pop! can be found at the links below as soon as the online sale begins (click to jump!)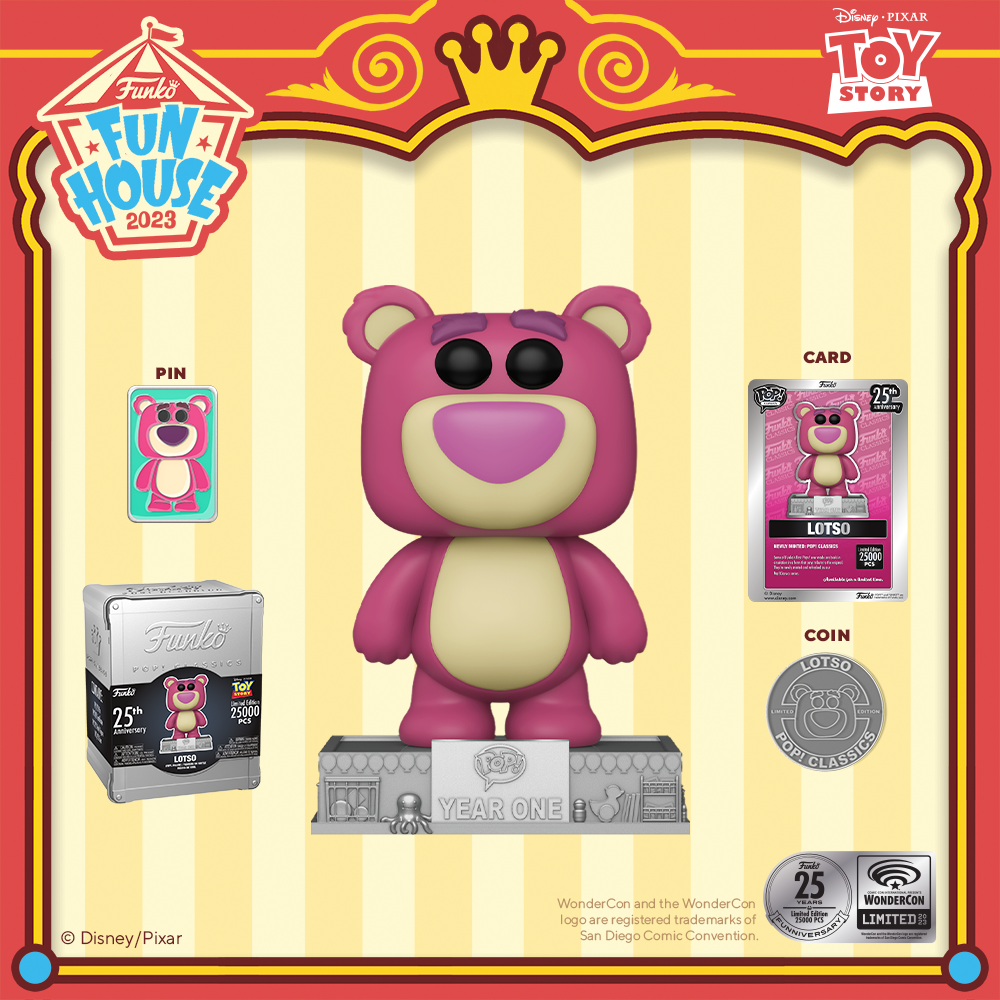 In the world of Pixar films, there have been many memorable villains.
From the power-hungry Syndrome in "The Incredibles" to the fiery and ruthless Hopper in "A Bug's Life," Pixar knows how to create compelling antagonists.
However, one character stands out as the darkest and most sinister of them all: Lotso the Bear from "Toy Story 3".
Lotso, whose full name is Lots-o'-Huggin' Bear, is a plush teddy bear that smells like strawberries.
He was once a beloved toy of a little girl named Daisy, but he was accidentally left behind at a rest stop during a family trip.
After waiting for Daisy to come back for him, Lotso was eventually found by a group of toys that brought him to their daycare center.
At first, Lotso seemed like a kind and caring leader of the daycare toys.
He welcomed Woody, Buzz, and the gang with open arms, and he promised to make their stay at the daycare as comfortable as possible.
But as the story unfolds, we learn that Lotso is not as friendly as he appears to be.
In fact, he is a bitter and vengeful bear who has been scarred by his past experiences.
Lotso's backstory is one of the most heartbreaking in the Toy Story franchise.
When he was first abandoned by Daisy, he was eventually found by another owner who loved him just as much as Daisy did.
But one day, that owner accidentally left Lotso behind on a camping trip. Lotso tried to make his way back to his owner, but he eventually gave up and returned to Daisy's house, only to find that she had replaced him with a new Lotso bear.
This traumatic experience turned Lotso into a cynical and bitter toy who believes that all toys are meant to be abandoned and replaced.
He runs the daycare with an iron fist, forcing the other toys to follow his strict rules and punishing those who dare to disobey.
But despite his harsh exterior, Lotso is still a toy who yearns for love and affection. And in the end, he is given a second chance at redemption.
You can check all the Wondercon 2023 Funko releases here.
Funko POP! 25 Years  – Disney Pixar Toy Story: Lotso Bear Funko Pop! Vinyl Figure – WonderCon 2023 and Funko Shop Exclusive
Available at:
Starting now, you can receive 10% off in-stock items with my special link at Entertainment Earth!
 Enjoy!
As an Amazon Associate I earn from qualifying purchases
Want more stuff like this?
Get the best viral stories straight into your inbox!
Don't worry, we don't spam