WonderCon 2023: Trafalgar Law w/ Polar Tang Funko Pop! Ride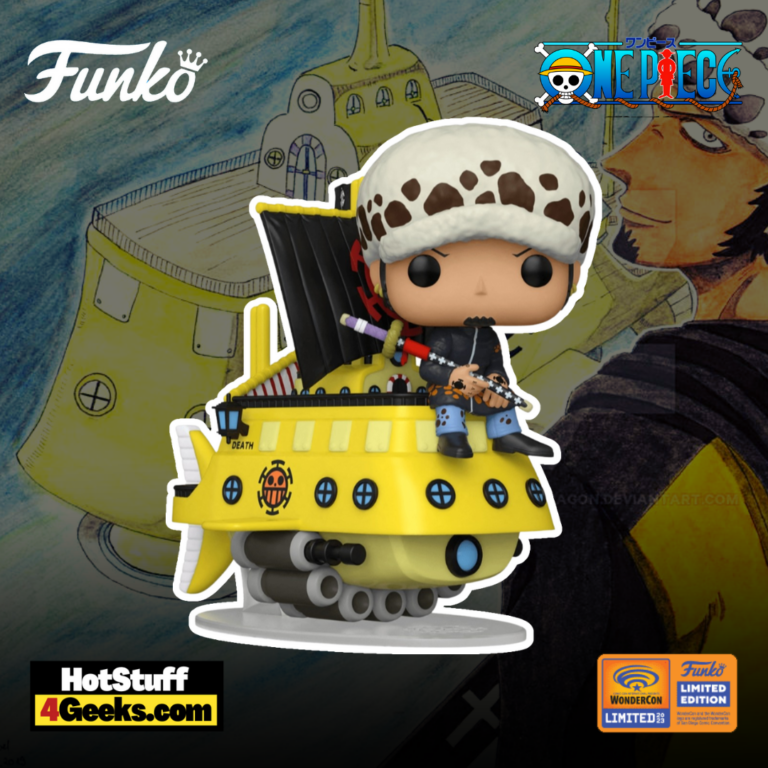 The new Funko POP! Rides: One Piece – Trafalgar Law with Polar Tang Funko Pop! Ride Vinyl Figure – WonderCon 2023 and Funko Shop Shared Exclusive will be available online starting at 6 AM PT on Friday, March 24, at the links below (click to jump!)
Fans of the manga series One Piece can now take a journey with the Heart Pirates aboard their submarine, the Polar Tang, thanks to the new collectible Funko Pop! featuring Trafalgar Law.
Crafted with incredible precision and attention to detail, Wolf's custom-built submarine is a perfect mixture of might and beauty as it plies the waves in search of new adventures.
Boasting powerful resources and incredible resilience, the Polar Tang is fully capable of braving all sorts of aquatic hazards while continuing its daring voyages.
Fitted atop a replica Polar Tang submarine, Trafalgar Law's confident aura radiates even through this plastic figure: the perfect representation of the brave pirate captain who leads his crew atop an incredible craft.
The Wondrous Comic Con 2023 exclusive Trafalgar Law with Polar Tang Funko Pop! Ride can be found at the links below as soon as the online sale begins (click to jump!)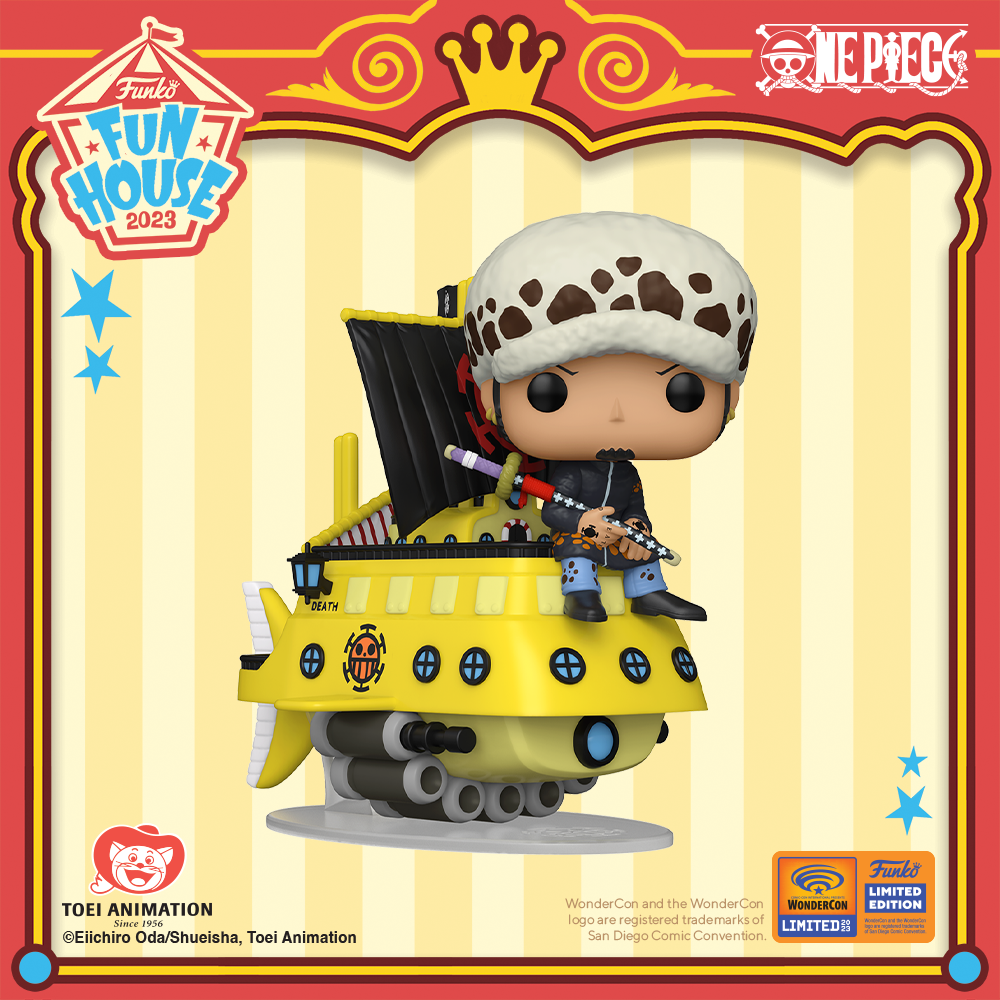 Trafalgar Law is the enigmatic pirate who has captured the hearts of many viewers.
Known for his strategic mind, impressive combat skills, and unique abilities, Law is a complex character who adds depth and intrigue to the series.
He was born in North Blue, a region of the One Piece world known for its cold climate and harsh living conditions.
At a young age, Law's family was killed by a powerful pirate named Doflamingo, who also forced Law into slavery.
Law was eventually rescued by a pirate crew led by a man named Donquixote Rosinante, who became a father figure to Law and taught him valuable life lessons.
After Rosinante's death, Law set out to become a pirate and seek revenge against Doflamingo.
He formed his own crew, the Heart Pirates, and quickly made a name for himself as a cunning and powerful pirate.
Law's most notable accomplishment was defeating Doflamingo and liberating Dressrosa, a kingdom that had suffered under Doflamingo's tyrannical rule.
One of Law's most intriguing features is his unique Devil Fruit power, the Ope Ope no Mi.
This allows him to create a "room" where he can manipulate anything within its boundaries, including people, objects, and even space itself.
Law can use this power to cut objects or people into pieces, remove or transplant body parts, and even transport himself and others to different locations.
His mastery of this power makes him a formidable opponent in battle, as he can quickly incapacitate his enemies or escape dangerous situations.
Despite his intimidating appearance and powerful abilities, Law is a complex character with a heart of gold.
He cares deeply for his crew and is willing to risk his life to protect them. Law also has a strong sense of justice and is ready to put himself in harm's way to help those in need.
He has formed close relationships with other characters in the series, including Luffy and the Straw Hat Pirates, and has shown a willingness to work with others for the greater good.
Trafalgar Law is a fascinating character who adds depth and intrigue to the One Piece anime. His complex backstory, impressive powers, and engaging personality make him a fan favorite and vital to the series' expansive cast of characters.
You can check all the Wondercon 2023 Funko releases here.
Funko POP! Rides: One Piece – Trafalgar Law with Polar Tang Funko Pop! Ride Vinyl Figure – WonderCon 2023 and Funko Shop Shared Exclusive
Available at:
Starting now, you can receive 10% off in-stock items with my special link at Entertainment Earth!
 Enjoy!
As an Amazon Associate I earn from qualifying purchases
Want more stuff like this?
Get the best viral stories straight into your inbox!
Don't worry, we don't spam