WonderCon 2023: Valkyrie Funko Soda with Glow (GITD) Chase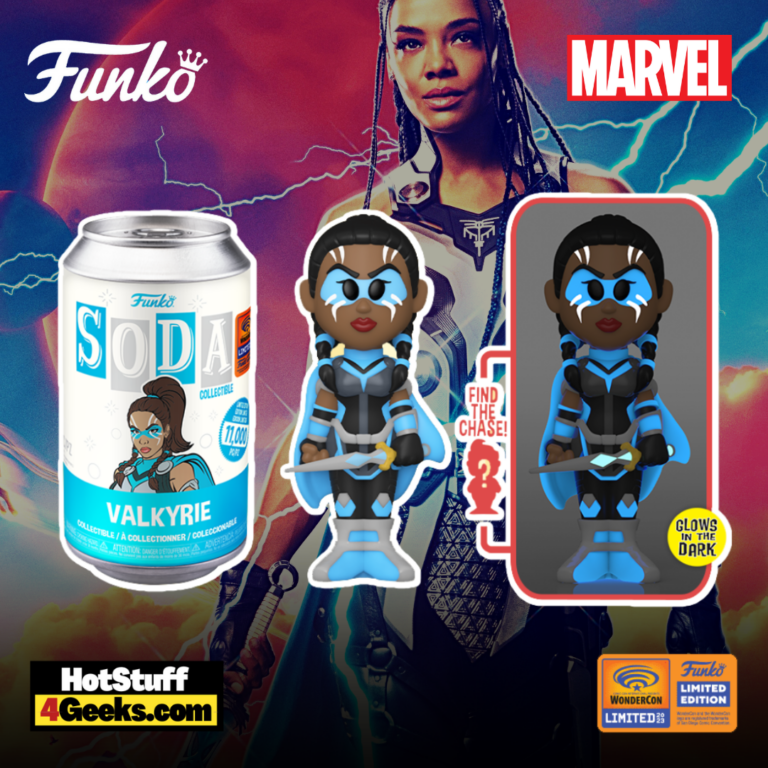 The new Funko POP! Marvel – Valkyrie with Glow (GITD) Chase Funko Soda Vinyl Figure – WonderCon 2023 and Entertainment Earth Shared Exclusive will be available online starting at 6 AM PT on Friday, March 24, at the links below (click to jump!)
Get ready for an epic battle! With Funko Soda Valkyrie, you'll be equipped with the power of Marvel to take on any foe. The first of its kind, this figurine comes with a chance to get a Glowing Chase version.
The new Funko SODA Valkyrie figurine is not just a stunning work of art – it's also a powerful addition to your party of Marvel heroes.
Whether you're defending your collection against the forces of evil or just looking to show off your love for all things Marvel, this figure is a must-have.
It's time to SODA-suit up and join the fight!
The Wondrous Comic Con 2023 exclusive Valkyrie Funko Soda with Glow-In-The-Dark Chase can be found at the links below as soon as the online sale begins (click to jump!)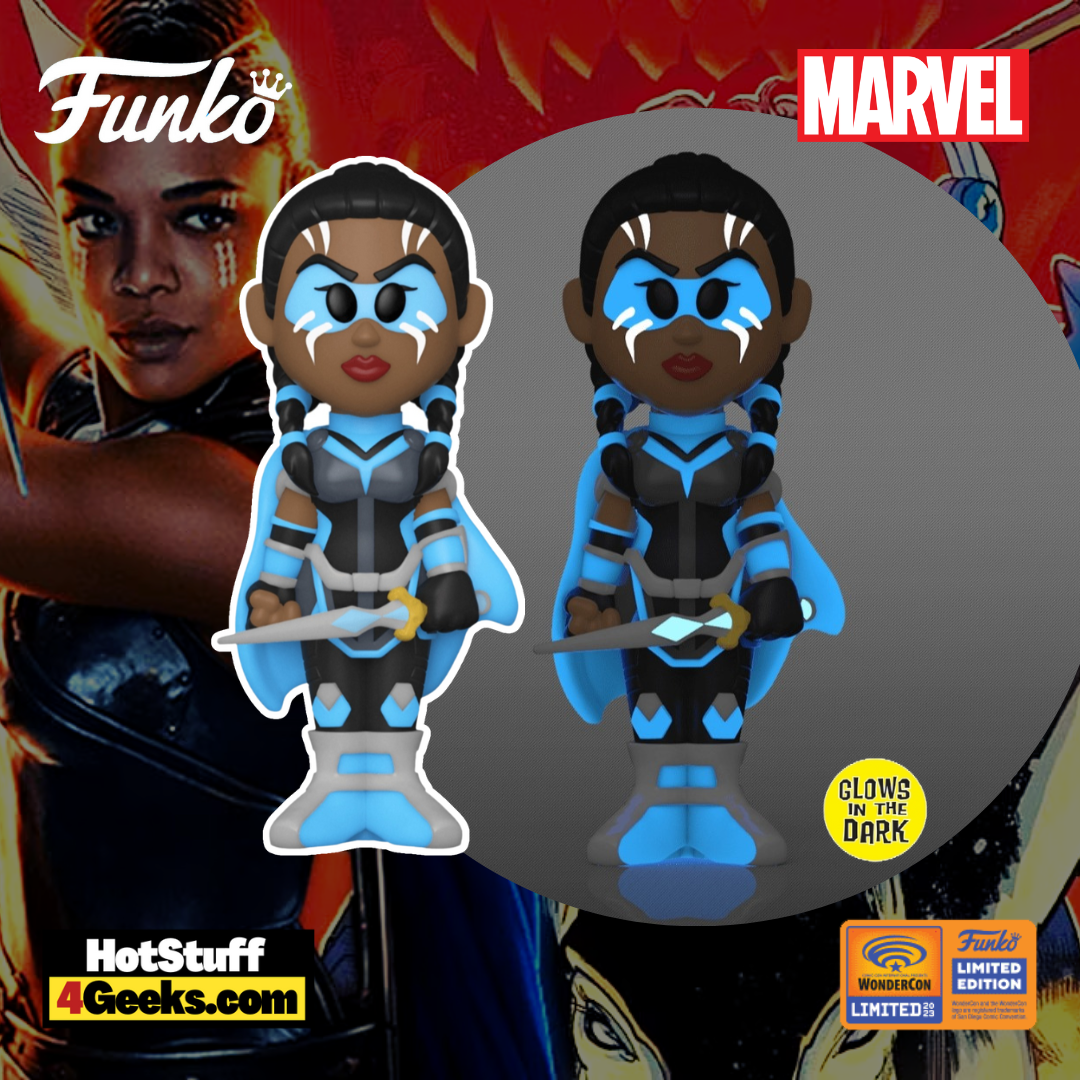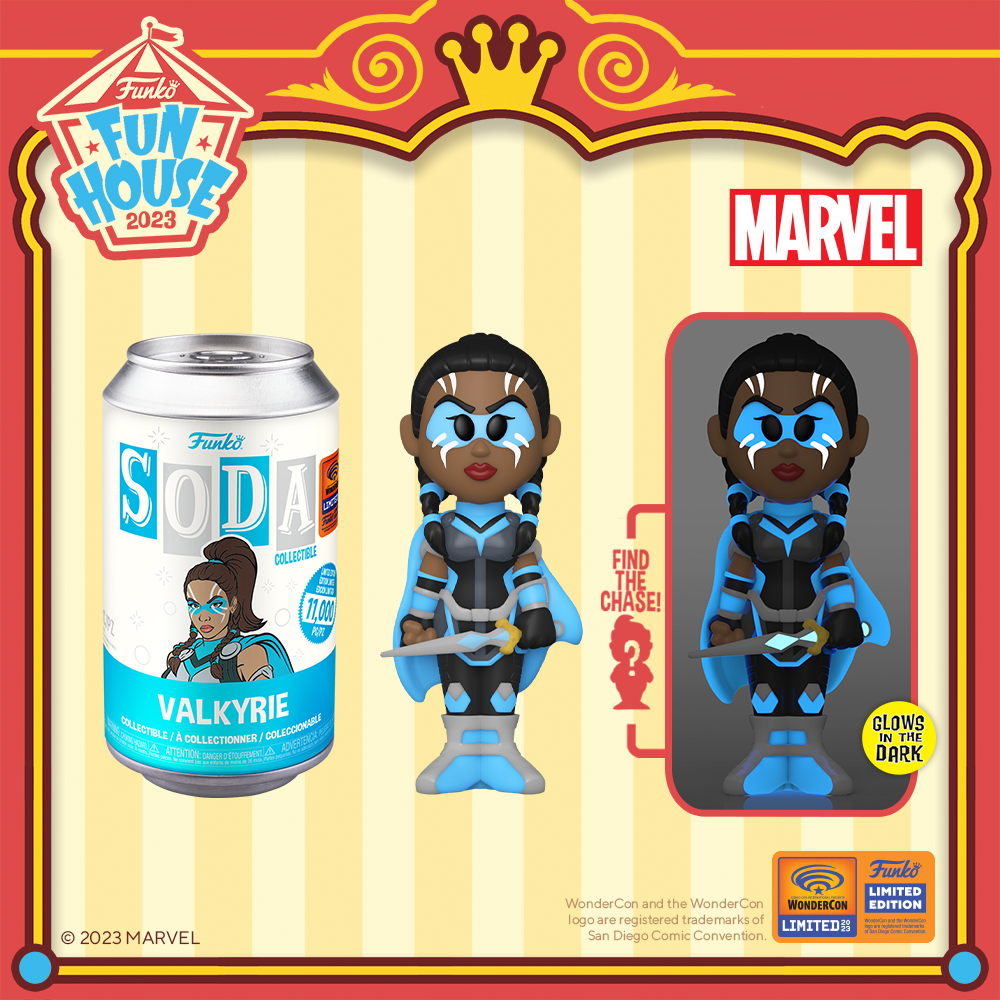 If you're a Marvel fan, then you're definitely familiar with Valkyrie.
She's a fierce and powerful warrior goddess who has made a name for herself in the comic books and the Marvel Cinematic Universe (MCU).
From her origins in Norse mythology to her many hosts throughout Marvel history, Valkyrie is a force to be reckoned with.
In the comics, Valkyrie is an Asgardian warrior goddess who leads Odin's personal battalion of shield maidens, the Valkyrior.
Her job is to choose which fallen mortals are worthy of being taken to Valhalla and escort them into the afterlife.
With her incredible combat skills and unbreakable body, Valkyrie is a fierce fighter who can take on almost anyone in battle.
Valkyrie's weapon of choice is Dragonfang, an enchanted sword she uses to significant effect.
She also has a winged horse named Aragorn, which she rides into battle.
With her natural combat abilities and extensive training, Valkyrie is one of the most formidable warriors in all of Asgard.
In the Marvel Cinematic Universe, Valkyrie is played by Tessa Thompson and has quickly become a fan favorite.
In Thor: Ragnarok, we first meet Valkyrie as Scrapper 142, a former member of the Valkyrior who has been exiled to the planet Sakaar.
She's a hard-drinking, tough-as-nails warrior who is initially reluctant to help Thor defeat Hela but eventually joins the fight.
In Avengers: Endgame, we see Valkyrie once again. This time as one of the heroes who survived Thanos' snap and is helping protect Earth from the Mad Titan's forces.
And in Thor: Love and Thunder, Valkyrie take on an even more significant role, becoming the King of New Asgard and helping to lead the Asgardians to a new future.
So why do we love Valkyrie so much?
Part of it is undoubtedly her strength and combat skills, which make her a force to be reckoned with in any battle.
But there's also something compelling about her backstory, particularly the tragedy she faced when the other Valkyrior were killed trying to stop Hela.
Ultimately, Valkyrie is a character who embodies the idea of a warrior goddess: fierce, unyielding, and unstoppable.
And whether she's fighting alongside the Avengers or leading her people to a new future, she's a character that we can't help but root for.
You can check all the Wondercon 2023 Funko releases here.
Funko POP! Marvel – Valkyrie with Glow (GITD) Chase Funko Soda Vinyl Figure – WonderCon 2023 and Entertainment Earth Shared Exclusive
Available at:
Starting now, you can receive 10% off in-stock items with my special link at Entertainment Earth!
 Enjoy!
As an Amazon Associate I earn from qualifying purchases
Want more stuff like this?
Get the best viral stories straight into your inbox!
Don't worry, we don't spam