2022 NEW X-Men – Kitty Pryde With Lockheed Funko Pop! Deluxe
Kitty Pryde, also known as Shadowcat, is a fan-favorite superheroine with the power to phase through solid matter. She's been an X-Men and even a member of the Guardians of the Galaxy.
And now, she can add "Pop! Deluxe Vinyl Figure" to her list of accomplishments. That's right, Kitty Pryde has been immortalized in plastic by Funko, and she looks terrific.
The new Funko Pop! Deluxe: X-Men – Kitty Pryde With Lockheed Funko Pop! Vinyl Figure – Walgreens Exclusive captures her signature look perfectly. But the best part of the figure is undoubtedly Lockheed, Kitty's faithful companion.
You can find the order links below (click to jump!)
Though he may be small, Lockheed is a brave and heroic figure, always ready to help Kitty in her battle against evil.
Lockheed is a small, dragon-like alien who can fly and shoot fire from his mouth. He's also fiercely loyal to Kitty and has often saved her from danger.
In many ways, Lockheed is like a magical cat, and Kitty is very attached to him. He often follows her around, perching her shoulders or sleeping on her lap.
Even though he's not precisely a housecat, Kitty considers him part of the family.
In many ways, Lockheed is the perfect sidekick for Kitty Pryde: he's brave, loyal, and has a heart of gold. Plus, he's just really darn cute.
Kitty Pryde With Lockheed Funko Pop! Deluxe is now available for order at the links below (click to jump!)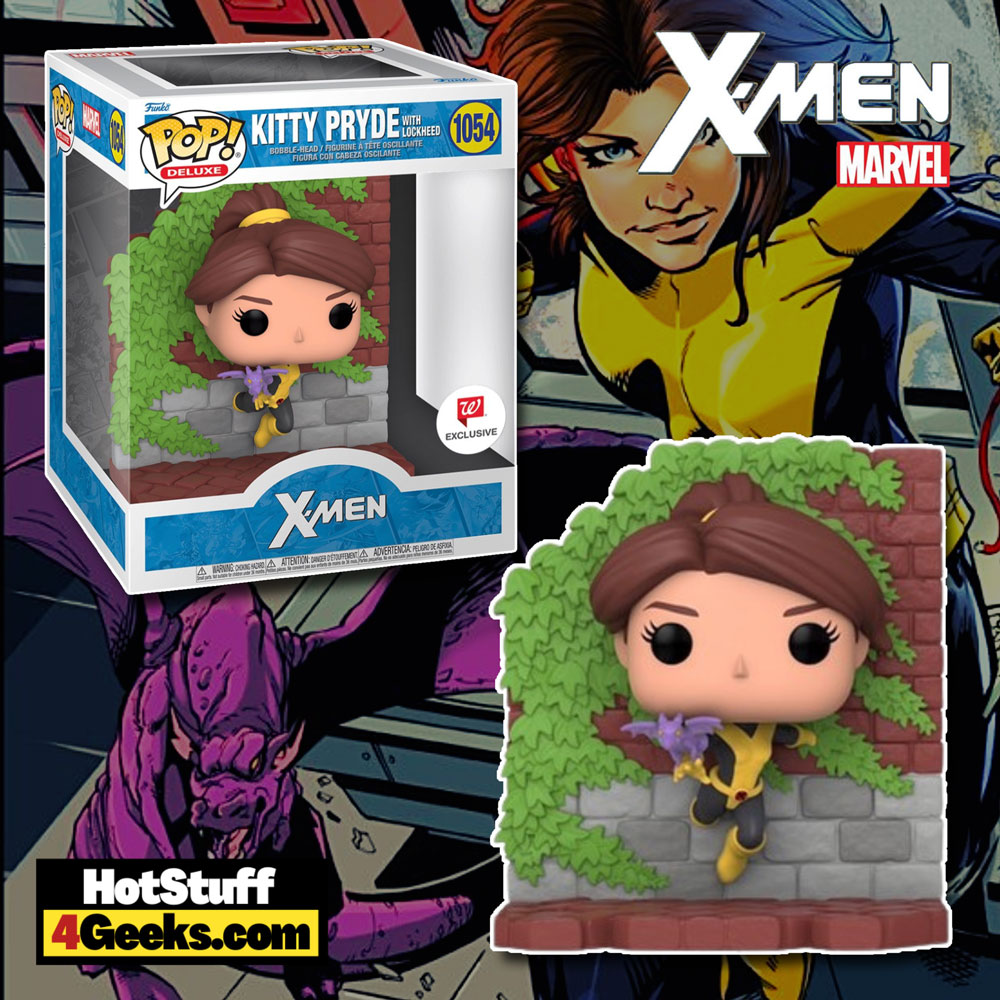 Kate Pryde is one of the most beloved mutants, both for being one of the main names of the X-Men in the comics and for having appeared in several cartoons and movies, always being a very charismatic figure.
With the power of intangibility, the young mutant is considered by many to be the ideal X-Men representative.
Although she is very popular, only comics fans know about her relationship with the dragon Lockheed.
Kitty meets Lockheed during The Brood Saga (Uncanny X-Men #166). In the story, the X-Men are kidnapped by the alien race and taken to another planet to be destroyed.
Lockheed saves Kitty from the aliens. At the end of the story, he comes to Earth along with Kitty, unbeknownst to her and Professor X, since he is immune to telepathy.
He remains in hiding until Uncanny X-Men #168 when he again saves Kitty during an attack by the Sidri race aliens on the X-Mansion.
The X-Men accept the dragon's stay, and he and Kitty become great companions.
Lockheed is an alien. He is immune to telepathy, which is why he was not affected by Brood and was able to hide from Professor X.
The dragon can let off the fire from his mouth, making him an excellent fighter.
In addition, he also possesses empathic characteristics, which makes him communicate with Kate even without speaking, although he can speak and understand human speech.
Starting now, you can receive 10% off in-stock items with my special link at Entertainment Earth!
 Enjoy!
As an Amazon Associate I earn from qualifying purchases
Want more stuff like this?
Get the best viral stories straight into your inbox!
Don't worry, we don't spam