2023 NEW X-Men'97 6-Pack Funko Soda Vinyl Figures w/ Cooler
Funko Soda: X-Men'97 6-Pack Soda Vinyl Figures with Cooler – Funko Shop Exclusive (2023 release)
Available at:
In the collectible universe, few launches have created as much buzz as the Funko Soda: X-Men'97 6-Pack Soda Vinyl Figures with Cooler – Funko Shop Exclusive (2023 release). Marrying nostalgia with premium design, this limited edition set promises to be a coveted treasure for enthusiasts and X-Men fans alike.
UPDATE: Soda Coller drops today at 9:30PT! To get your hands on this Pop Soda Bundle at its release, be sure to check out the links I've provided below – click to jump or scroll to continue reading!
The 2023 Funko Soda: X-Men '97 Vinyl Figures and Cooler—More Than Just Figures, It's an Experience!
Hold onto your adamantium claws and energy beams, collectors! The 2023 release of the Funko Soda: X-Men '97 Vinyl Figures with Cooler is nothing short of iconic.
A limited Funko Shop Exclusive, this set wraps up nostalgia and contemporary collectible culture into a stunning package—literally!
Housed in an X-Men' 97-themed lunchbox, each of the six soda cans inside boasts a different X-Men member: Magneto, Jean Grey, Gambit, Cyclops, Wolverine, and Storm.
What gets the collector's heart racing is the gamble—the one-in-six chance of unearthing a chase variant. Imagine the thrill when you pull a Magneto sans helmet or a glow-in-the-dark Cyclops!
These are not just figures; they're mini-adventures wrapped in an enigma.
And let's talk about that cooler, eh? Decked in X-Men motifs, it serves dual purposes—practicality meets fandom. It's got insulated lining and a detachable strap, but those soda tab zipper pulls? Pure genius.
So, sure, it's a Funko exclusive with only 12,000 sets available. But really, it's a journey back to '97, filled with surprises, and every can you pop unleashes a burst of the extraordinary.
Unveiling the X-Men'97 Soda Vinyl Figures with Cooler List for this release:
Magneto Funko Soda Figure with Magneto without Helmet Chase Variant
Jean Grey Funko Soda Figure with Jean Grey with Glow Powers Chase Variant
Gambit  Funko Soda Figure with Gambit Glow-In-The-Dark Chase Variant
Cyclops Funko Soda Figure with Cyclops with Energy Blast Vision Glow-In-The-Dark Chase Variant
Wolverine Funko Soda Figure with Wolverine in Casual Look Chase Variant
Storm Funko Soda Figure with Storm with Glowing Lightning Chase Variant
The Funko Shop Exclusive X-Men'97 6-Pack Funko Soda Vinyl Figures with Cooler can be found for order at the links below (click to jump!)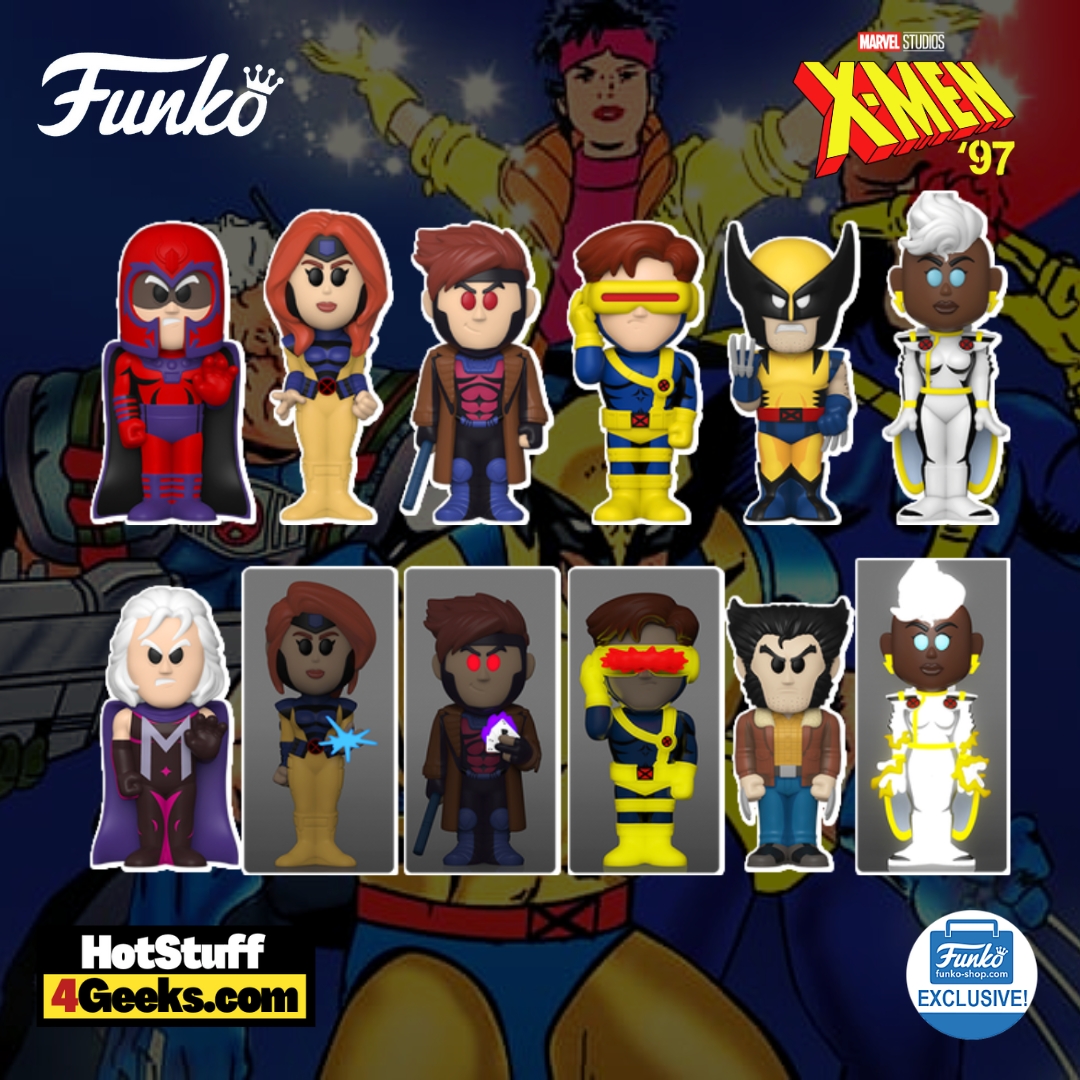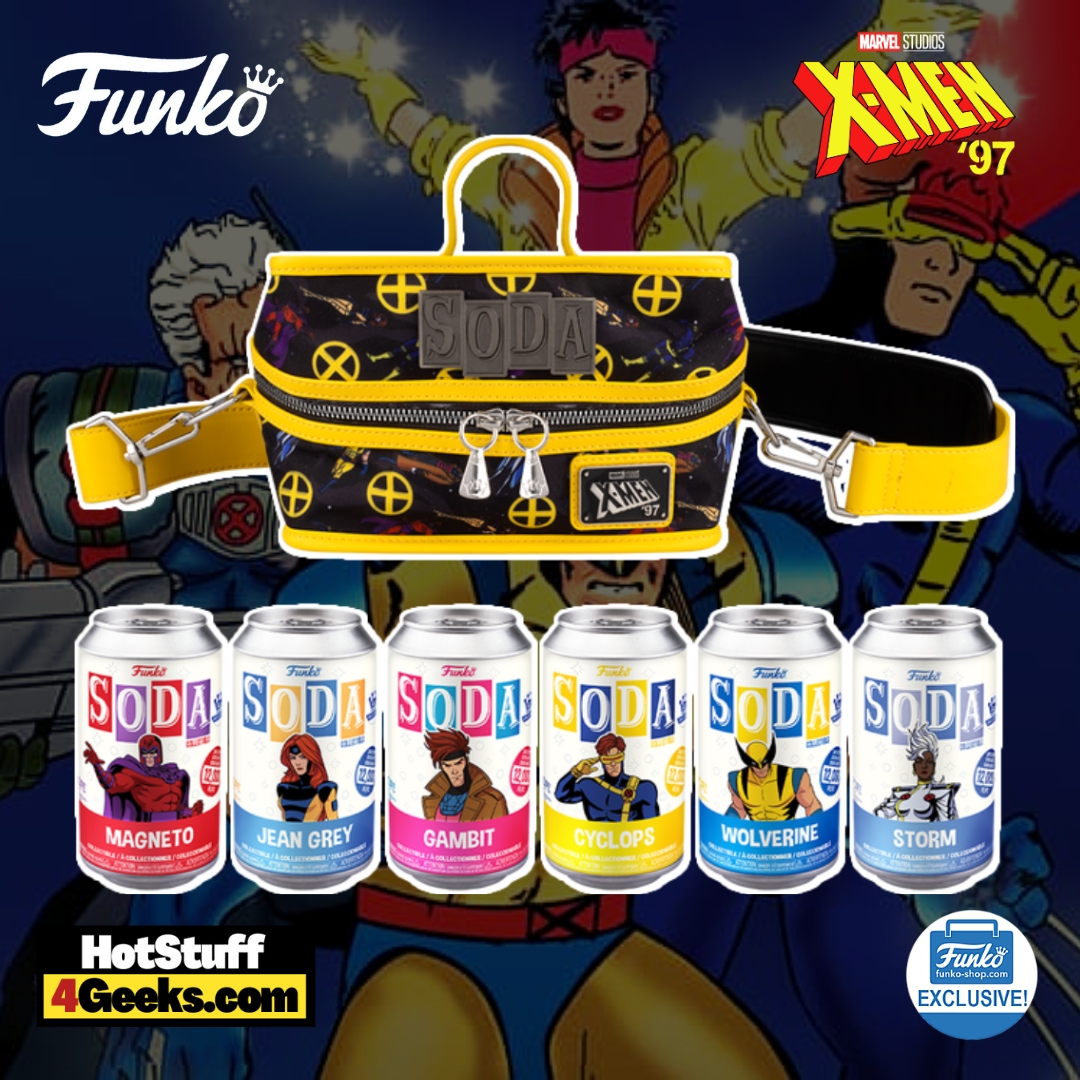 The Dawn of X-Men '97: A Revival Series Brewing with Intrigue and Nostalgia
If nostalgia were a superhero, it would be donning an X-Men uniform right now.
Why? Because the legends from our animated youth are back in the form of X-Men '97, an upcoming series set to grace our screens via Disney+.
But this isn't just a reboot—it's a well-orchestrated revival that picks up where the original X-Men: The Animated Series left off, and you better believe it's laced with twists and turns.
Marvel Studios Animation takes the helm of this 10-episode voyage, and Beau DeMayo, the show's head writer, assures continuity of the plotline that captured our hearts during the '90s.
The series is already so packed with excitement that a second season is already in the works.
The blend of new-age animation techniques and vintage storyline is a gobsmacking mashup.
We're talking about classic confrontations with Magneto, wisdom from Professor X, and likely a few unexpected alliances.
It's as if someone took a time machine back to the '90s, snatched our favorite show, and then sprinkled it with modern-day pixie dust.
Let's address the Sentinels in the room—the original voice actors. Cal Dodd, Lenore Zann, George Buza, and others are reprising their roles.
You can't put a price on that auditory nostalgia; it's akin to stepping back into your childhood living room with your eyes glued to that cathode-ray tube TV.
The cast doesn't just voice the X-Men; they ARE the X-Men to an entire generation.
This revivification has been under discussion since 2019, and it finally materialized into a formal announcement last year.
It marks the first X-Men endeavor by Marvel Studios after reclaiming the film and television rights to these iconic characters.
For those tracking the chess game of entertainment rights, this is a significant play, signaling an era where the storytelling can be streamlined under the aegis of Marvel Studios.
Consequently, what can we expect?
A synthesis of the old and new, with surprises tossed into the mix. Are we looking at possible crossovers with current Marvel characters?
Could there be a divergence from the classic story arcs we knew, or perhaps new characters will be introduced?
The answers to these questions are securely locked in Cerebro for now.
But rest assured, the intrigue doesn't stop at plot twists and character development.
The revival series is like a multi-layered chess game featuring kings, queens, and pawns from different eras of Marvel history.
Every episode will likely serve as a time capsule, capturing the essence of the past while thrusting us into new, perplexing realities.
If you missed the age of Saturday morning cartoons filled with superheroes and moral life lessons, X-Men '97 promises to deliver a compelling blend of past and future.
It's an invitation to a more innocent time, enhanced by the storytelling prowess we've come to expect from today's Marvel creatives.
Get ready to experience a slice of your childhood through the lens of modern cinematic artistry.
As an Amazon Associate I earn from qualifying purchases
Funko Soda: X-Men'97 6-Pack Soda Vinyl Figures with Cooler – Funko Shop Exclusive (2023 release)
Available at:
Want more stuff like this?
Get the best viral stories straight into your inbox!
Don't worry, we don't spam