Eternalized by the Winter Soldier's role in Marvel's Cinematic Universe, Sebastian Stan has become one of the most famous movie stars in recent years. Born in Romania, the star has already made his name in Hollywood, both in glorious superhero productions and in other prestigious films.
From independent dramas to big blockbusters, Sebastian continues to show his full potential. Now, thanks to the resounding success of Falcon and the Winter Soldier, you may feel compelled to seek out other pearls from the star's career. With that in mind, we've picked here 9 great Sebastian Stan movies beyond Marvel!
For this list, however, we exclude films where his participation is minimal, as is the case with the excellent Black Swan, where the star appears with very little screen time.
The Covenant (2006)
To begin, we have a movie that may have marked the adolescence of several of you. The Covenant was released in 2006. It tells the story of a group of witches, comprising Caleb (Steven Strait), Pogue (Taylor Kitsch), Tyler (Chace Crawford), and Reid (Toby Hemingway) in a small town in Massachusetts.
They are soon intimidated by Chase Collins's arrival (Sebastian Stan), a boy who hides dark and scary secrets. Is the movie any good? Not good at all. However, it is a great way to see Sebastian Stan in his early years of acting in Hollywood, besides being the "male version" of Young Witches, loaded with homoeroticism and corny effects.
The Martian (2015)
In 2015, Sebastian Stan was already a more established actor in Hollywood, having already appeared in two films in the Marvel Cinematic Universe at the time. As a result, he was chosen to join The Martian cast. A Ridley Scott's sci-fi drama starring Matt Damon as an isolated astronaut on the Red Planet.
In the film, Sebastian plays Dr. Chris Beck, an astronaut who was a surgeon and part of the expedition crew to Mars. Although he does not have much of a role, Stan helps give a more human atmosphere to such an epic story. It's a great drama that was even nominated for an Oscar for Best Picture in 2016.
Logan Lucky (2017)
At this point in his career, Stan went on to work with some great directors. After Ridley Scott, he teamed up with Steven Soderbergh for a small role in Logan Lucky. This comedy heist film was very successful in 2017, especially for its frenetic pace and its characters' humanity.
In the film, two brothers try to set up a very elaborate robbery during a NASCAR race in North Carolina. Sebastian Stan, meanwhile, plays Dayton White, a rather arrogant stock car driver who accidentally helps the brothers in their plan. It's a small role, but a very entertaining one.
I, Tonya (2017)
At a particular period in his career, Sebastian Stan became Hollywood's official scumbag. In several movies, he played abusive and nasty boyfriends or husbands – the best example of this is I, Tonya, the skater Tonya Harding biography. She had a very controversial history and ended up becoming a cultural icon.
In the film, Sebastian Stan plays the role of Jeff Gillooly, a man who goes through various stages in Tonya's life, first as a friend, lover, and finally, husband. He is highly toxic, even physically assaulting Tonya several times. For anyone with interest in the history and life of Tonya Harding, this is an exceptional film.
Destroyer (2018)
Destroyer is a neo-noir crime film directed by Karyn Kusama and starring Nicole Kidman in nearly unrecognizable makeup. In the movie, a detective must reunite with people from her past, leading her on a very dark and tense path.
Sebastian Stan is one of the highlights of the film, in the role of Chris. The actor manages to show a beautiful dramatic reach as his character starts out one way and gradually reveals disturbing and dark layers. For those who enjoy well-scaled character studies full of twists and turns, Destroyer is a great choice.
We Have Always Lived in the Castle (2018)
Based on Shirley Jackson's work (the same author who created The Haunting of Hill House), We Have Always Lived in the Castle is a mystery film that takes advantage of the gothic setting to create an enigmatic and thought-provoking story. In the movie, Stan stars alongside such names as Taissa Farmiga and Alexandra Daddario.
In the plot, sisters Merricat and Constance Blackwood live isolated in a large rural mansion with their uncle after experiencing a family tragedy more than six years ago. Stan plays Charles Blackwood, the sisters' cousin who shows up to steal their fortune, only to discover that he has a secret buried in the ground.
Endings, Beginnings (2019)
Despite not receiving very positive reviews from critics, the romantic drama Endings, Beginnings is an interesting experience. We follow Daphne's life (Shailene Woodley), a girl who has just gone through a pretty bad relationship breakup and meets two men who seem tailor-made for her.
Jack (Jamie Dornan) is an Irish writer who is intelligent, sensitive, and very stable. The other is Frank (Sebastian Stan), a rebellious and chaotic man who lives his life to the fullest. The most exciting thing about the film is that the actors had total freedom to improvise their lines without being tied to the script and taking their characters wherever they wanted.
Monday (2020)
Monday was released at the Toronto Film Festival last year and is Argyris Papadimitropoulos' directorial debut in a co-production between the United States, Greece, and the United Kingdom.
In the plot, Sebastian Stan plays a DJ who lives at the best parties and goes on a trip to Greece, where he meets a fantastic woman (played by Irishwoman Denise Gough). From then on, the couple must intensely enjoy the weekend while preparing for the impending goodbye on Monday.
The Devil All the Time (2020)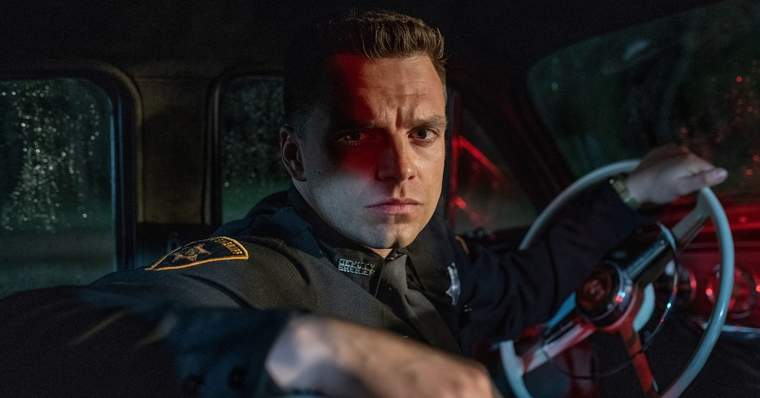 Another release from last year, The Devil All the Time, is a Netflix movie that has been well-received among audiences. The film has a fantastic cast, headed by Tom Holland and Robert Pattinson, and is based on Donald Ray Pollock's work. The plot proposes to map out the evil in human hearts.
We are introduced to several characters with their own vices and virtues. Throughout the film, we see how each one of them interferes directly in the lives of others. Sebastian Stan has a small but essential role, as he lives the corrupt sheriff Lee Bodecker, who has a crucial role to fill in the protagonist's life, played by Tom Holland.