PlayStation has dominated the gaming world by delivering unforgettable stories in its major exclusive games. The cinematic quality has been highly praised, yielding several nominations in significant media awards.
Of course, such charismatic characters couldn't be stuck in games alone. That's how PlayStation Productions came about, a studio that promises to transform Sony's leading franchises into breathtaking series and movies. So that you don't miss any details of this endeavor, check out a list with all the PlayStation movies and series already confirmed.
What is PlayStation Production?
Announced in 2019, PlayStation Production was created to break the "curse" of bad video game adaptations. In an interview with The Hollywood Reporter, the president of Sony Interactive explained that trying to adapt the hundreds of hours of a game into a two-hour movie is a recipe doomed to failure. Screenwriters need to understand what makes games unique to create a new experience designed directly for cinemas.
It is to ensure that these films are produced by professionals passionate about Sony's franchises that this studio was born. "We looked at what Marvel has done in taking the world of comic books and making it into the biggest thing in the film world." The idea is to replicate that success by bringing games into the spotlight. Expect constant movie and series releases while you wait for news of your favorite games.
The Last of Us
Among the confirmed series, the one in a more advanced development stage is The Last of Us, produced in partnership with HBO. The story will adapt the first game's events, showing the mercenary Joel's journey (Pedro Pascal) in a post-apocalyptic world protecting Ellie (Bella Ramsey). She may be the cure for everything.
The producers include Neil Druckmann, responsible for the original games, and Craig Mazin, who directed the award-winning Chernobyl series. They have already promised to bring many new scenes expanding on what we have seen in the games, so be prepared to be surprised. The series has no official release date but is expected to premiere in 2022.
Twisted Metal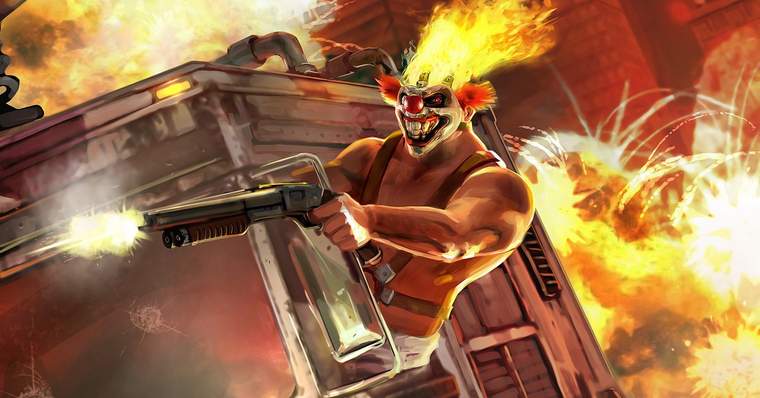 New series are a perfect way to revive franchises that were very successful in the past and may find a new audience on the small screen. Popular in the PlayStation 1 era, Twisted Metal has been confirmed as one of PlayStation Productions' first projects.
By Rhett Reese and Paul Wernick from Deadpool and Zombieland, the series promises to maintain the insane essence of the games, including monster cars and clowns. The protagonist will be a rookie who, to improve his life, must deliver a package in a post-apocalyptic world. On the way, he faces criminals who drive insane vehicles of destruction, including the famous clown Sweet Tooth and his ice cream cart.
Sly Cooper
Another dormant franchise that promises to have a triumphant return on TV is Sly Cooper, a stealth game full of charisma from the PlayStation 2 era. The animation has been in development by Technicolocor Animation studio, of the fantastic Sonic Boom animation, since 2018, but has faced legal problems in that time.
Sly Cooper is basically a Robin Hood animal who is not afraid to get his hands dirty to bring justice to his town. Each episode follows a different mission of the den of thieves led by the treacherous raccoon. Whenever he gets into trouble, Sly relies on his hippopotamus friend Murray's strength and turtle Bentley's intelligence to get him out of trouble. According to the original plans, the cartoon should have 52 episodes.
Uncharted
But enough about series for a moment. The first project to be released by PlayStation Production is a movie inspired by the award-winning Uncharted franchise. Starring Tom Holland, Spider-Man from the MCU, in Nathan Drake's role, the film will showcase a new quest by the treasure hunter in search of mystical artifacts. Expect exotic settings and historical figures in this expedition that takes place between the first games.
In addition to Holland, Mark Wahlberg has been confirmed in Sully, Drake's womanizing mentor, and Sophia Ali as Chloe Frazer, the intrepid journalist. She ends up falling in love with the hero. The film is set to premiere on February 18, 2022, and may arrive soon after Netflix.
Ghost of Tsushima
Not only will classic franchises make it to theaters. Recently, Ghost of Tsushima's adaptation, one of the best-selling games of 2020, was announced. We will follow Jin Sakai's journey, the last of his clan, from a new perspective. He will need to face his past traumas to save his town from a large Mongol invasion.
In addition to bringing incredible scenery, for this movie to work, it must brilliantly translate the sword fighting that made the game famous. For this, PlayStation has hired director Chad Stahelski, responsible for making the action in John Wick so iconic. We can't wait to see the return of the samurai to theaters.
Coming soon…
These are all the projects I know about so far, but it is safe to expect even more franchises to transcend the gaming realm at PlayStation Productions' hands. At the moment, it has already been confirmed that three movies and seven TV shows are in development based on its popular PlayStation video game properties.
We are still waiting for confirmation of major franchises, such as God of War, but news should not take long. Horizon is another strong candidate. The game known for its robotic dinosaurs will arrive this year on PlayStation 5. The series would be the perfect opportunity to further explore the franchise's past before diving into new lands.