In Hollywood, where stardom can be as much about who you know as what you can do, the next wave of talent often emerges from familiar roots.
We're talking about the offspring of some of the industry's most iconic figures, who have grown up not only with a silver spoon but also a script in hand.
These young actors are stepping out as continuations of their family legacies and as burgeoning stars in their own right.
Navigating the star-studded boulevards of Hollywood is no simple affair. With paparazzi lurking around every corner and every whisper becoming a potential headline, this world isn't for those who wilt under pressure.
Yet, some of these young actors, having grown up amidst the glitter and the glare, chose to embrace this world of glamour and chase stardom.
A few took pride in their famous surnames, leveraging the legacy. Others, however, preferred to step out of those towering shadows, even going so far as to change their last names and carve out their own niches.
In this roster, we'll introduce you to 10 such young actors who, unbeknownst to many, have Hollywood royalty in their DNA.
Their inherited fame might be an interesting tidbit, but remember, they're making waves on their own terms. Get ready to be pleasantly surprised!
Margaret Qualley is Andie MacDowell's Daughter
In the fast-paced world of Hollywood, some fresh faces come onto the scene and seize our attention in ways that make us feel like we've known them forever.
One such fascinating talent is Margaret Qualley. If you've followed her journey through gripping television series like "The Leftovers" or suspenseful films like "Death Note," not to mention her intriguing role in Quentin Tarantino's "Once Upon a Time in Hollywood," you know she's got some serious acting chops.
However, what might come as a revelation to some is the fact that Margaret's creative genes can be traced back to a '90s Hollywood sensation — none other than Andie MacDowell.
MacDowell, a queen of the silver screen in her own era, captured hearts in timeless movies like "Groundhog Day" and "Four Weddings and a Funeral."
Her talent for lighting up the screen hasn't waned with time, either; she recently resurfaced in the Netflix miniseries "Maid." So, it's pretty clear where Margaret got her knack for nailing complex roles.
Not merely living in the shadow of her mother's immense success, Margaret Qualley is carving her own path with aplomb, taking on roles that range from emotionally complex to outright suspenseful.
She's adept at moving between genres, a testament to her versatility and perhaps an inherited flair for connecting with audiences on a deep level.
She's not just 'Andie MacDowell's daughter'; she's Margaret Qualley, a rapidly ascending star who is making her own mark in the annals of Hollywood.
Jack Quaid is Dennis Quaid and Meg Ryan's Son
There's something downright intriguing when you learn a young actor climbing the industry ladder is actually the offspring of Tinseltown icons.
Meet Jack Quaid, currently turning heads in series like "The Boys" and films like "Scream 5" and "Oppenheimer". If the last name 'Quaid' rings a bell, it's for a good reason.
This promising talent is the son of Dennis Quaid and Meg Ryan, who both dominated the screens in the late '90s and early 2000s with their dramatic and romantic roles.
Dennis Quaid, whose resume is as diverse as it is impressive, is perhaps most notably remembered for his endearing performance in "The Parent Trap."
He played the cool dad to Lindsay Lohan's twin characters, leaving an indelible mark on the family-comedy genre.
Now, let's flip to the other side of the parental coin. Meg Ryan, the queen of '90s romcoms, stole hearts and filled theaters with films like "You've Got Mail" and "City of Angels."
The fascinating thing about Jack Quaid is how he's steadily making a name for himself while being, at the same time, inextricably linked to this high-caliber Hollywood lineage.
Jack isn't merely piggybacking on family fame; he's branching out, sinking his teeth into roles that tap into a completely different vein of storytelling.
It's as if he's curating his own filmography with a discerning eye, dodging the trap of typecasting by embracing diverse and sometimes edgier roles.
He's not a reiteration of his parents but a new narrative with a dash of familiar cinematic charisma.
For those who've seen him in action, it's evident that Jack Quaid is well on his way to defining himself not merely as the child of Dennis Quaid and Meg Ryan but as an artist who holds his own.
So, in a nutshell, Jack Quaid is a striking example of what happens when Hollywood royalty collides with raw, new talent. And for those of you tracking his career trajectory, it's clear he's not just here for a moment; he's here for an era.
John David Washington is Denzel Washington's Son
When your last name is Washington, and you're in the entertainment industry, you will inevitably get linked to one of the most iconic figures in Hollywood—Denzel Washington.
But if you're thinking John David Washington is merely riding the coattails of his legendary father, well, you've got another thing coming.
John David, who's been making waves with his selective and high-impact roles, first burst onto the scene in a big way with the audacious film "BlacKkKlansman."
And let's talk credentials here: Denzel isn't just "a famous actor"; he's a tour de force with a Tony, two Oscars, three Golden Globes, and two Silver Bears under his belt. That's a family dinner table laden with accolades if you ever wondered.
Here's where the story gets juicy. John David doesn't shy away from addressing his lineage. Heck, he's shared that whenever he accomplishes something, the headlines still read something like, "Denzel's son does X."
In a candid chat with Men's Journal, he mentioned, "Sometimes, I could run 90 meters, and the headline would be, 'Denzel's son ran 90 meters.'" Does it get frustrating? Probably. Does it stop him? Absolutely not.
John David is not merely selecting roles; he's curating an eclectic filmography. His choices of projects, ranging from Spike Lee joints to Christopher Nolan masterpieces, reflect a calculated yet bold approach to his career.
His work reveals a certain creative restlessness, a desire to explore the boundaries of storytelling, much like his father.
What's particularly fascinating is how John David is gracefully balancing the complex dynamic of familial legacy and individual ambition.
It's a nuanced dance executed to near perfection. He's got the Washington name, no doubt, but he's injecting it with his own flair, his own grit, and his own artistry.
Wyatt Russell is Kurt Russell and Goldie Hawn's Son
If you've been keeping tabs on the Marvel Cinematic Universe (MCU), you've probably crossed paths with Wyatt Russell's portrayal of U.S. Agent.
And for those wondering if the name "Russell" bears any relation to Hollywood staples Kurt Russell and Goldie Hawn—well, you've hit the nail on the head.
Wyatt isn't just basking in the glow of his parents' stardom; he's kind of a big deal in his own right.
First, let's talk lineage because it's not just Kurt and Goldie we're dealing with here. Wyatt was born in 1986, in Los Angeles, to none other than these Hollywood icons.
But the tree branches even further: he's also the grandson of Bing Russell and shares some half-sibling camaraderie with Boston Russell on his dad's side and Oliver and Kate Hudson on his mom's side.
That's one impressive Hollywood family tree. As for his roots, they extend across various ancestries—German, English, Scottish, Irish, and a touch of Hungarian Jewish from his maternal grandmother's side.
Switching gears a bit, Wyatt had an early love affair with ice hockey. This guy was no slouch on the ice, mind you.
He played as a goaltender for several amateur and pro teams. However, fate had other plans, and a series of injuries in 2010 forced him to hang up his skates.
Now, about that transition to acting. Wyatt cut his teeth in a variety of film genres. But it was the MCU that really catapulted him into the spotlight.
In 2021, he stepped into the role of John Walker in the Disney+ series "The Falcon and the Winter Soldier," pulled from the comics by Mark Gruenwald and Paul Neary.
He's already got dibs on reprising this role in the upcoming 2024 film "Thunderbolts." And, recently, he's shown us his range by embodying real-life murderer Dan Lafferty in the FX original miniseries "Under the Banner of Heaven."
Here's the cherry on top: Wyatt's talent transcends acting. Come July 2022, he aligned stars with his father Kurt in the Apple TV+ and Legendary Television's Godzilla series, "Monarch: Legacy of Monsters." It's all part of Legendary's expansive MonsterVerse franchise.
Wyatt Russell is proving to be far more than just the son of Kurt Russell and Goldie Hawn.
From the ice rink to Hollywood and even into the eerie realm of monster flicks, this man is carving out an eclectic and electric path all his own. Keep an eye out—Wyatt's story is still in the making.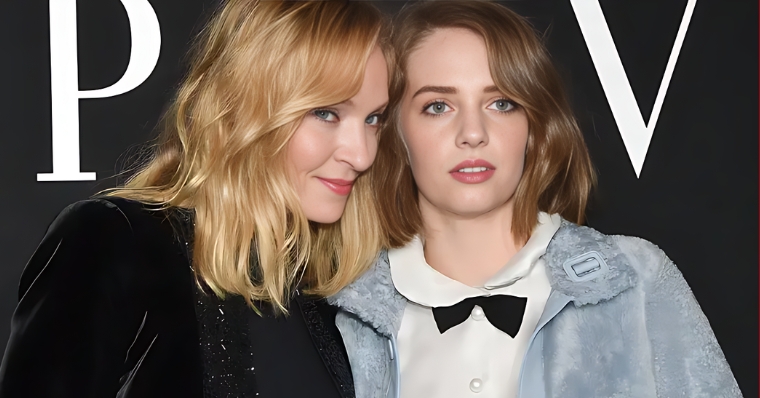 Maya Hawke is Ethan Hawke and Uma Thurman's Daughter
Maya Hawke's rise in the world of showbiz has garnered much attention, and let's not sidestep the obvious: being the daughter of Ethan Hawke and Uma Thurman is intriguing, to say the least.
But make no mistake, this rising star isn't merely resting on her Hollywood lineage. She's shaping her own narrative with talent and versatility that transcends mere "nepo baby" status—Hollywood's cheeky term for those born with silver-screen spoons in their mouths.
First, let's focus on Maya's intriguing family background. Born Maya Ray Thurman Hawke, her parents aren't exactly your average Joes.
Dad Ethan Hawke is a fixture in films like "Before Sunrise," "The Black Phone," and "Sinister," while mom Uma Thurman has shined in cult classics like "Kill Bill" and "Pulp Fiction," and who can forget her turn in "Batman and Robin"? Talk about a gene pool overflowing with talent!
But let's not get stuck on lineage; Maya is an artist with her own burgeoning portfolio. She initially explored a career in modeling but later pivoted to acting, making her screen debut in the BBC's 2017 adaptation of "Little Women," where she assumed the role of Jo March.
However, it was her role as Robin Buckley in the Netflix hit series "Stranger Things" that really threw her into the limelight.
You'd be mistaken if you thought acting was her sole artistic endeavor. Maya is also a singer-songwriter with some musical chops.
She's dropped not one but two albums, "Blush" in 2020 and "Moss" in 2022. She further expanded her repertoire with roles in "Fear Street Part One: 1994," "Do Revenge," and the 2023 release "Asteroid City."
Let's call it like it is: Maya Hawke is undeniably building an expansive career, pulling from a wealth of genres and artistic disciplines.
She's not only honoring the family name but also adding her own indelible marks to it. It's like she's painting on a canvas prepared by her parents, yet the picture she's creating is entirely her own.
This young talent is an artist in her own right—so you might want to earmark her name because she's got a fascinating act, and it's unfolding right before our eyes.
Colin Hanks is Tom Hanks's Son
When your last name is Hanks, and you choose a career in show business, the whispers, whether you like it or not, are going to follow you.
Colin Hanks, an accomplished actor in his own right, knows this all too well. Being the son of Hollywood luminary Tom Hanks, who's given us monumental films like "Forrest Gump" and "Cast Away," is both a blessing and a complex conversation starter.
Now, don't get it twisted. Colin isn't just Tom Hanks' son riding on coattails. The man has a bona fide resume that stands on its own merits.
Movies, you ask? He's been in "Orange County," "King Kong," and "The House Bunny." Let's not forget his roles in the Jumanji film series.
On TV, he's been a memorable presence, too, gracing us with performances in series like "Roswell," "Band of Brothers," "Dexter," "Fargo," and "Life in Pieces," among others.
The versatility he brings to the table is noteworthy, whether it's drama, comedy, or animation—like voicing Talking Tom in the web series "Talking Tom & Friends."
You may have caught Colin spilling some real talk on the Armchair Expert podcast about the complications that come with having a last name that's essentially a brand in Hollywood.
He initially thought his talent would give him the benefit of the doubt, proving he was more than just the son of Tom Hanks.
That's not exactly how it panned out. It's like stepping into a role you didn't audition for; the world constantly seeing you through the lens of your father's fame, no matter your own accomplishments.
But Colin isn't one to sulk. He knows the industry's game and has set out to navigate it with an authentic finesse that says, "Hey, I'm here to play, but on my terms."
So, is it complex being tied to a Hollywood icon? Absolutely. But it's a nuanced challenge that Colin is managing with skill, keeping us hooked and leaving us wanting more of what he's got to offer.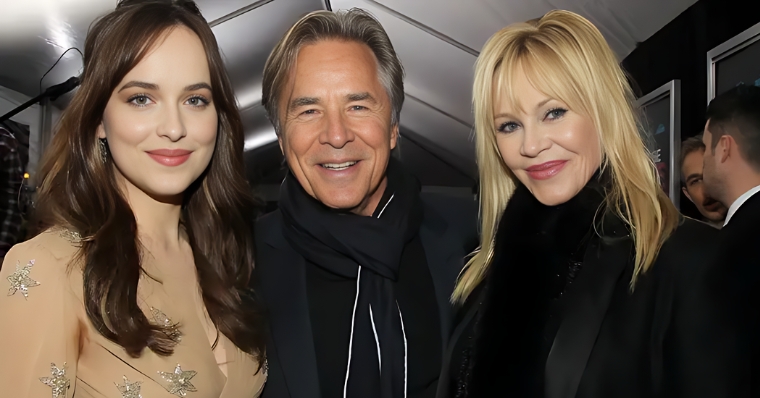 Dakota Johnson is Don Johnson and Melanie Griffith's Daughter
Contrary to what some might think, Dakota Johnson didn't just come out of nowhere or only burst onto the Hollywood scene with her roles in "The Social Network" and "Fifty Shades of Grey."
Nope, she wasn't catapulted into stardom overnight. She has more depth to her story, like a well-developed character arc still unfolding.
Now, this isn't your run-of-the-mill rags-to-riches Hollywood story; she's the offspring of bona fide Tinseltown aristocracy.
Her father, Don Johnson, has graced the screen in projects as varied as "Miami Vice" and "Django Unchained." On the other side of the parentage equation, we've got Melanie Griffith, a star in her own right, who wowed audiences with her performances in movies such as "Working Girl," for which she received an Academy Award nomination,
But Dakota's entry into the film industry wasn't just a hand-me-down affair. Her first taste of acting came at the tender age of 10 with a minor role in "Crazy in Alabama," where she starred alongside her mother.
This wasn't just a cameo but an early indication of her drive to make a name for herself in a competitive industry.
Fast forward to post-high school life, and we find Dakota braving the audition rooms of Los Angeles. While she snagged a small role in "The Social Network" in 2010, it was her portrayal of Anastasia Steele in the "Fifty Shades" series that turned her into a household name.
The role wasn't just a ticket to the big leagues; it was transformative, garnering her a nomination for the BAFTA Rising Star Award in 2016.
Hold on, though. Reducing Dakota Johnson to her Fifty Shades persona would be a glaring oversight. After all, she's shown her mettle in films that range across genres and tones.
From the crime drama "Black Mass" to the visually captivating "Suspiria," let's not forget the coming-of-age story "The Peanut Butter Falcon."
The range is broad and constantly expanding. Her recent projects, "The Lost Daughter" and "Cha Cha Real Smooth," have also been catching some serious buzz.
Regarding accolades, Dakota's trophy cabinet isn't exactly sparse.
She's bagged a People's Choice Award and has been nominated for two MTV Movie & TV Awards. Forbes even took notice, featuring her on their 30 Under 30 list back in 2016.
O'Shea Jackson Jr. is Ice Cube's Son
Let's get something straight: O'Shea Jackson Jr., also known in the music scene as OMG, isn't just coasting on his famous father's reputation.
Sure, he's the eldest son of Ice Cube, but make no mistake, he's carving his own lane in the entertainment industry.
Firstly, you might remember O'Shea Jr. as the spitting image of his dad in "Straight Outta Compton," a movie that was a nostalgia trip for anyone who was into the N.W.A. era.
Announced back in June 2014, this biopic wasn't just another film; it was a revelation that hit the box office on August 14, 2015, and had critics singing its praises.
And Ice Cube himself mentioned on Jimmy Kimmel that his son was "spot-on" for the role. You could say O'Shea Jr. was born for this role, literally and figuratively.
Afterward, the young talent didn't rest on his laurels. In 2017, O'Shea stole the show as Dan Pinto in "Ingrid Goes West," a movie where critics from outlets like the Los Angeles Times and Vulture couldn't help but note his scene-stealing abilities.
In 2018, he teamed up with 50 Cent and Gerard Butler in "Den of Thieves," adding more versatility to his burgeoning résumé.
2019 was a busy year for Jackson. He showed up in not one but two movies in May. First, he shared the screen with Charlize Theron and Seth Rogen in "Long Shot," playing Lance, the reliable best bud of Rogen's character.
Then, in "Godzilla: King of the Monsters," he brought life to Barnes, the leader of the G-Team—a special military unit trained to deal with, you know, massive Titans stomping around.
And let's not forget his role in "Just Mercy," alongside a star-studded cast featuring Michael B. Jordan, Jamie Foxx, and Brie Larson. In this poignant drama, he portrayed Anthony Ray Hinton, a man wrongfully convicted and left to languish in prison for three decades. The performance was a reminder that O'Shea can do both comedy and drama with equal skill.
After a four-year hiatus from the screen, O'Shea Jr. made a striking return in 2023 with "Cocaine Bear," where he stars as Daveed in this dark comedy. The guy is clearly not afraid to experiment with genres.
So, the bottom line is, while he might be the offspring of the man behind classics like "Friday" and "Are We There Yet?" (that's O'Shea Jackson Sr. for you), Junior is crafting his own legacy.
He's taken the baton and running full speed ahead, dodging typecasting and breaking new ground with every project.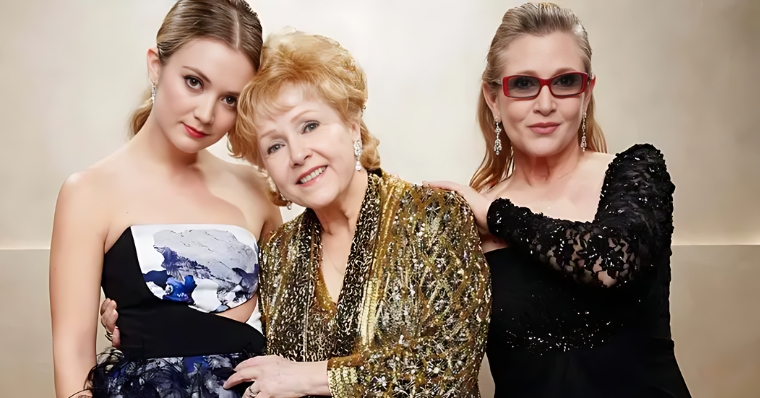 Billie Lourd is Carrie Fisher's Daughter, Who is Debbie Reynolds's Daughter
Billie Lourd and Carrie Fisher's familial ties often come to mind when one thinks of Hollywood dynasties. For those in the know, the lineage doesn't stop there.
Carrie Fisher, who brilliantly portrayed the iconic Princesa Leia, had her stardom genes passed down from another legendary actress: Debbie Reynolds. And let's be real:
Debbie wasn't just any actress. She was the powerhouse behind musical hits such as "Singin' in the Rain" and Disney's unforgettable classic, "Halloweentown."
Now, sliding the focus back to Billie Lourd: she's certainly not riding on anyone's coattails. While the family resemblance and shared passion for the silver screen are undeniable, Billie has made waves in her own right.
If you've ever found yourself engrossed in the cheeky, thrilling world of "Scream Queens," you'd recognize her as Chanel #3. And if that's not your cup of tea, perhaps you've seen her compelling performances in "American Horror Story," where she has been a recurring presence since 2017.
Not to mention, the "Star Wars" sequel trilogy fans will remember her as Lieutenant Connix, proving that space opera might just be in her DNA.
In a candid chat with Variety Fair in 2017, Billie reflected on her unique position within this acting dynasty.
"I cherish being my mother's daughter; it's an identity I'll always have. But now, I have the chance just to be Billie." It's an honest acknowledgment of her heritage while highlighting her desire to carve her own path in Hollywood.
Carrie, Debbie, and Billie: three names, three phenomenal talents, and a story that exemplifies the intersection of legacy and individuality. It's like a Hollywood script in itself but with the added bonus of being 100% real. What a trio!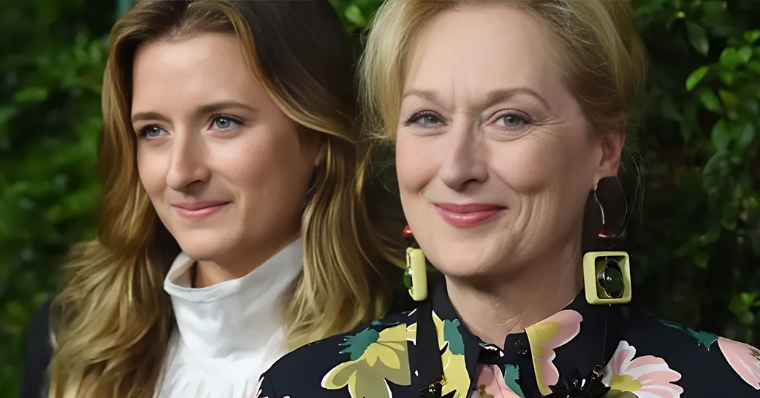 Grace Gummer is Meryl Streep's Daughter
Here's a tidbit that makes you do a double-take: If you've ever caught episodes of "The Newsroom" or sat through the captivating "Frances Ha," you might have been struck by how Grace Gummer bears an uncanny resemblance to a young Meryl Streep.
In fact, it's not just a coincidence. The two are, indeed, mother and daughter. But, of course, a resemblance isn't where the story begins or ends for Grace.
Initially, the spotlight of being Meryl Streep's daughter cast a shadow, and Grace was upfront about that in an interview with The New York Times.
"Being her daughter used to bother me. I try not to think about it, or it could end up affecting me," she confessed. It's a sentiment that rings true for many offspring of iconic parents.
Yet, Grace doesn't let it define her, opting instead to carve out her own trail in the entertainment industry.
A graduate of Vassar College, Grace is more than just a familiar face. She received a Theatre World Award for her Broadway debut in the 2011 revival of "Arcadia."
That's no small feat, by the way. Broadway is often considered the crucible for acting talent, and earning accolades there speaks volumes about her capabilities.
She also had recurring roles in "The Newsroom" and the eerie but ever-engaging "American Horror Story: Freak Show." Not to sideline her stint in "Extant" and the critically acclaimed "Mr. Robot," which just adds more layers to her expanding résumé.
So, if you're drawing up a Venn diagram of Grace Gummer and Meryl Streep, sure, there'd be some overlap. That's inevitable.
But it's essential to note that Grace has built her own collection of roles and accomplishments, distinct from her mother's yet equally praiseworthy.
Each has her own narrative, textured with unique roles and laudable performances. Mother and daughter: both strikingly similar yet beautifully unique, spinning their own yarns in the complex tapestry of Hollywood storytelling.