2023 NEW Disney 100: Captain America (Facet) Funko Pop! Exclusive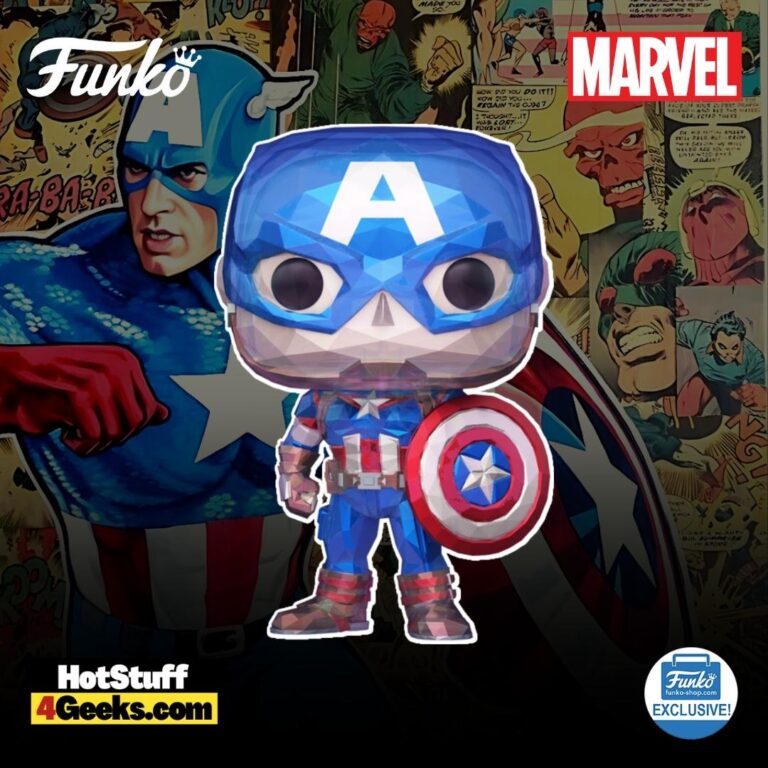 Get ready to jazz up your Marvel collection with an absolute stunner. We've all known and admired Captain America, Marvel's iconic super soldier. But now, there's a novel way to honor him on Disney's 100th Anniversary. Say hello to the latest entrant in the Funko Pop! line: the new Funko Pop! Disney's 100th Anniversary – Captain America (Facet) Funko Pop! Vinyl Figure – Funko Shop Exclusive (2023 release).
UPDATE: Captain America Facete drops today at 9:30 AM PT! To get your hands on this Pop Vinyl Figure at its release, be sure to check out the links I've provided below – click to jump or scroll to continue reading!
A Novel Spin on an Icon: The Facet Funko Pop! Captain America
Captain America, a beacon of righteousness and courage! If you've admired this iconic superhero as much as I have, brace yourself for an exciting addition to the Marvel Studios collection.
A special treat awaits fans as the Funko Shop rolls out an exclusive Captain America (Facet) Funko Pop! Vinyl Figure.
Now, what makes this figure unique?
It's all about the faceted upgrade to the Captain's suit, adding a new dimension of style and dynamism.
Marvel fans, the very essence of the super-soldier seems captured in this collectible, where every angle and edge reflects a story of heroism.
To celebrate Disney's 100th Anniversary, this exclusive Pop! It brings the defender of humanity to your shelf in a form never seen before.
The figure is a blend of tradition and innovation and a tribute to Captain America's enduring legacy. Strengthen your assembly of heroes with this charismatic, exclusive gem!
It's not just a new design; it's a celebration of everything Captain America symbolizes.
The Funko Shop Exclusive Captain America (Facet) Funko Pop! can be found for purchase at the links below (click to jump!)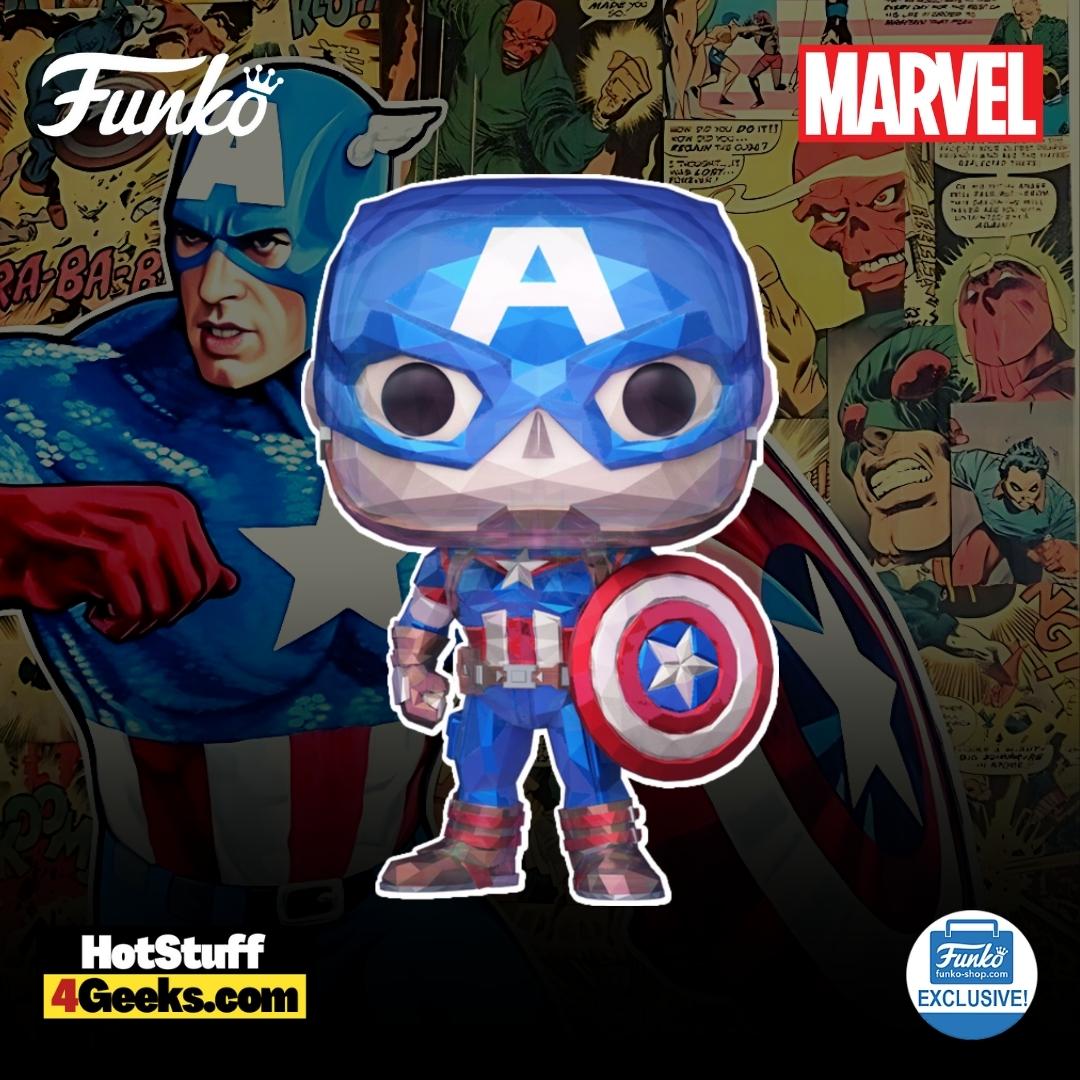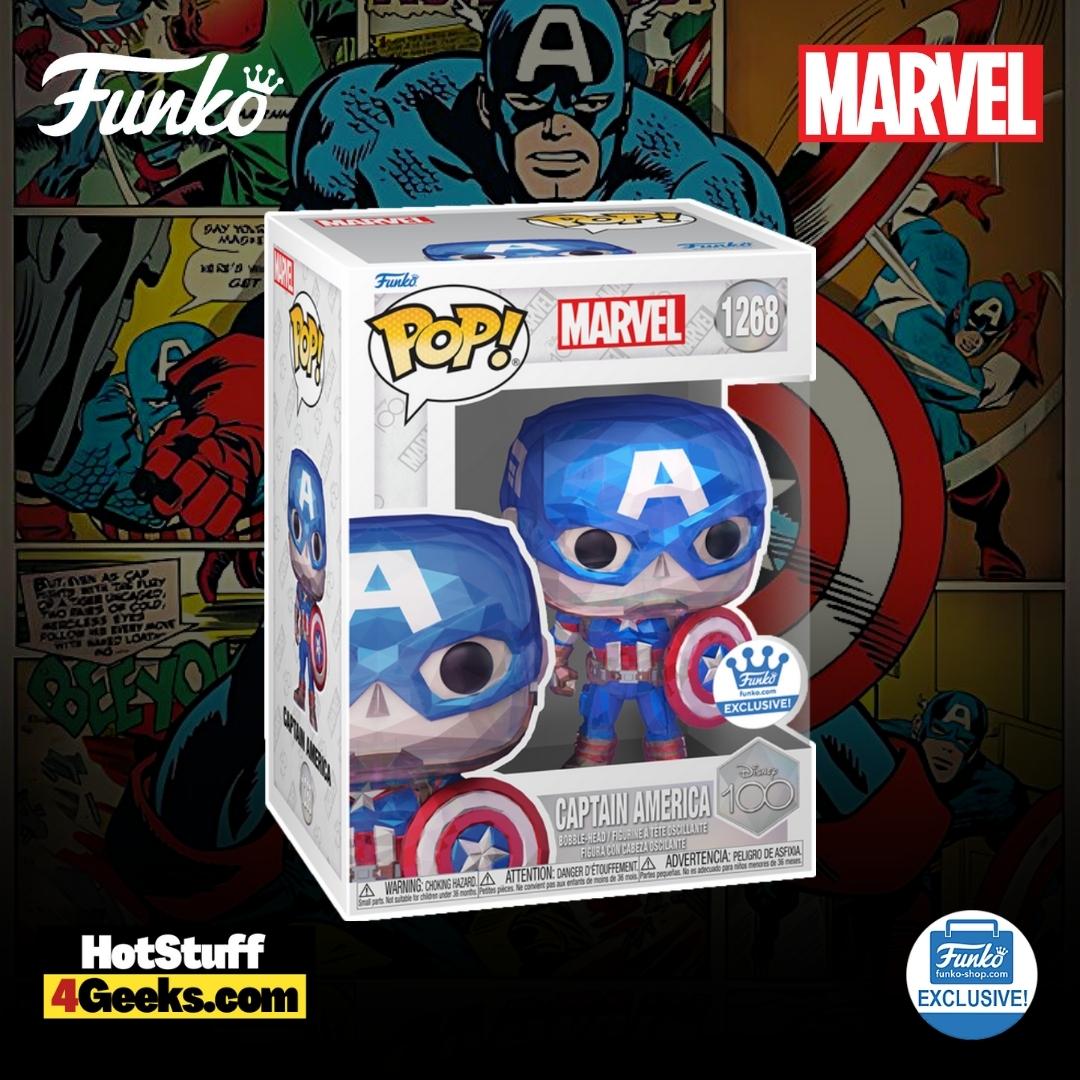 From Comic Strip to Icon: The Debut of Captain America
Can you feel it? That unique, delicious anticipation that's only stirred by the arrival of a legendary hero?
Let's rewind the clock to a time when American flags fluttered proudly in the spring breeze of 1941, an era fraught with the uncertainties of war, just as Marvel's star-spangled superhero made his grand entrance onto the comic scene.
We're talking about none other than Captain America.
His first appearance graced the cover of "Captain America Comics #1," a publication of Timely Comics, the predecessor to the beloved Marvel Comics we know today.
Crafted from the brilliant minds of Joe Simon and Jack Kirby, the Captain sprung to life as a strikingly patriotic figure, a robust response to the anxieties of World War II.
Captain America wasn't just another comic book hero.
He was a symbol of hope, courage, and unwavering patriotism, a beacon in the dark times the world found itself navigating.
He entered the fray not with a whimper but with a resounding crash! The cover of his first comic shows him landing a punch on Hitler in a feat of strength and defiance that no reader would forget.
The story introduced us to Steve Rogers, a frail young man who, despite being rejected for military service due to his small stature, never let go of his dream to serve his country.
And serve he did, but not as an average soldier. He became the epitome of American bravery and perseverance as Captain America, thanks to the miraculous Super-Soldier Serum.
What truly stood out about Captain America's first appearance, however, was how it boldly shattered the archetypical superhero mold.
Simon and Kirby gifted us a character that not only possessed physical strength but also epitomized the resilience of the human spirit.
Steve Rogers wasn't born with superhuman abilities. Instead, his transformation was fueled by a heart that refused to bow to adversity, making his narrative resonate profoundly with the readers.
Moreover, Captain America arrived with an enduring legacy: his iconic, indestructible shield.
While it was originally triangular, it soon morphed into the circular design we recognize today, becoming a steadfast symbol of protection and resistance.
Over the decades, Captain America's legacy has transcended the realm of comic books, pervading our pop culture and becoming an international symbol of justice, righteousness, and unwavering courage.
The narrative that began in the spring of '41 continues to inspire countless across the globe.
And there you have it, a trip back to the time when one of the most emblematic superheroes of all time made his mark on the world.
Captain America's first appearance was more than a debut; it was the beginning of a legacy that continues to shape the landscape of comic culture, proving that even in the face of unimaginable odds, heroes can and will rise.
Check out more of Disney's 100th Anniversary Funko Pops HERE!
Funko Pop! Disney's 100th Anniversary – Captain America (Facet) Funko Pop! Vinyl Figure – Funko Shop Exclusive (2023 release)
Available at:
Starting now, you can receive 10% off in-stock items with my special link at Entertainment Earth!
 Enjoy!
As an Amazon Associate I earn from qualifying purchases
Want more stuff like this?
Get the best viral stories straight into your inbox!
Don't worry, we don't spam