2023 NEW Hinata (Twin Lion Fists) with Glow Chase Funko Pop!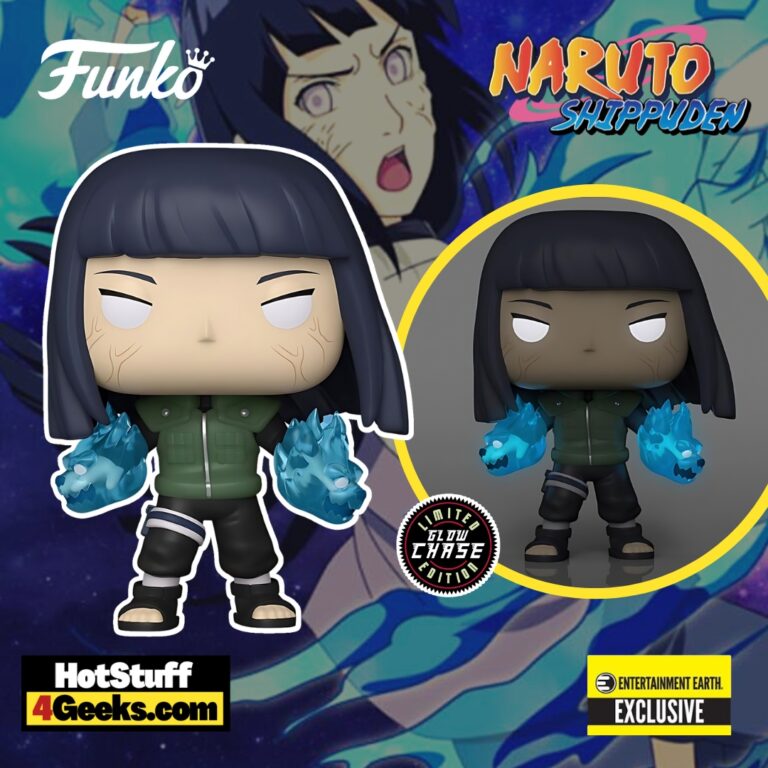 Have you ever wished to capture a favorite Naruto Shippuden moment in tangible form? Enter the new Funko Pop! Animation: Naruto Shippuden –  Hinata Hyuga with Twin Lion Fists with Glow-In-the-Dark (GITD) Chase Funko Pop! Vinyl Figure (2023) – Exclusive. This exclusive glow-in-the-dark (GITD) Chase Funko Pop! Vinyl Figure turns a pivotal moment in Hinata's narrative into a captivating collectible.
To get your hands on this Vinyl Figure, be sure to check out the links I've provided below – click to jump or scroll to continue reading!
This figure encapsulates the iconic scene where Hinata unleashes her signature Twin Lion Fists. The intensity of that scene is wonderfully reflected in the intricate design of this Funko Pop! figure.
Every detail, from the shimmering glow of the Twin Lion Fists to Hinata's determined expression, echoes the character's spirit beautifully.
It brings alive Hinata's transformative journey in a tangible form.
The electric blue aura of the Twin Lion Fists, especially under low light, is a nod to the character's immense strength and her clan's unique fighting style.
This GITD Chase Funko Pop isn't just a piece of art; it's an homage to Hinata's bravery, perseverance, and tenacity.
With it on your shelf, Hinata's inspiring story finds a home in your own personal Naruto universe.
Remember, this isn't just about collecting; it's about celebrating an incredibly compelling character whose spirit shines brighter than her Twin Lion Fists.
The Exclusive Hinata Hyuga with Twin Lion Fists with Glow Chase Funko Pop! is now available for pre-order and can be found at the links below (click to jump!)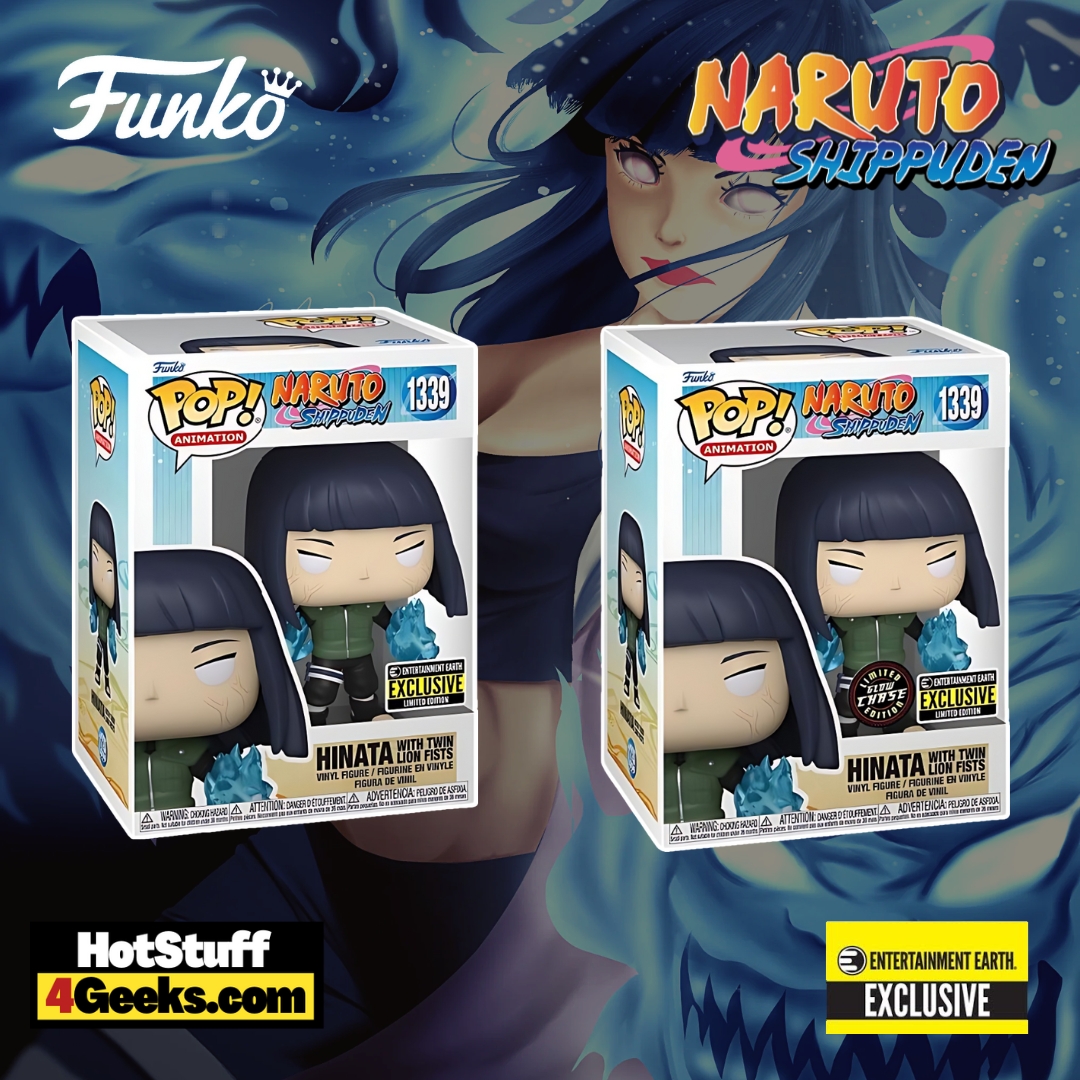 The Majestic Power of Hinata Hyuga's Twin Lion Fists
When delving into the dynamic universe of Naruto, few characters exhibit as much development, resilience, and raw strength as Hinata Hyuga.
So, let's explore one of her most striking abilities: the Twin Lion Fists. It's a jutsu that defines Hinata as a ninja and offers a fascinating peek into her journey as a character.
Distinguished by their blinding blue glow, the Twin Lion Fists serve as Hinata's battle cry.
They embody her evolution from a meek, under-confident girl to a fierce warrior and protector of her loved ones.
The Twin Lion Fists are more than just a weapon; they symbolize her courage, inner fire, and unwavering determination.
In Hinata's hands, these twin celestial beasts come alive with pure chakra, ready to strike with the precision and power of a lightning bolt. But there's more to it than meets the eye.
The Twin Lion Fists also represent the intricate and unique Hyuga clan's fighting style, the Gentle Fist.
This style targets the opponent's chakra network, disrupting their energy flow and causing severe internal damage.
The power these fists hold is undoubtedly remarkable, striking fear into the hearts of adversaries.
Now, imagine Hinata stepping into the battle arena for a moment, palms aglow with the luminescence of her chakra.
As she focuses her energy, the shape of two roaring lions form around her hands; there might resonate with the calm yet resolute look in her eyes.
The imagery is visually stunning and a testament to Hinata's character—gentle yet powerful, much like the lions themselves.
Furthermore, the Twin Lion Fists are also a beacon of Hinata's continuous growth.
Every time she uses this jutsu, it's an improved version of the previous one, reflecting her dedication to honing her skills and becoming a better ninja.
Adapting this ability is synonymous with Hinata's development as an individual. It signifies her overcoming insecurities and standing tall, embodying the spirit of the lion.
In a nutshell, Hinata's Twin Lion Fists are the perfect blend of technique and tenacity.
It's more than just an attack; it's a physical representation of Hinata's inner strength, determination, journey, and growth.
It's an ability that speaks volumes of her unwavering courage, her passion for protecting her loved ones, and her dedication to never giving up, no matter how hard the fight gets.
As we witness Hinata's prowess and growth, we can't help but marvel at the power, grace, and sheer will of this gentle yet formidable kunoichi.
The Twin Lion Fists, in essence, is a reflection of Hinata's spirit, a testament to her unyielding will, and a symbol of her evolution.
It's not just about the spectacle of the glowing, roaring lions but the girl commanding them with a calm and determined gaze.
Funko Pop! Animation: Naruto Shippuden –  Hinata Hyuga with Twin Lion Fists with Glow-In-the-Dark (GITD) Chase Funko Pop! Vinyl Figure – Entertainment Earth Exclusive (2023)
Available at:
Starting now, you can receive 10% off in-stock items with my special link at Entertainment Earth!
 Enjoy!
As an Amazon Associate I earn from qualifying purchases
Want more stuff like this?
Get the best viral stories straight into your inbox!
Don't worry, we don't spam