2023 NEW Sorcerer's Apprentice Mickey Mouse (Facet) Funko Pop!
Funko Pop! Disney: Fantasia – Sorcerer's Apprentice Mickey Mouse (Facet) Funko Pop! Vinyl Figure – Funko Shop Exclusive (2023 release)
Available at:
Prepare to be spellbound by the latest gem in the Funko universe. The new Funko Pop! Disney's 100th Anniversary: Fantasia – Sorcerer's Apprentice Mickey Mouse (Facet) Funko Pop! Vinyl Figure – Funko Shop Exclusive (2023 release) is here, and it's ready to add an extra sprinkle of magic to your Disney collection. This isn't merely a tribute to an iconic character; it's a nod to a century of Disney enchantment.
UPDATE: Mickey Facet drops today at 9:30 AM PT! To get your hands on this Pop Vinyl Figure at its release, be sure to check out the links I've provided below – click to jump or scroll to continue reading!
Unveiling the Magic: Funko's 2023 Tribute to Sorcerer's Apprentice Mickey
When we talk about lasting icons in Disney's repertoire, Sorcerer's Apprentice Mickey Mouse holds a special place, serving as a beacon of whimsical magic and daring misadventure.
Cue the drumrolls for Funko's exclusive unveiling, specially tailored to celebrate Disney's grand 100th anniversary.
The Sorcerer's Apprentice Mickey Mouse (Facet) Funko Pop! Vinyl Figure is not just another addition to your shelf; it's a miniature spectacle encapsulating a world of fantasy and nostalgia.
The first thing you'll notice about this vinyl figure is its novel 'faceted' look, a stylistic venture that gives the magical mouse a dash of unprecedented glam.
Of course, Mickey dons his iconic Sorcerer's Apprentice attire, from the enigmatic hat to the crimson robe, capturing the essence of the character that enthralled audiences back in 1940 and continues to do so today.
Let's talk about collections. If you're a Fantasia fan, this figure doesn't merely 'complete' your set. Instead, think of it as the jewel in your Disney crown.
Crafted with care and dazzling aesthetics, it invokes the same mesmerizing allure that made the original animated sequence a masterstroke of creativity.
Here's a collectible that honors its source material while beckoning to the future of Disney magic. It's not every day you get to hold a century's worth of enchantment in the palm of your hand.
The Funko Shop Exclusive Mickey Mouse (Facet) Funko Pop! can be found for order at the links below (click to jump!)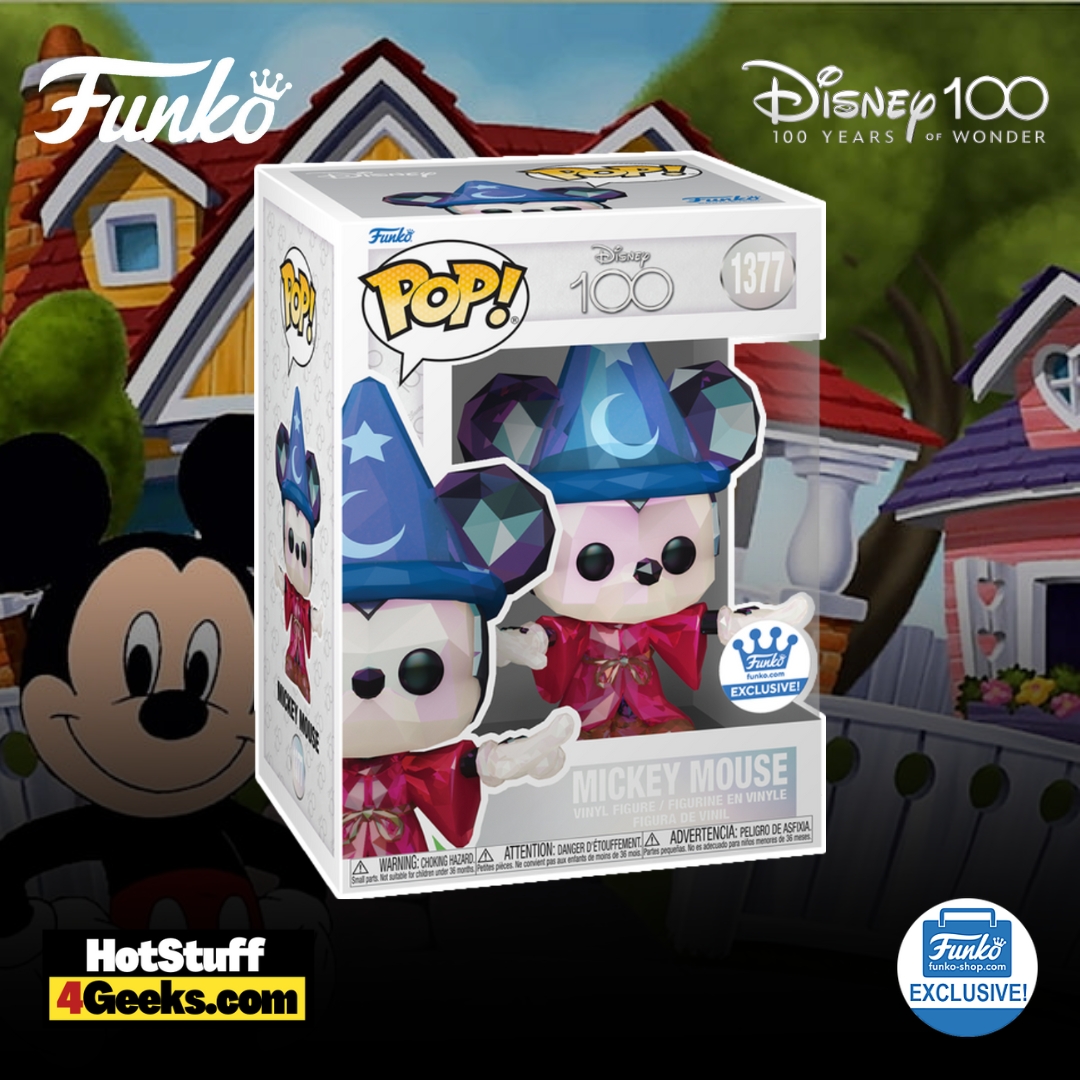 The Mystical Allure of The Sorcerer's Apprentice: Unveiling the Lesser-Known Magic
It's undeniable that when you think of Disney's Fantasia, the first image that probably pops into your head is Mickey Mouse adorned in a wizard's hat and robe.
This iconic portrayal, known as "The Sorcerer's Apprentice," has enchanted audiences since 1940. But what lies beneath this surface-level enchantment? Quite a bit, actually.
Firstly, many might not realize that this segment isn't the brainchild of Disney's storytelling.
Instead, it finds its roots in the poetry of Johann Wolfgang von Goethe, the legendary German writer known for "Faust."
Disney's adaptation does veer from the original narrative, particularly in the apprentice's methods of animating the broomstick—Goethe originally had his character summon spirits, not borrow a hat.
Nevertheless, the essence remains strikingly true to its source material.
Walt Disney himself saw "The Sorcerer's Apprentice" as a game-changer.
Why? Well, around that time, Mickey's star was beginning to dim, overshadowed by the newfound popularity of full-length feature animations like "Snow White" and "Pinocchio."
Therefore, this short was Walt's attempt to thrust Mickey back into the limelight.
What began as a humble side project eventually evolved into Fantasia, thanks to the collaboration with Maestro Leopold Stokowski.
Realizing that one short could catalyze an entire full-length project is fantastic.
The wizard Yen Sid, Mickey's mentor in this segment, is an exciting character who appears enigmatic but actually draws inspiration from Walt Disney himself.
A quick look at the name 'Yen Sid' reveals that it is 'Disney' spelled backward. Subtle details in his appearance echo Walt Disney's own visage—particularly his piercing, evaluative gaze.
Also, did you know Mickey is the only animated character who gets speaking lines?
While many characters dance and prance to the rhythm of the classical compositions, only Mickey addresses Maestro Stokowski personally.
Given that he's the anchor and focal point of the entire project, it's quite fitting, isn't it?
Even when "Fantasia 2000" arrived, it featured a remastered version of "The Sorcerer's Apprentice."
Though prettier and clearer, purists argue that some of the original atmosphere was lost in the enhancement.
And if you're a fan of Nicolas Cage, you'll find a nod to this piece in his film, which also draws its title from this magical tale.
Regarding legacy, the sorcerer's attire has become as emblematic as Mickey's red shorts and white gloves.
If that's not a cultural impact, what is?
Notably, Mickey nearly lost the iconic role to Dopey, one of Snow White's Seven Dwarves. Fortunately, Walt held his ground.
But perhaps the segment's most lasting impact is the transformative redesign of Mickey.
Masterminded by animator Fred Moore, the update offered Mickey an emotional range that catapulted his career into a new era of storytelling.
So, next time you see Mickey in his wizard robe, know that you're witnessing a blend of history, innovation, and cultural evolution—indeed, magic in its purest form.
As an Amazon Associate I earn from qualifying purchases
Funko Pop! Disney: Fantasia – Sorcerer's Apprentice Mickey Mouse (Facet) Funko Pop! Vinyl Figure – Funko Shop Exclusive (2023 release)
Available at:
Want more stuff like this?
Get the best viral stories straight into your inbox!
Don't worry, we don't spam