2023 Avengers 60th: Comic Captain America Funko POP! & Pin
Funko Pop! & Pin: The Avengers: Earth's Mightiest Heroes – 60th Anniversary – Comic Captain America Funko POP! Vinyl Figure with Pin Set – Amazon Exclusive
Available at:
Prepare to revel in nostalgia and heroism with the latest addition to your collection—the Funko Pop! & Pin: The Avengers: Earth's Mightiest Heroes – 60th Anniversary – Comic Captain America Funko POP! Vinyl Figure with Pin Set – Amazon Exclusive. This unique set isn't just another piece of memorabilia; it's a tribute to one of Marvel's most iconic figures, celebrating 60 years of Avengers, the Earth's Mightiest Heroes.
UPDATE: Now available for pre-order! To get your hands on this Pop Vinyl Figure, be sure to check out the links I've provided below – click to jump or scroll to continue reading!
A Salute to the Sentinel of Liberty: The Avengers 60th Anniversary Comic Captain America Funko Pop! & Pin Set
If you're steeped in the universe of Earth's Mightiest Heroes, prepare to channel your inner fan because of the newest Funko Pop! & Pin set is here to elevate your Captain America collection.
Exclusive to Amazon, this limited release commemorates the 60th Anniversary of The Avengers with none other than Comic Captain America at the helm. Intricately detailed, this vinyl figure encapsulates the nuances that make Cap a timeless symbol of heroism and virtue.
From the classic shield to the intricately designed suit, this Funko rendition doesn't just capture Steve Rogers; it encapsulates an ideology.
At 3.75 inches, the vinyl figure manages to be both modest and grandiose, a microcosm of the character's own paradoxical humility and greatness. The accompanying pin, emblazoned with the iconic shield, is like the cherry on top of a star-spangled sundae.
Meticulously crafted, this Funko Pop! & Pin set isn't your run-of-the-mill merchandise; it's akin to a pocket-sized shrine of the legendary Super-Soldier.
Celebrating six decades of Cap's unyielding devotion to justice, this Amazon exclusive is tailor-made for those who comprehend the profound depth of the character.
Ideal for fans and newcomers alike, it serves as both a tribute and an initiation into the awe-inspiring world of Captain America.
The Amazon Exclusive Comic Captain America Funko POP! and Pin (from The Avengers 60th Anniversary) can be found for pre-order at its release at the links below (click to jump)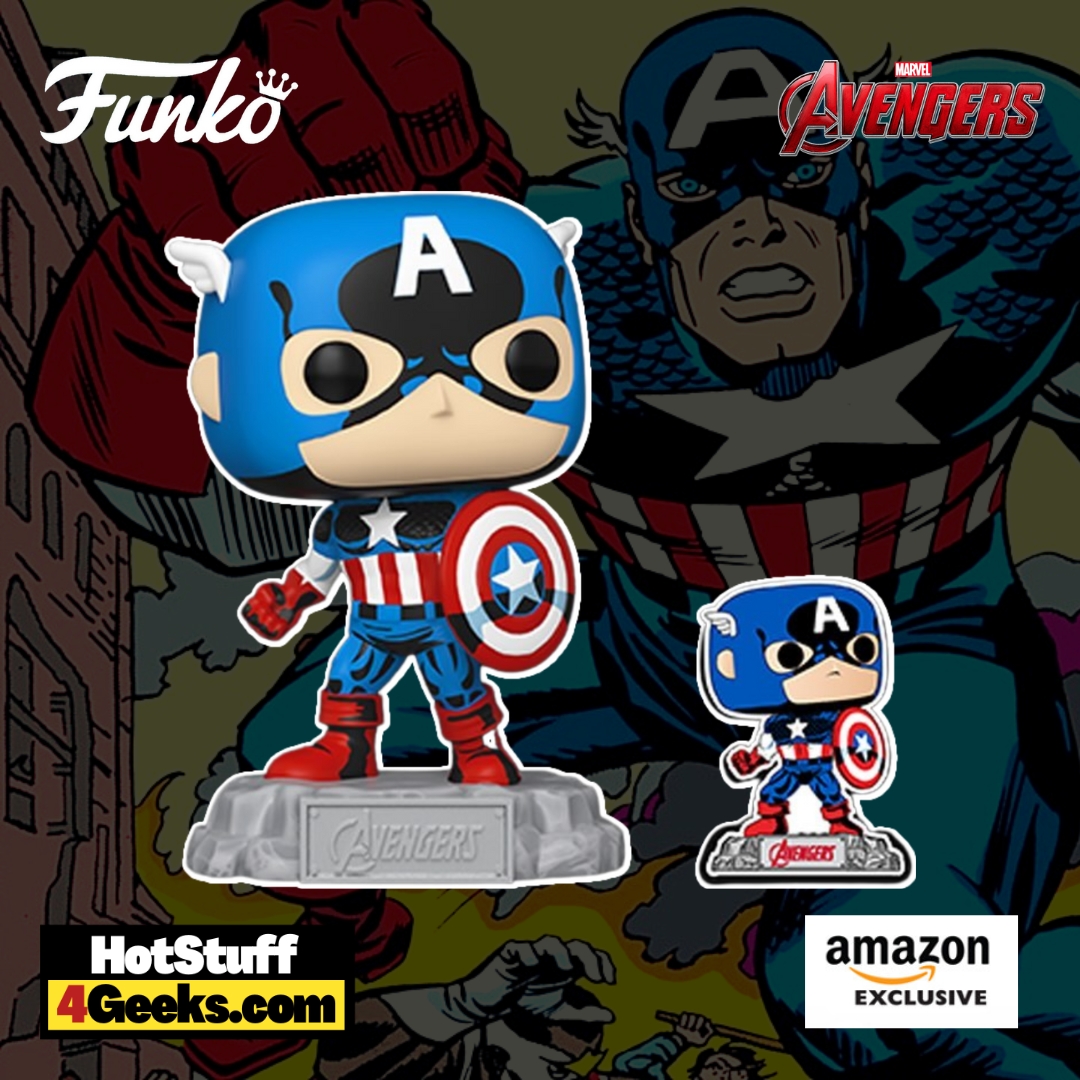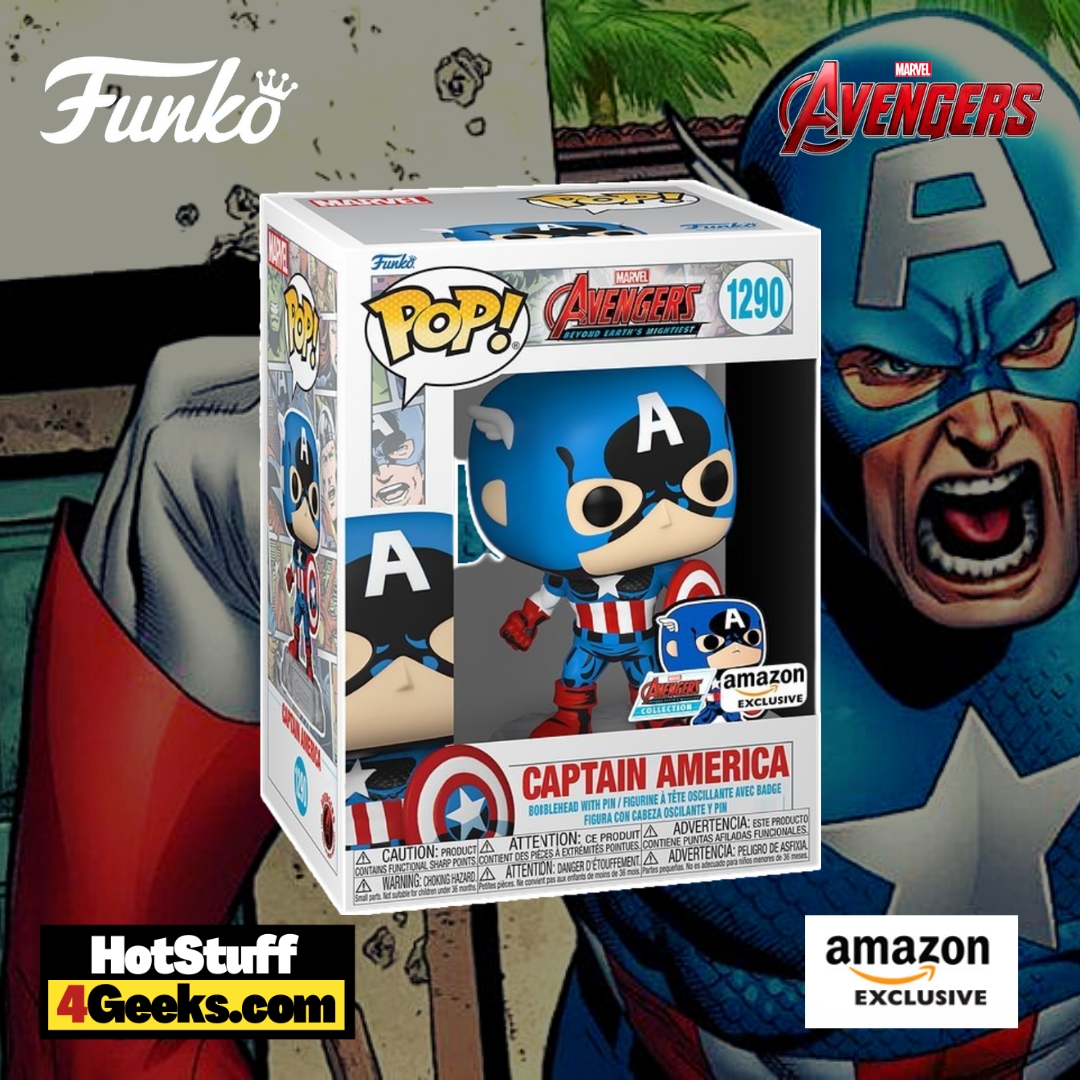 The Quintessential Hero: Unraveling the Inspirational Tapestry of Captain America
Dive into the myriad layers that make Captain America more than just a spandex-clad crusader; he's an archetype of inspiration.
Whether it's Steve Rogers, Bucky Barnes, or Sam Wilson beneath the iconic helm, the essence remains consistent—an unwavering beacon for the virtuous and an emblem of indomitable courage.
First up, let's talk about Captain America's dauntless fortitude in the face of overwhelming odds. While many heroes exhibit courage, what sets Cap apart is an almost superhuman resolve.
Take, for example, his face-off with Thanos in the original "Infinity Gauntlet" series.
Steve Rogers isn't deterred by the Mad Titan's cosmic prowess; instead, he marches forward, defying the existential dread that looms.
Mortality be darned; this is a man on a mission, and that mission goes beyond mere survival—it's the embodiment of valor.
Arguably, his standout attribute isn't his agility or combat skills; it's his unshakable moral code.
Time and again, we see Captain America hold the line when it comes to his values.
Even when joining morally ambiguous groups like the Illuminati, his resolve remains as steadfast as his shield.
Unyielding in the face of world-altering dilemmas, Rogers won't let himself descend into moral chaos, proving that victories hollowed by compromise are not victories at all.
It would be erroneous to label Captain America a simple nationalist.
Yes, he wears the flag, but he doesn't fight for the government; he fights for the ideals upon which the United States was founded.
If need be, he'll oppose governmental actions, seeking not blind loyalty but the constant pursuit of a more equitable nation.
Imagine the toll of not just battling villains but also being the living, breathing symbol of freedom and justice.
Yet, regardless of who dons the shield, they maintain a poise that disguises the weight of their responsibility.
That resilience, intrinsic to the role of Captain America, demonstrates a mastery of self, almost as if the suit itself bestows a cloak of unflappable stoicism.
Cap isn't just a soldier; he's a tactician. The Avengers didn't just unfreeze a fighter; they gained a leader whose stratagems appear to be almost instinctual. Both Steve Rogers and Sam Wilson have demonstrated leadership that makes even the most potent assemblage of heroes a coherent, unified force.
In conclusion, the real superpower of Captain America isn't lodged in the serum coursing through his veins, nor is it in his near-indestructible shield.
It's in the way he catalyzes an innate aspiration to be better—to do better—in everyone he encounters.
Whether in the pages of a comic book or within the pixels of a screen, Captain America transcends fiction, serving as an enduring testament to the best of what humanity can strive for.
More about The Avengers: Earth's Mightiest Heroes – 60th Anniversary Funko Pops! here.
As an Amazon Associate I earn from qualifying purchases
Funko Pop! & Pin: The Avengers: Earth's Mightiest Heroes – 60th Anniversary – Comic Captain America Funko POP! Vinyl Figure with Pin Set – Amazon Exclusive
Available at:
Want more stuff like this?
Get the best viral stories straight into your inbox!
Don't worry, we don't spam