2023 Avengers 60th: Comic Captain America Funko POP! & Pin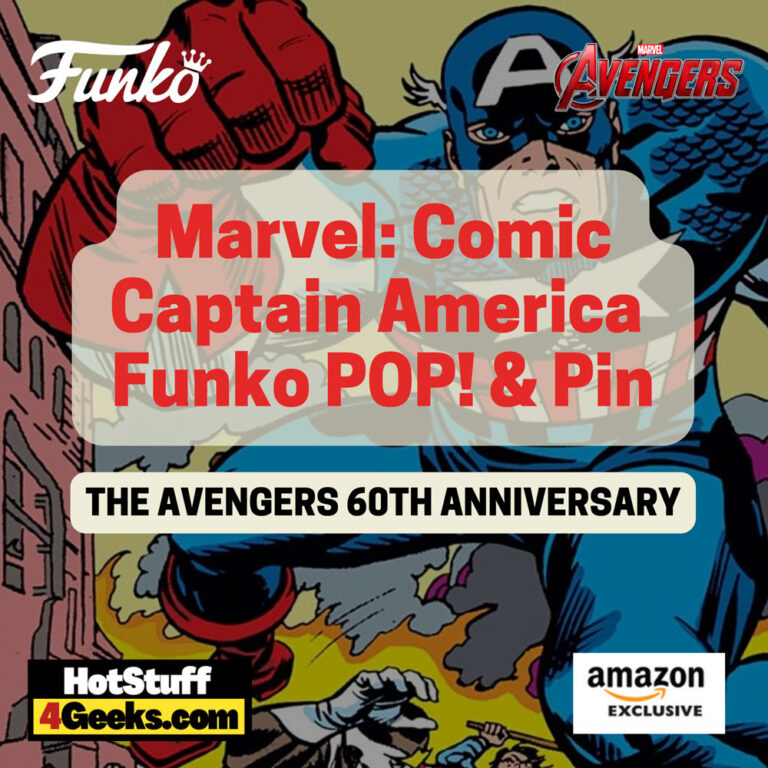 Not official until confirmed.
If you are an Avengers fan, this item is a must-have! The new  Funko Pop! & Pin: The Avengers: Earth's Mightiest Heroes – 60th Anniversary – Comic Captain America Funko POP! Vinyl Figure with Pin Set – Amazon Exclusive isn't just any regular collectible – it's actually an exclusive Amazon release.
It makes the perfect gift for all Marvel fanatics, as it captures the core essence of the beloved superhero.
Plus, it also contains one stylish pin that makes the whole set look fantastic, and you are bound to get some oohs and ahhs from fellow comic book lovers.
So if you're looking for a collector's item to commemorate The Avengers' unforgettable White Star celebration, this is your ticket!
The Amazon-exclusive Comic Captain America Funko POP! and Pin (The Avengers 60th Anniversary) is coming soon. There's no release date yet, but stay tuned because I'll update more information in the long run.
Captain America is a beloved Marvel character and Avenger who has been around since 1941.
With his bright red, white and blue shield in tow, he makes it his mission to save the world – heroically throwing himself into every task with enthusiasm.
Captain America is an enduring symbol of the Marvel universe, known for his unbreakable shield, unyielding conviction, and unwavering optimism.
The invincible Avenger has been a source of power and hopes to millions over the last few decades, often appearing in battles against enemies too numerous or powerful to defeat without teamwork.
His enemies often describe him as "that annoying patriot," but no one can deny his commitment to justice.
He even somehow manages to stay finely chiseled and healthy on a diet of nothing but protein shakes, despite constantly fighting for the greater good.
Captain America is undoubtedly an inspiring superhero!
More about The Avengers: Earth's Mightiest Heroes – 60th Anniversary Funko Pops! here.
Starting now, you can receive 10% off in-stock items with my special link at Entertainment Earth!
 Enjoy!
As an Amazon Associate I earn from qualifying purchases
Want more stuff like this?
Get the best viral stories straight into your inbox!
Don't worry, we don't spam