Funkoween 2022- Attack on Titan: Female Titan Glow Funko Pop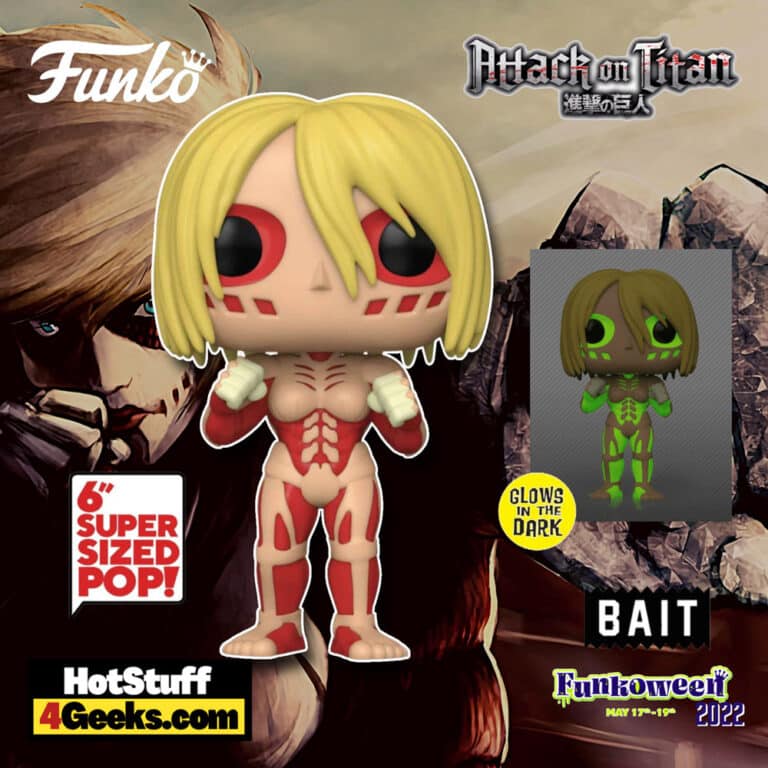 The Female Titan is a character that strikes fear into the hearts of all who cross her path. So, beware! The new Funko Pop! Animation: Attack on Titan – Female Titan Glow-In-The-Dark (GITD) 6-Inch Funko Pop! Vinyl Figure – BAIT Exclusive (Funkoween 2022 release) is ready to take down any human who gets in her way.
The pop figure is now available for pre-order at the links below – click to jump or scroll to continue reading!
If you're a fan of the anime Attack on Titan, then you know that the Female Titan is a force to be reckoned with. She's strong, fast, and ruthless in her quest to wipe out humanity.
But if you're looking for a way to show your love for Attack on Titan, or you just want a badass glow-in-the-dark figure for your collection, then the Female Titan Pop is a must-have.
The Female Titan 6-inch Glow-In-the-Dark Funko Pop! can be found at the links below (click to jump!)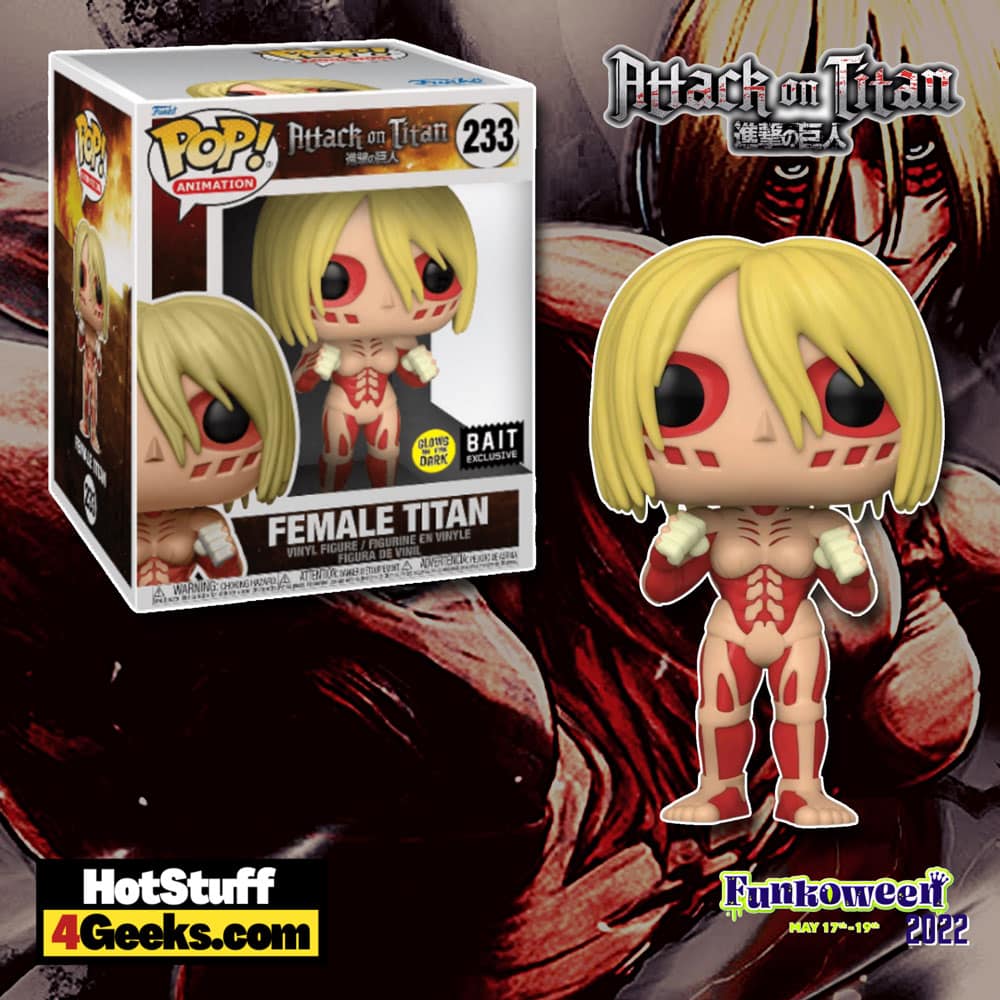 In Attack on Titan, monsters, known as Titans, plague the world, constantly attempting to devour people.
However, as seasons 2 and 3 revealed, Titans are humans who are forcibly transformed into these monsters.
One of these shapeshifters, Annie Leonhart, is the main antagonist of the first season, and her titan, the Female Titan, poses a real threat due to her unique anatomy.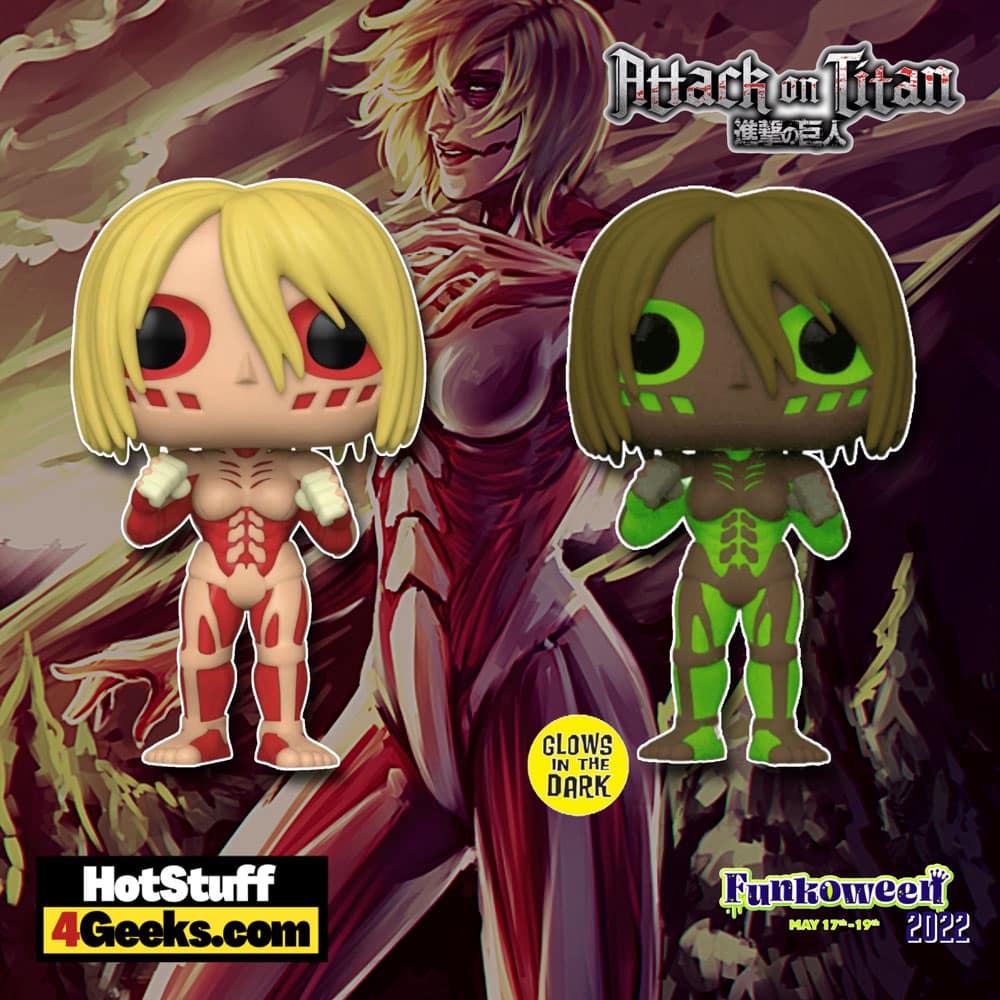 The titans of Attack on Titan are as fascinating as they are frightening. And, as you well know, they are not all equally irrational or similarly strong.
Nine mighty titans are central to this universe and are entirely different from one another.
Throughout four seasons of the anime, fans have encountered many of the original nine titans. One of them is the Female Titan.
She is a potent being with many abilities and one of the most feared Titans.
Her most notable power is her hardening ability, which allows her to create an impenetrable crystal case around her human form.
This makes her virtually indestructible and gives her a significant advantage in battle.
The Female Titan is also incredibly fast and agile, making her difficult to hit. She also has a unique scream that can attract nearby Titans.
In addition to all the traditional physical attributes of titans, the Female Titan can copy the abilities of other creatures by consuming pieces of their bodies.
Under Annie Leonhart's control, the Female Titan terrorized many of the humans in Attack on Titan but was eventually defeated by Mikasa and Eren (transformed into a titan, of course).
Nevertheless, she remains a formidable opponent and one that should never be underestimated.
You can find more Attack on Titan pops here.
As an Amazon Associate I earn from qualifying purchases
Want more stuff like this?
Get the best viral stories straight into your inbox!
Don't worry, we don't spam