SDCC 2023: Black Clover: Nozel Silva Funko Pop! Exclusive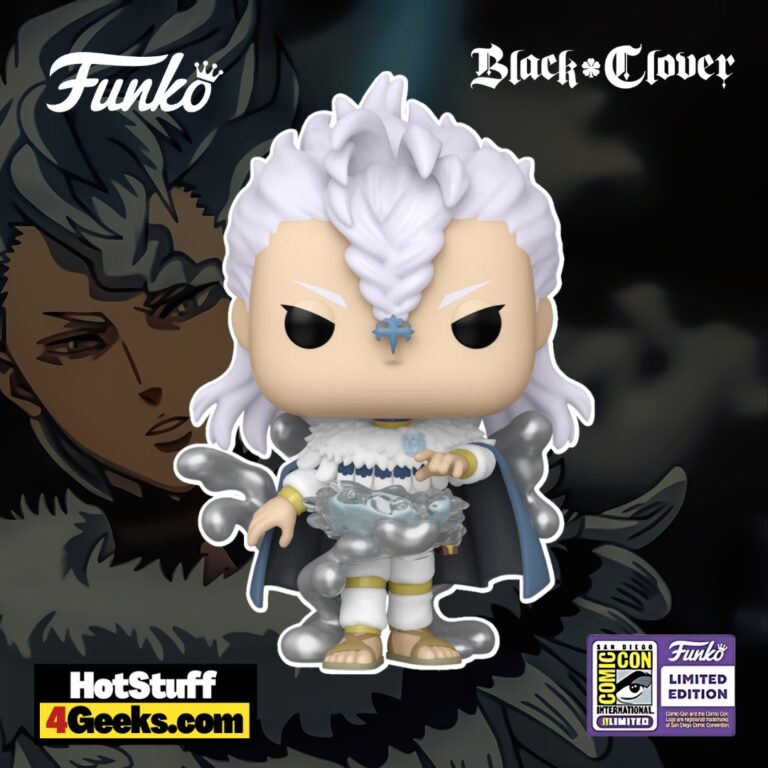 The new Funko POP! Black Clover: Nozel Silva Funko Pop! Vinyl Figure – SDCC 2023 and GameStop Shared Exclusive will be available online starting at 6 AM PT on Thursday, July 20, at the links below (click to jump!)
A Taste of Royalty: The 2023 SDCC Nozel Silva Funko Pop!
You can't deny that there's something special about Nozel Silva, the indomitable captain of the Silver Eagle squad in Black Clover. He's a complex character who radiates the charisma of royalty, and what better way to bring this commanding character to life than the SDCC 2023 exclusive Nozel Silva Funko Pop! figure?
It's an exciting moment when we can bring a piece of the Clover Kingdom home.
This beautifully crafted vinyl figure showcases the essence of Nozel Silva – from his unique silver hair to his noble garb.
And that's not all. The figure even gives us a glimpse of Nozel's mercurial magic, which is central to his commanding character.
This exclusive Funko Pop! is a must-have addition to your Black Clover collection, letting you revere the royal aura of Nozel Silva right at your fingertips.
With his serious expression and all the details that make Nozel who he is, this figure is a visual tribute to his spirit, power, and unyielding endurance.
Remember, we're not just talking about a vinyl figure here. We're talking about Nozel Silva, the scion of House Silva, in all his Funko Pop! glory.
Not every day do you find such a vivid representation of a character who embodies such an intriguing mix of pride, power, and complex emotion.
So, why wait? The SDCC 2023 exclusive Nozel Silva Funko Pop! is ready to join your team, serve with your Royal Knights, and unleash its mercurial magic on your shelf!
The SDCC 2023 and GameStop Shared Exclusive Nozel Silva Funko Pop! can be found at the links below as soon as the online sale begins (click to jump!)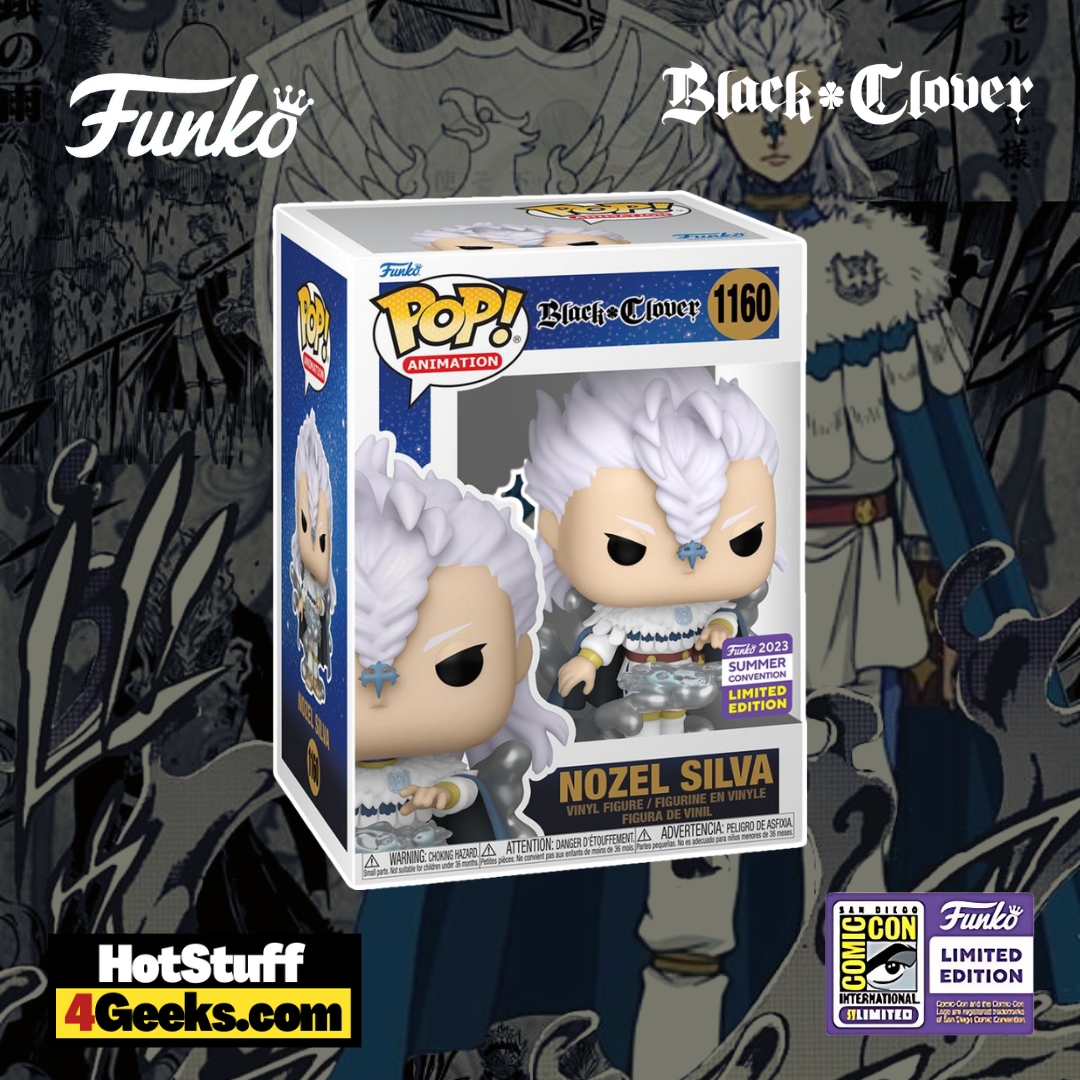 Diving into the Silver Luster: Unraveling the Mystery of Nozel Silva
As any avid Black Clover fan will attest, one of the most compelling characters gracing the landscape of the Clover Kingdom is none other than the noble Nozel Silva.
His character shines as brightly as his silver hair, his intriguing persona unfolding with each episode, captivating viewers with a potent blend of strength, enigma, and paradoxical tenderness.
Born into the majestic House Silva, one of the royal families reigning over the Clover Kingdom, Nozel Silva's nobility shines not only in his lineage but also in his unwavering dedication as the Captain of the Silver Eagle squad of the Magic Knights.
His role as the firstborn of House Silva comes with its burdens and privileges, leading to complex relationships and unspoken rivalries that add depth to his character.
A striking figure with his slender build, fair skin, and unique silver-white hair, Nozel's appearance is as distinctive as his persona.
His purple eyes, stylish hairdo with a braided fringe, and the symbolic House Silva pendant resting at his nose tip present an arresting spectacle.
He dons the traditional Silver Eagles' attire with the squad symbol on his robe, standing tall and proud in his unique ensemble that echoes the grandeur of his noble lineage.
While Nozel's arrogance often paints him as an arrogant aristocrat looking down on the commoners, the underlying complexity of his character cannot be ignored.
He's stern yet caring, condescending yet protective, highlighting the many facets of his personality.
Despite his seemingly pompous demeanor, he is fiercely dedicated to his role as a Magic Knight, always holding himself and his squad to the highest standards.
His rivalry with Fuegoleon Vermillion, borne out of childhood competition, has morphed into mutual respect and a burning desire to outdo one another.
This competitive spirit has only honed his skills as a Magic Knight, making him one of the most formidable forces in the kingdom.
Another exciting dynamic unfolds between him and the rebellious Yami Sukehiro, their snide banter often laced with underlying respect and admiration.
However, one of the most heartwrenching aspects of Nozel's personality is his strained relationship with his sister, Noelle.
Initially tinged with resentment and blame, the complex dynamics gradually unravel into a protective instinct born out of love and the fear of loss, leaving fans with a bitter-sweet sentiment.
Nozel Silva is undeniably an enchanting figure.
With his exceptional magic control and command over mercury, his strength is as fluid and dynamic as the element he manipulates.
His unyielding endurance, formidable magical powers, and profound sense of duty are a testament to his character and an indication of his values.
At the end of the day, Nozel Silva, with his myriad of complexities, stands as a testament to the beautiful character development within Black Clover.
Despite his flaws and questionable attitude, his journey toward self-awareness and acceptance is one that fans will continue to observe with bated breath.
His character not only adds depth to the narrative but also reminds us of the complex layers hidden beneath the surface of every individual.
Funko POP! Black Clover: Nozel Silva Funko Pop! Vinyl Figure – SDCC 2023 and GameStop Shared Exclusive
Available at:
Starting now, you can receive 10% off in-stock items with my special link at Entertainment Earth!
 Enjoy!
As an Amazon Associate I earn from qualifying purchases
Want more stuff like this?
Get the best viral stories straight into your inbox!
Don't worry, we don't spam