SDCC 2023: The Little Mermaid (Live Action) Ariel Funko Pop!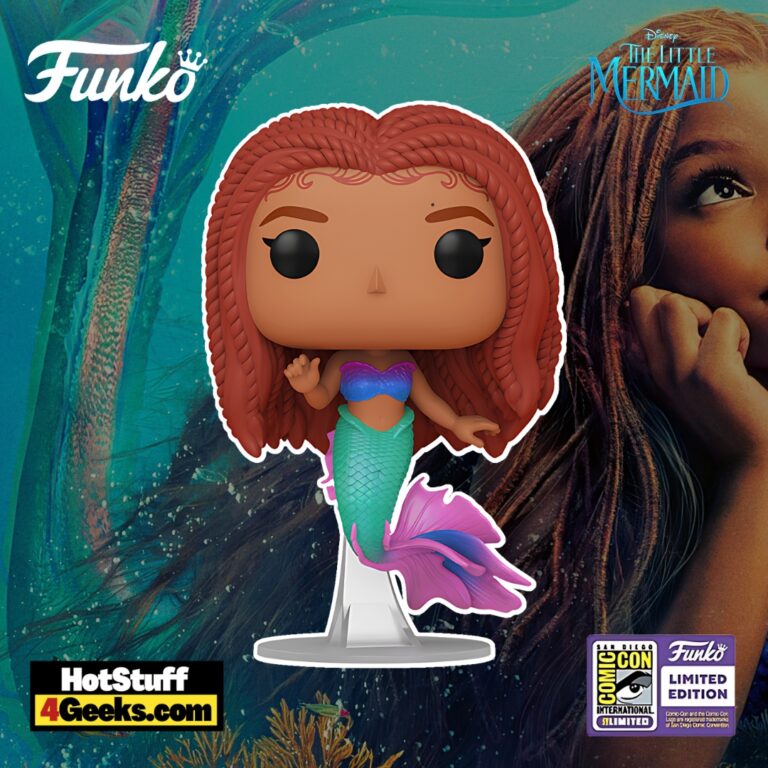 The new Funko POP! Disney: The Little Mermaid (Live Action)– Ariel Funko Pop! Vinyl Figure – SDCC 2023 and Target Shared Exclusive will be available online starting at 6 AM PT on Thursday, July 20, at the links below (click to jump!)
Diving into Detail: The Ariel Funko Pop! from Disney's Live-Action 'The Little Mermaid' – 2023 SDCC Exclusive
Stepping out from the sea and onto land, here's Ariel, the youngest daughter of King Triton, as never seen before!
The San Diego Comic-Con 2023 exclusive Funko POP! presents our favorite mermaid in a fresh, creative light.
This figure captures Ariel's audacious spirit, unwavering determination to follow her dreams, and readiness to explore the world beyond the ocean's waves.
Check out the unique aspects of the figure, right from the exquisite detailing on her iconic red hair to the meticulous design of her emerald tail.
Now, she's not just flipping her fins.
She's all set to take the world by storm! Look at the earnest expression on her face – Ariel is on the hunt for Ursula, the Sea Witch, ready to broker a deal that would change her life forever.
The adventure in her eyes promises tales of bravery and wonder.
If your 'The Little Mermaid' collection is yearning for a piece that truly stands out, this is it.
This Ariel figure breathes life into your set, infusing it with undersea magic and a dash of on-land excitement.
With Ariel in tow, your collection won't just tell a story – it'll sing a saga of dreams, courage, and of enchanting worlds beneath the sea and above!
So, are you ready to make a splash?
The SDCC 2023 and Target Shared Exclusive Ariel Funko Pop! can be found at the links below as soon as the online sale begins (click to jump!)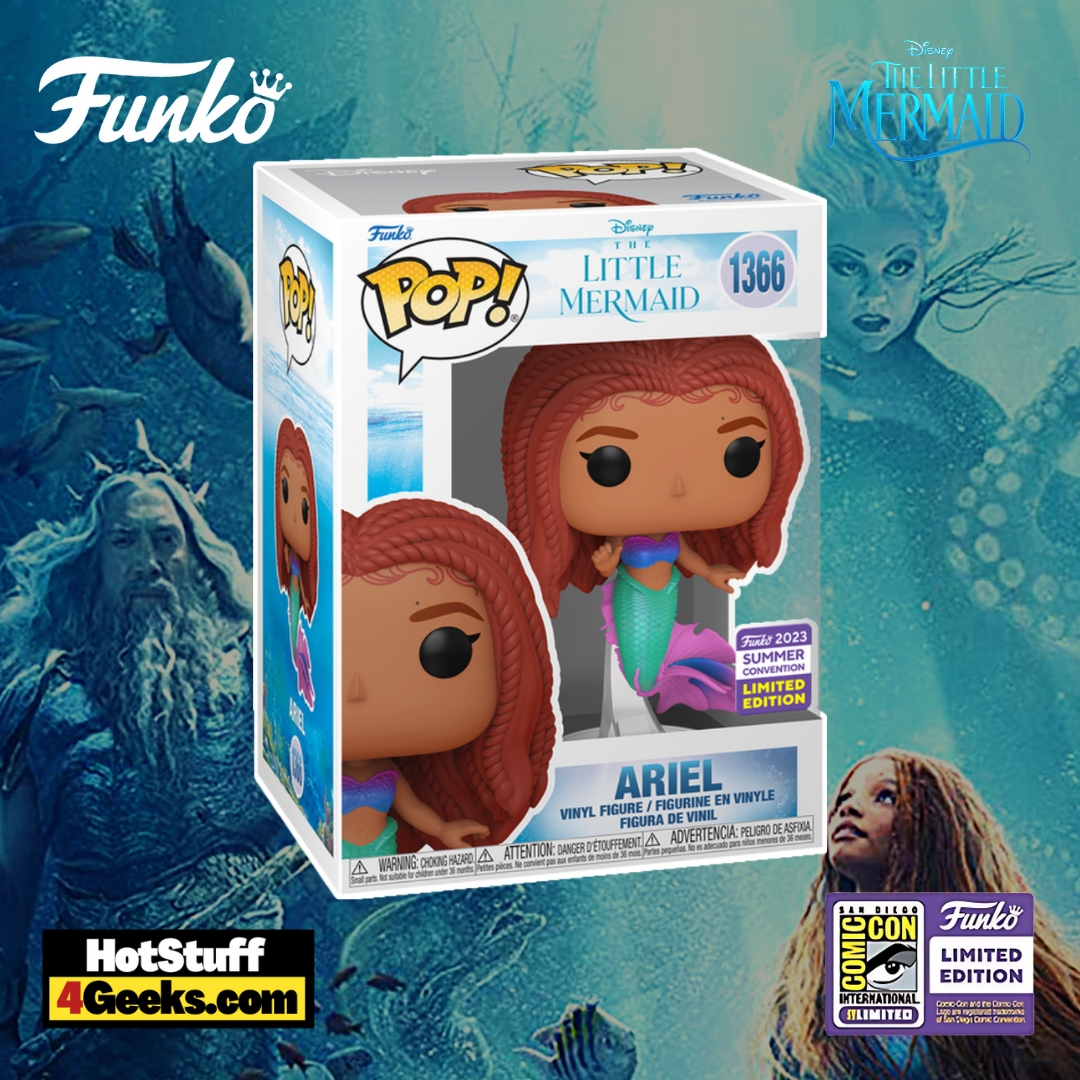 Making Waves: An In-depth Dive into the Live-Action 'The Little Mermaid
The ocean roars to life in 2023's live-action adaptation of the beloved Disney classic, "The Little Mermaid."
Under the helm of director Rob Marshall and screenwriter David Magee, Halle Bailey delivers a mesmerizing performance as Ariel, the curious mermaid.
The result is a familiar film yet teems with fresh twists and turns that nudge the story into new waters.
This reimagined version of "The Little Mermaid" does not shy away from some changes, especially in its ending.
It stays true to the essence of the original but adds layers that resonate with a contemporary audience.
The final act sees Ariel shattering the magical necklace – her voice's prison.
This ignites a conflict with Ursula, the notorious sea witch, leading to a climactic underwater clash after her father, King Triton, succumbs to a wicked spell.
In a bold move, the film places the trident, a symbol of the sea's sovereignty, in the grasp of Ursula.
As the sea witch morphs into a colossal menace, Ariel is forced to engage in a struggle that extends beyond her dreams, one that threatens both her underwater home and the world above she yearns to be part of.
This plot twist crescendos with a thrilling conclusion where Ariel is the one to land the killing blow to Ursula, a departure from the animated version.
Despite their triumph, Ariel and Prince Eric find their joy shadowed by a looming separation.
Fortunately, a timely intervention by a reformed Triton ensures a celebratory wedding, signifying the reconciliation of their worlds.
What stands out in the narrative is Ariel defying her father's oppressive rules.
Her rebellious spirit is amplified, and her longing for freedom and exploration is brought to the forefront.
Ariel isn't just seeking love; she's chasing her dreams, her autonomy.
This decision to defy her father and bargain with Ursula is a testament to her relentless determination.
In this adaptation, the Eric and Ariel romance is beautifully woven, emphasizing their genuine connection.
The 'girl of his dreams' turns out to be the 'girl of his reality.'
Ariel, with her enchanting personality and fierce bravery, breaks down Eric's initial fascination, helping him understand love is more than a siren's song.
Even under Ursula's enchantment, there's a prevailing confusion in Eric, hinting towards his real feelings for Ariel.
The movie cleverly unfolds Ursula's revenge scheme, revealing her motivations to usurp Triton.
Her targeting of Ariel was strategic, demonstrating her cunning nature and amplifying her menace.
However, the film's conclusion showcases Ariel's courage and determination, making it evident that Ursula severely underestimated her.
Lastly, the film hints at the potential for a sequel.
Ariel and Eric's union symbolizes a hopeful future of coexistence between the human world and the sea.
Although peace is momentarily achieved, the ending suggests a larger narrative in the offing, one that might involve conflicts and a new antagonist rising from the depths.
Only time will tell where Ariel and Eric's journey will lead next.
In conclusion, the live-action adaptation of "The Little Mermaid" delivers a fresh take on the cherished classic.
It offers a layered narrative that explores freedom, identity, and the consequences of ambition, all while setting up tantalizing possibilities for a future sequel.
More to Read:
Funko POP! Disney: The Little Mermaid (Live Action)– Ariel Funko Pop! Vinyl Figure – SDCC 2023 and Target Shared Exclusive
Available at:
Starting now, you can receive 10% off in-stock items with my special link at Entertainment Earth!
 Enjoy!
As an Amazon Associate I earn from qualifying purchases
Want more stuff like this?
Get the best viral stories straight into your inbox!
Don't worry, we don't spam