2021 NEW Holiday Baby Groot w/ Lights Glow Funko Pop! Exclusive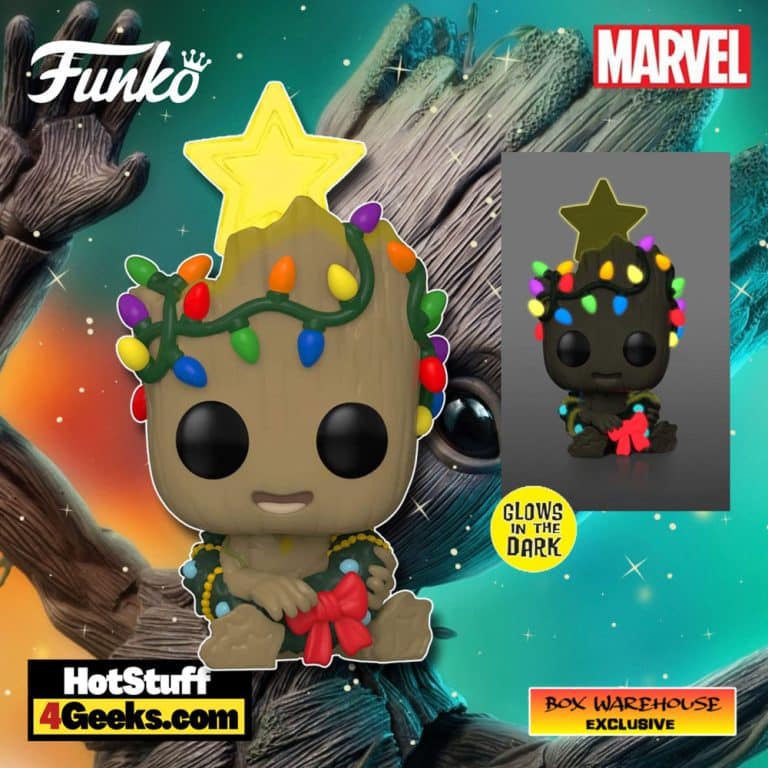 I'm not sure which lovely holiday tune Baby Groot is singing for us. His festive decor can only mean that this Funko POP! Marvel Holiday: Baby Groot with Lights Glow-In-The-Dark (GITD) Funko Pop! Vinyl Figure – Box Warehouse Exclusive of everyone's favorite Mini Guardian of the Galaxy wants us to end the year on the right note.
Any Marvel fan in your family will absolutely flip for this Pop! Marvel Holiday Groot Figure! It's a fun representation of the little tree alien with colorful lights, a festive wreath, and even a golden star on top. Who needs a Christmas tree when you've got Groot? Not me!
Groot is one of the most beloved characters in the Marvel Cinematic Universe. As Baby Groot, his baby form, he is even more fun and makes everyone fall in love with him.
Baby Groot was 'born at the end of the first Guardians of the Galaxy and has become one of the highlights of the Marvel movie sequel.
Dubbed by Vin Diesel, the CG-created character has only one line: "I am Groot." But he steals the show in the intergalactic adventure, and his talkative colleagues always seem to understand what he means.
The Box Warehouse Exclusive, Baby Groot with Lights Glow Funkio Pop! is now available for pre-order at the links below (click to jump!)
With the hype generated around Baby Yoda from Disney+'s The Mandalorian series, which won over even non-Star Wars fans with its cuteness, from kids to adults, it was obvious that Marvel would not take long to introduce its own character that makes you want to squeeze.
And, it happened. During Investor Day 2020, Disney announced the new animated short film series I Am Groot. The main character will be Groot's baby version, the hero-tree from the Guardians of the Galaxy films, who has already been seen in his "baby" age in the franchise's second film.
The Box Warehouse Exclusive, Baby Groot with Lights Glow Funkio Pop! is now available for pre-order at the links below (click to jump!)
I Am Groot will show the little hero doing his age-appropriate stunts and getting into high adventure. Familiar faces who are also part of Guardians of the Galaxy may appear in the series, such as Rocket Racoon, Peter Quill, Gamora, and Drax and new and unusual characters. A premiere date has not been released.
It remains to be seen whether, when the series premieres, Baby Groot will have the same charisma and mass acceptance that Baby Yoda had.
If it depends on what has already been presented in the MCU films, the chance that fans will embrace him is pretty favorable.
As an Amazon Associate I earn from qualifying purchases
Want more stuff like this?
Get the best viral stories straight into your inbox!
Don't worry, we don't spam