2022 NEW Marvel – Shuri Comic Cover Funko Pop! Exclusive
Shuri has been having a moment lately. She's always been a fan-favorite character, but she's really been stepping into the spotlight recently. In the comics, she's got her own series and inspired a new Funko Pop figure.
The Funko Pop! Comic Covers: Marvel – Shuri Funko Pop! Comic Cover Vinyl Figure – Target Exclusive is based on the cover of Shuri #1 (2018), and it's clear that Shuri is ready to take on whatever comes her way.
The pop figure will be available for preorder on August 29, 2022, at 6 AM PT at the links below (click to jump!)
Shuri is the sister of T'Challa, the Black Panther. She is a brilliant scientist and engineer who designs all of the advanced technology used by the Wakandan military and superhero community.
Not to mention, she is a total badass and can hold her own in a fight. Marvel Studios president Kevin Feige has said that Shuri is "the smartest person in the Marvel Cinematic Universe."
Actress Letitia Wright, who plays Shuri in the Black Panther films, has said that her character is "like James Bond, but funner."
With the film's success, the heroine gained even greater prominence in the comics, taking on the mantle of the Panther and even becoming Queen of Wakanda.
Shuri is one of the most powerful and capable superheroes in the Marvel Universe, and hopefully, we'll see even more of Shuri in the future, both in the comics and on the big screen.
The Target Exclusive Shuri Comic Cover Funko Pop! can be found at the links below (click to jump!)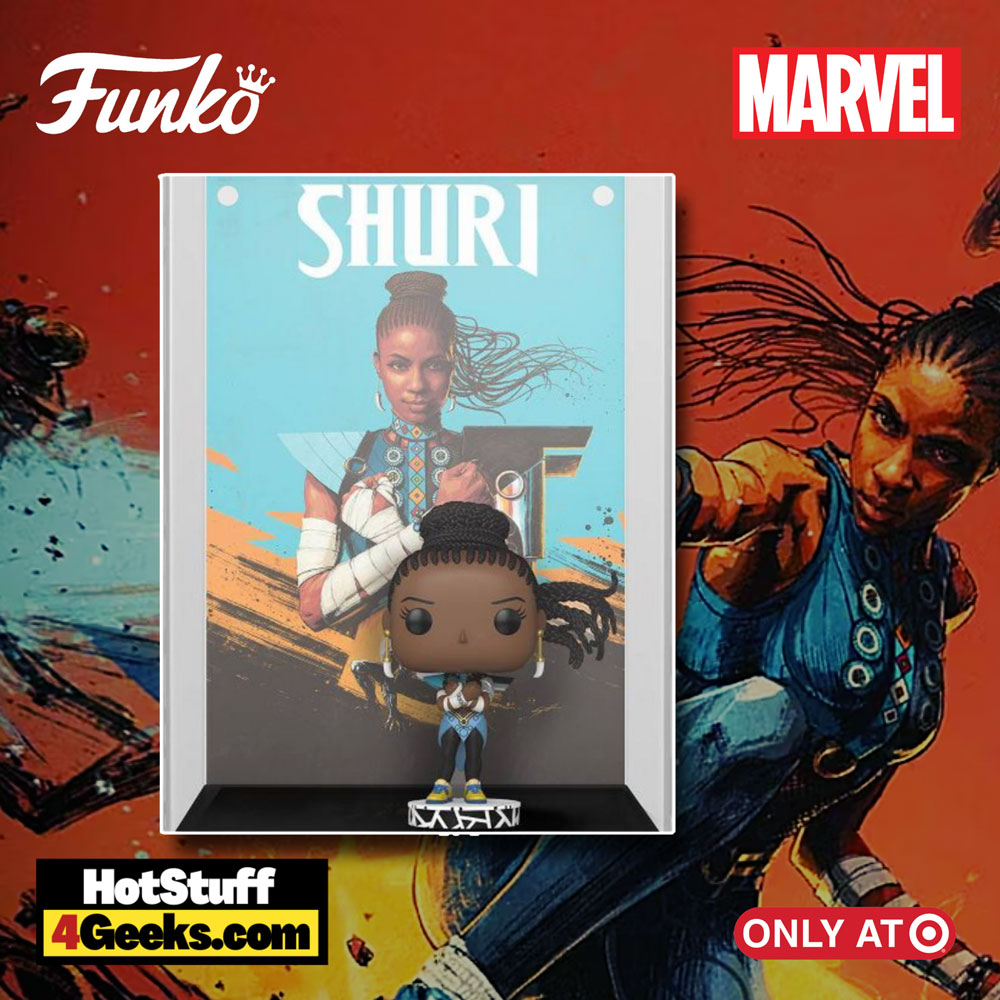 As much as she is a highly relevant character in the current scenario, Shuri only just appeared in the comics in recent years.
In fact, her origin is part of a significant retcon teased by screenwriter Reginald Hudlin and artist John Romita Jr. into the origins of the Black Panther.
The character first appeared in Black Panther Vol. 4 #2 (2005).
The story retells T'Challa's origin and features Shuri as his younger sister, an intelligent and ambitious woman from Wakanda who is pivotal in defeating Western invaders in the country.
She was later incorporated into the character's mythology so that Vol. 5 of the hero's magazine is all about her.
Shuri was born into the royal family of Wakanda. She's the daughter of King T'Chaka and his third wife, Ramonda. T'Challa is the son of the king with his first wife.
So, Shuri and Black Panther are half brothers. But this does not mean that they are not close to each other.
Love for the nation and ambition have been part of Shuri's life from an early age, and one of her goals has always been to become the first Black Panther woman.
Her intentions led Shuri to disobey her own mother and challenge her uncle S'Yan in the tournament that would decide the next Black Panther.
However, she does not make it to the arena before her brother T'Challa, who manages to defeat his uncle and win the title of Black Panther.
Shuri's personality is not only about ambition. She also has a lot of bravery in her heart, willing to risk her life to protect Wakanda and its citizens.
We can notice this during the invasion of Wakanda by Klaw, Black Knight, Rhino, Batroc, and Radioactive Man.
It was the first time that Shuri acted like a superhero. To stop the villains from causing more deaths, Shuri takes Black Knight's sword and kills Radioactive Man.
Killing a person, even an enemy, was a traumatic event for Shuri's mind. So to help his sister deal with her own consciousness, T'Challa started training Shuri in hand-to-hand combat.
The training served not only to ease the torment of Shuri's thoughts but also to prepare her to assume the mantle of the Black Panther and leader of Wakanda, if necessary.
Black Panther: Wakanda Forever is the highly anticipated new film from Marvel's Cinematic Universe, set to hit theaters on November 11.
And fans are already getting excited about the movie's key characters. Shuri will undoubtedly be at the forefront of the action and steal the show.
Starting now, you can receive 10% off in-stock items with my special link at Entertainment Earth!
 Enjoy!
As an Amazon Associate I earn from qualifying purchases
Want more stuff like this?
Get the best viral stories straight into your inbox!
Don't worry, we don't spam