2022 NEW My Hero Academia – Shota Aizawa Funko Pop! and Tee
Funko Pop! Tees: My Hero Academia – Shota Aizawa Funko Pop! Vinyl Figure and Tee Bundle 
Available at:
Eraser Head's known for his stoic personality and serious demeanor, but he's also a skilled hero and a powerful teacher.
Now, his likeness has been immortalized in the form of this Funko Pop! Tees: My Hero Academia – Shota Aizawa Funko Pop! Vinyl Figure and Tee Bundle, depicting his classic blasé stare, which nullifies other quirks!
You can find the pop figure below (click to jump!)
Every good anime has that tired and badass sensei figure, right? Naruto has Kakashi; Dragon Ball has Piccolo and Beerus, and so on.
A phenomenon like My Hero Academia could not be left behind. This is how Aizawa Shota, better known as Eraser Head, one of the best characters in the series, emerges.
Shota Aizawa Funko Pop! and Tee is now available for pre-order at the links below (click to jump!)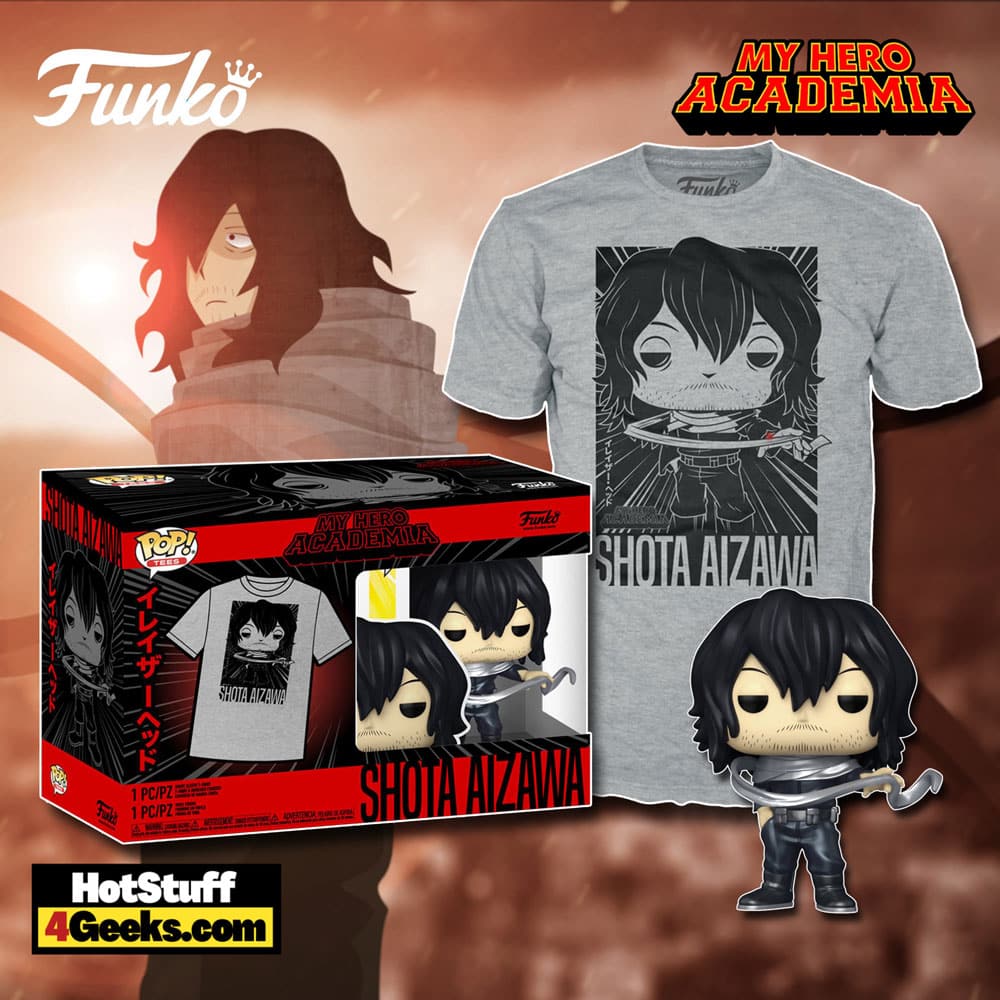 It was Present Mic who gave Aizawa the hero codename. Since school, the two have been best friends, and when Shota didn't choose a codename for himself, Hizashi thought of "Eraser Head" immediately.
Besides being connected to Aizawa's powers, the codename has a peculiar inspiration. The name comes from Eraserhead, David Lynch's first surrealistic horror film from 1977. It tells a bizarre story, in black and white, between dream sequences and hallucination.
When Aizawa activates his powers to the maximum, his hair starts to float and resembles the iconic hairstyle of Henry, the movie's protagonist.
The Eraser Head ability is one of the most useful and influential within the Boku No Hero universe. Although it has its limits, being able to cancel individuality in a society of individuality is pretty impressive, right?
Aizawa's "Erase" works through vision. He can cancel the ability of any individual who comes within his range of vision, even if they are far away.
However, the quirk is only active as long as he keeps his eyes open, meaning no blinking. The power also dries his eyes faster, so keeping it happening for a long time depends on Shota's own stamina.
This individuality erases any ability but those of mutant class individuals – when body modifications are the quirk. Aizawa's power also works in One For All and All For One.
Since Shota's individuality is not offensive, it depends on specific conditions to keep his eyes open longer and make him an easy target. He also relies on special equipment to fight.
Eraser Head's primary weapon is the "tissues" he always carries. They are made of steel fiber, cotton, and carbon fiber to be manipulated easily and work to grab and hold individuals.
As an Amazon Associate I earn from qualifying purchases
Funko Pop! Tees: My Hero Academia – Shota Aizawa Funko Pop! Vinyl Figure and Tee Bundle 
Available at:
Want more stuff like this?
Get the best viral stories straight into your inbox!
Don't worry, we don't spam