2023 NEW Demon Slayer – Shinobu Kocho Funko Pop! Exclusive
Say hello to your latest addition, the new Funko Pop! Animation: Demon Slayer – Shinobu Kocho Funko Pop! Vinyl Figure – Funko Shop Exclusive. Breathe in the mystery and intrigue this little vinyl encapsulates as it pays homage to one of Demon Slayer's most compelling characters. A high-flying Insect Hashira lands in the middle of your collection, her captivating persona immortalized in Funko style.
This Pop! will be released today at 9.30 AM PT! To get your hands on this Vinyl Figure at its launch, be sure to check out the links I've provided below – click to jump or scroll to continue reading!
Remember Shinobu's inspiring strength, tenacity, and paradoxically serene demeanor every time you glance her way.
Just like in the series, she seems to materialize from a cloud of ethereal purple butterflies, creating a burst of color and charm that enhances your set.
Even as a Funko Pop!, Shinobu retains her distinct enigma, alluding to her profound backstory and unique combat style.
Joining forces with Shinobu will add an air of unwavering resilience and innovation to your Demon Slayer: Kimetsu no Yaiba collection.
Let her remind you of the captivating world from which she hails and the intriguing narrative she contributes to.
Ultimately, it's not just a Funko Pop! but a testament to Shinobu Kocho's unforgettable journey.
The Funko Shop Exclusive Shinobu Kocho Funko Pop! can be found at the links below (click to jump!)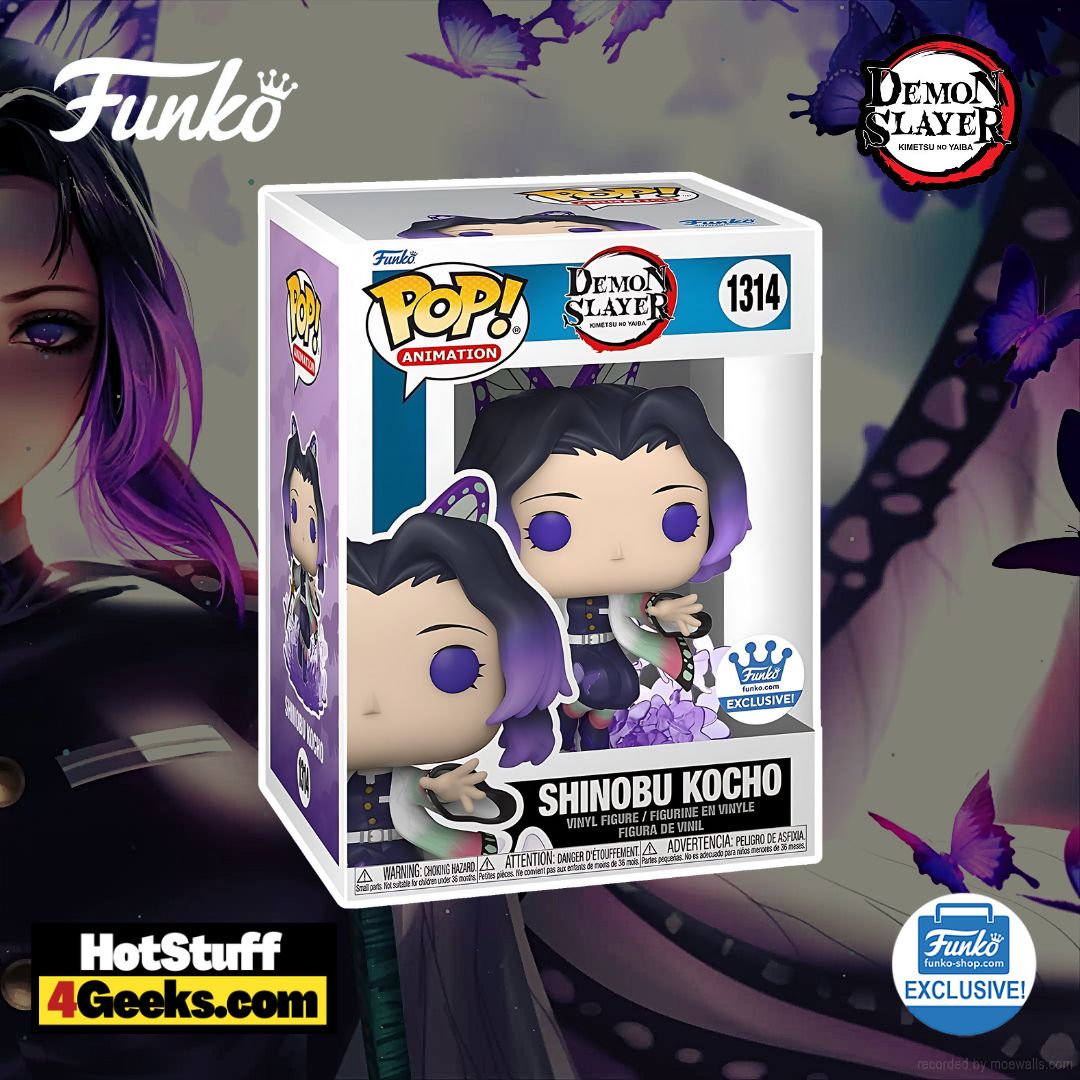 If you're a fan of Demon Slayer, you'll know that the Hashira are as enigmatic as they are powerful.
Among these formidable warriors, Shinobu Kocho, the Insect Hashira, is perhaps one of the most intriguing figures.
Her past, as haunting as it is heartbreaking, propels her into the harrowing world of demon slaying, creating an intricate tapestry that leaves us captivated and inspired.
Shinobu's life hasn't been short of pain.
The loss of her parents to demons, followed by the untimely demise of her older sister, Kanae, propelled her onto the path of a Demon Slayer.
But there's a certain resilience in Shinobu, a steadfastness that defies her dainty demeanor.
Her story is a testament to an unbowed spirit emerging victorious from the ashes of profound sorrow.
Yet, Shinobu isn't your typical demon-slaying machine. Her persona is a confluence of intriguing paradoxes.
She's always donned a pleasant smile, but beneath the surface, there's an undercurrent of seething rage toward demons.
Despite her yearning for peaceful coexistence, she is ruthless when confronting these adversaries.
Interestingly, her physical limitations ultimately define her unique fighting style.
Unlike her Hashira peers, Shinobu can't decapitate demons, a traditional demon-slaying method.
Undeterred, she innovates the distinct 'Insect Breathing' technique.
With wisteria-laced poison on her blade and a focus on swift, incisive strikes, she becomes an adversary to reckon with.
Shinobu is truly an embodiment of unyielding perseverance and ingenuity, interwoven with a touch of enigma.
She's a beacon, lighting up the dark world of Demon Slayer with her strength, kindness, and unwavering determination.
She remains an incredibly beloved character among the series' devoted fans for all these reasons and more.
Dive into the captivating world of Demon Slayer, and you'll undoubtedly be entranced by Shinobu Kocho's saga.
Funko Pop! Animation: Demon Slayer – Shinobu Kocho Funko Pop! Vinyl Figure – Funko Shop Exclusive
Available at:
Starting now, you can receive 10% off in-stock items with my special link at Entertainment Earth!
 Enjoy!
As an Amazon Associate I earn from qualifying purchases
Want more stuff like this?
Get the best viral stories straight into your inbox!
Don't worry, we don't spam