2023 NEW Indy & Henry Jones Sr. in Motorcycle Funko Pop! Moment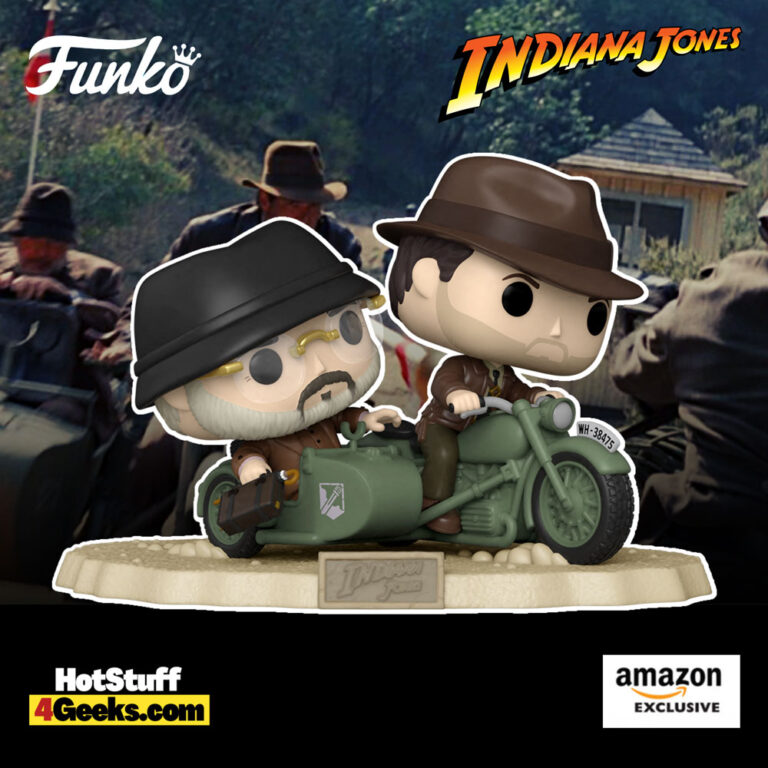 Rev up your engines and hold on to your fedoras because the latest addition to the Indiana Jones Funko Pop! collection is a wild ride! The Last Crusade's heart-pumping motorcycle chase between Indiana Jones and his dear old dad, Henry Jones Sr., has been immortalized in vinyl form with the new Funko Pop! Movies: Indiana Jones: The Last Crusade – Indiana Jones and Henry Jones Sr. in Motorcycle Chase Funko Pop! Movie Moment Vinyl Figure – Amazon Exclusive.
The pop figure is now available for pre-order at the links below – click to jump or scroll to continue reading!
The escapades of Indiana Jones are the stuff of legend, none more so than his daring escape from Castle Brunwald in Austria in 1938.
With Nazis, hot on their heels, Indiana and his father stumbled upon a motorbike with a sidecar in the castle's garage. They set off on a thrilling chase down a road on the border of Germany and Austria.
Despite encountering more Nazis along the way, the father-son duo managed to cause chaos and destruction, with vehicles either exploding or falling prey to their ingenious tactics.
The pivotal moment of this thrilling journey is when they encounter a final Nazi officer, and with a flagpole stuck into the wheel of his motorbike, they finally escape.
The motorbike then explodes, leaving fans on the edge of their seat, wondering what other perils Indiana Jones has yet to face.
An epic scene of bravery and heroism that fans can now relive with this impressive Funko Pop!
The Amazon Exclusive Indiana Jones and Henry Jones Sr. in Motorcycle Chase Funko Pop! Movie Moment is now available for pre-order at the links below (click to jump!)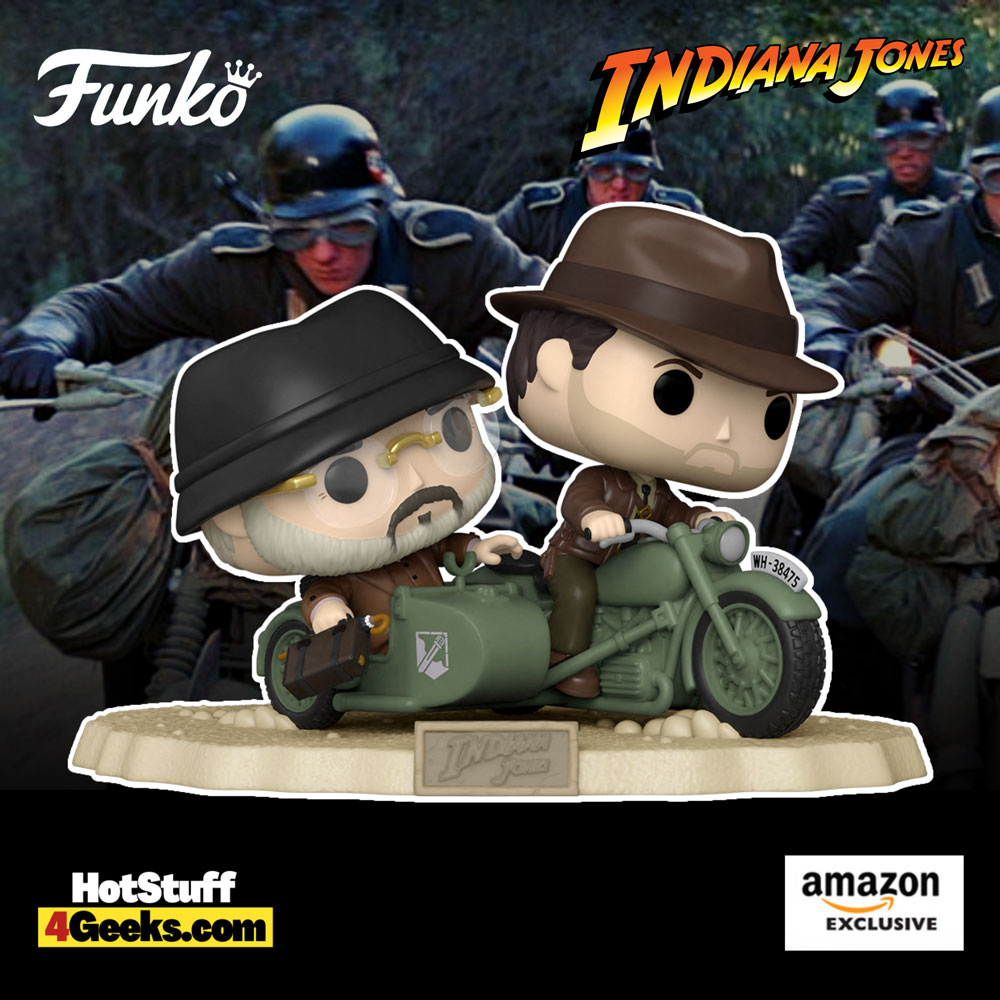 It's the year 1989, and the smell of popcorn fills the air as moviegoers eagerly await the return of the legendary archaeologist-adventurer Indiana Jones.
Little did we know, we were about to embark on an epic father-son quest leading to one of the most memorable and exhilarating scenes in cinematic history – the motorcycle chase in Indiana Jones and the Last Crusade.
Regarding family drama, Indiana Jones (played by Harrison Ford) and his father, Dr. Henry Jones Sr. (played by the late Sir Sean Connery), could give the Kardashians a run for their money.
But beneath the bickering and unresolved issues lies an unbreakable bond forged through shared passions and a mutual love for adventure.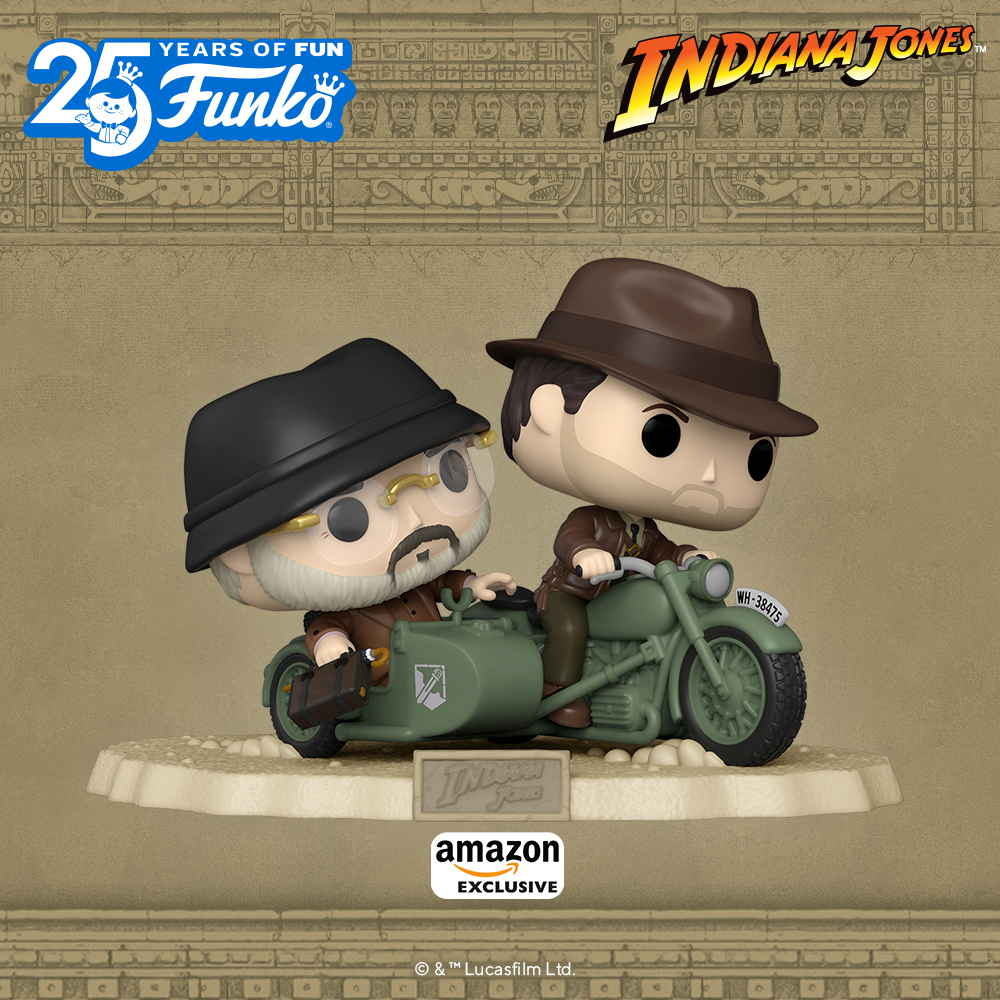 The stage is set when our heroes are forced to flee from the villainous Nazis, who are hot on their trail in pursuit of the Holy Grail.
The tense situation takes a wild turn when Indiana and Henry make a daring escape on a stolen motorcycle and sidecar, beginning an unforgettable chase.
As Indiana and Henry navigate the winding European countryside, they dodge bullets, outwit their adversaries, and bond over their love for adventure.
The scene is a masterclass in both practical and visual effects, with the camera zooming in on the tire-shredding action as the Jones duo skillfully evades their enemies.
The high-speed chase, which includes a few nail-biting moments, is punctuated by Henry Sr.'s witty one-liners and the unyielding determination of Indiana to protect his father at all costs.
Beyond the adrenaline-pumping action, the scene is crucial in developing Indiana and Henry's relationship.
Through danger and chaos, the two characters learn to appreciate each other's strengths and find common ground.
This iconic scene also showcases Spielberg's incredible ability to create action sequences that are not only visually stunning but also emotionally resonant.
It encapsulates the essence of the Indiana Jones franchise – a perfect blend of humor, heart, and high-stakes adventure.
Check out more Indiana Funko Pops! here.
Starting now, you can receive 10% off in-stock items with my special link at Entertainment Earth!
 Enjoy!
As an Amazon Associate I earn from qualifying purchases
Want more stuff like this?
Get the best viral stories straight into your inbox!
Don't worry, we don't spam