2023 NEW Invader Zim: Gir Eating Pizza Funko Pop!
Gir from Invader Zim – the weirdest, wildest, and most wonderful robot sidekick you'll ever meet. The new Funko Pop! Nickelodeon: Invader Zim: Gir Eating Pizza Funko Pop! Vinyl Figure – Hot Topic Exclusive captures this beloved alien as he happily chows down on some delicious pie.
The pop figure is now available for pre-order at the links below – click to jump or scroll to continue reading!
Gir is like a cross between a hyperactive puppy and a malfunctioning vacuum cleaner, and I love him for it!
Gir's got a few quirks, to say the least. For starters, he's always hungry. But, of course, I'm talking about an insatiable appetite for junk food that'll make your jaw drop.
Pizza, tacos, donuts, you name it – Gir will eat it faster than you can say "cholesterol."
If you're looking for a genuinely off-the-wall way to show your love of Invader Zim, look no further than the Gir Eating Pizza Funko Pop!
The Hot Topic Exclusive Gir Eating Pizza Funko Pop! is now available for pre-order at the links below (click to jump!)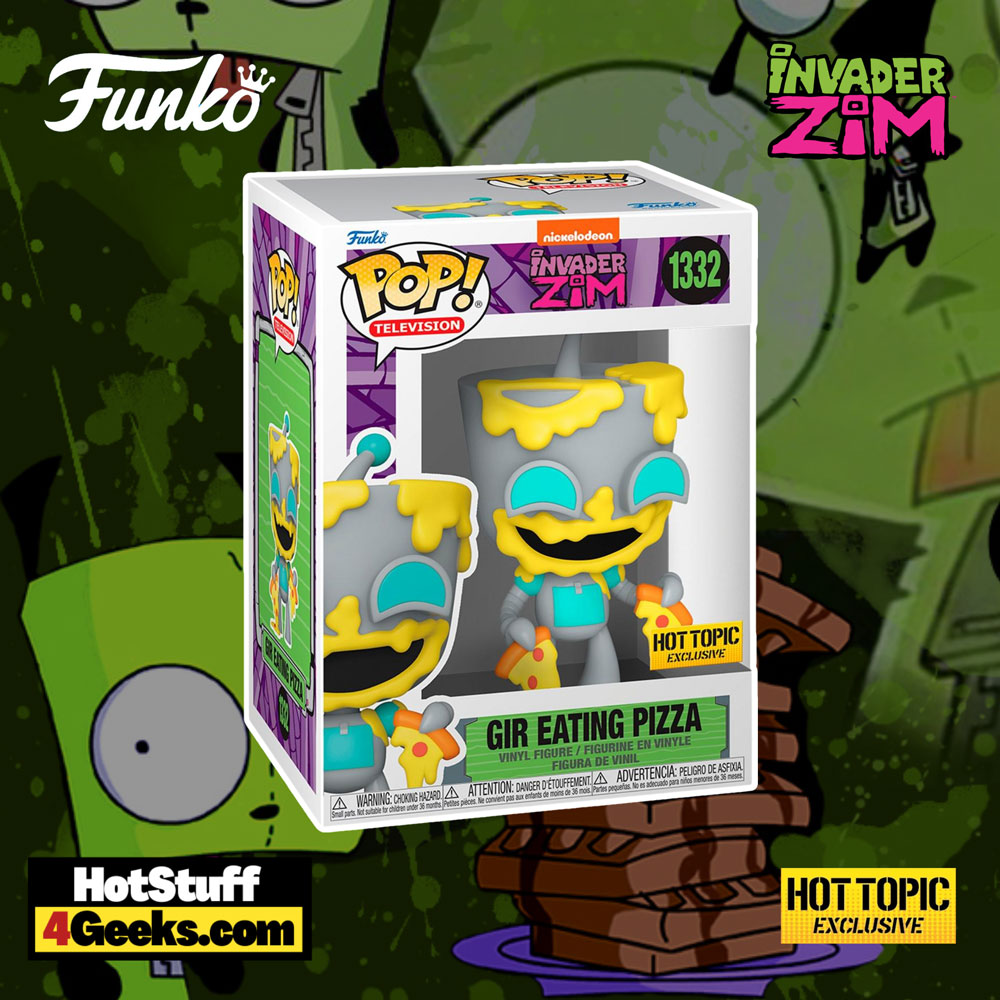 Gir is one of the most beloved cartoon sidekicks ever to grace TV screens.
This adorable yet chaotic little robot buddy stole hearts when he became part of Invader Zim's mission to take over the world, providing a hilarious counterplay to Zim's overly serious attitude with his own totally out-there antics.
Gir is one tough robot. He's got weapons galore, including a laser cannon, flamethrower, and missile launcher.
You do not want to mess with this guy, or you'll end up as toasted as one of his beloved pizzas.
Despite his chaotic and unpredictable behavior, Gir is incredibly loyal to his master, Zim.
He'll do anything to help Zim in his mission, even if it means causing a little (okay, a lot) of destruction along the way.
But that's what makes him so endearing – you can't help but love this robot.
And let's be honest, Gir is an icon in his own right.
He's become so popular that he's been featured in other shows and media, including video games and comic books.
Not bad for a robot with a severe junk food addiction!
Starting now, you can receive 10% off in-stock items with my special link at Entertainment Earth!
 Enjoy!
As an Amazon Associate I earn from qualifying purchases
Want more stuff like this?
Get the best viral stories straight into your inbox!
Don't worry, we don't spam