2022 NEW Spider-Woman Mattie Franklin Funko Pop! Exclusive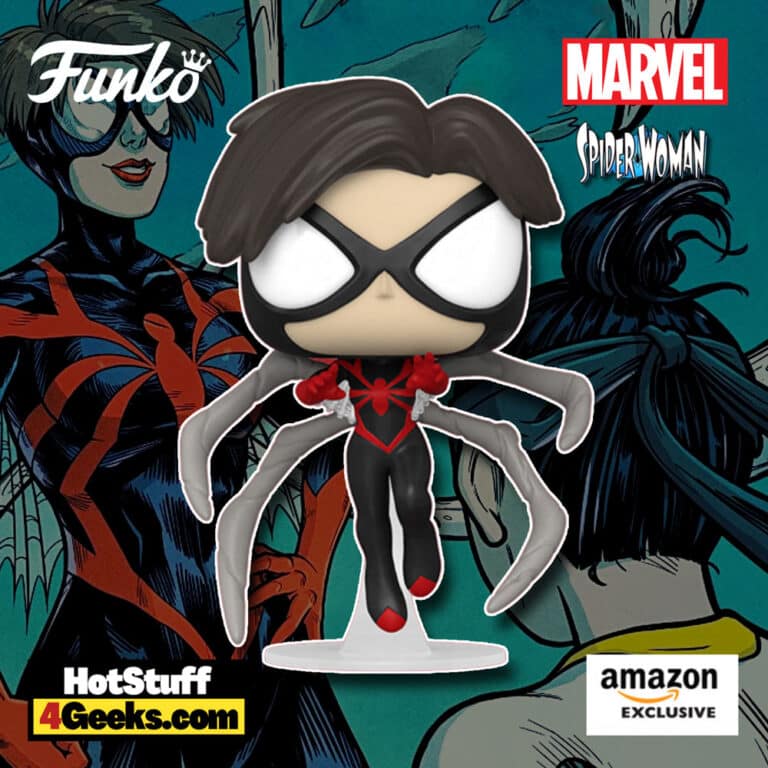 No matter which of Spider-Woman's many alter egos is your favorite; you'll love this Funko Pop! Marvel – Beyond Amazing Collection: Spider-Woman Mattie Franklin Funko Pop! Vinyl Figure – Amazon Exclusive.
This collectible Funko Pop features an alluring design with a sleek black outfit and red leather gloves. She's ready for anything – even if you're not quite sure what it might be yet…
The Amazon exclusive Spider-Woman Mattie Franklin Funko Pop! is now available for pre-order at the links below (click to jump!)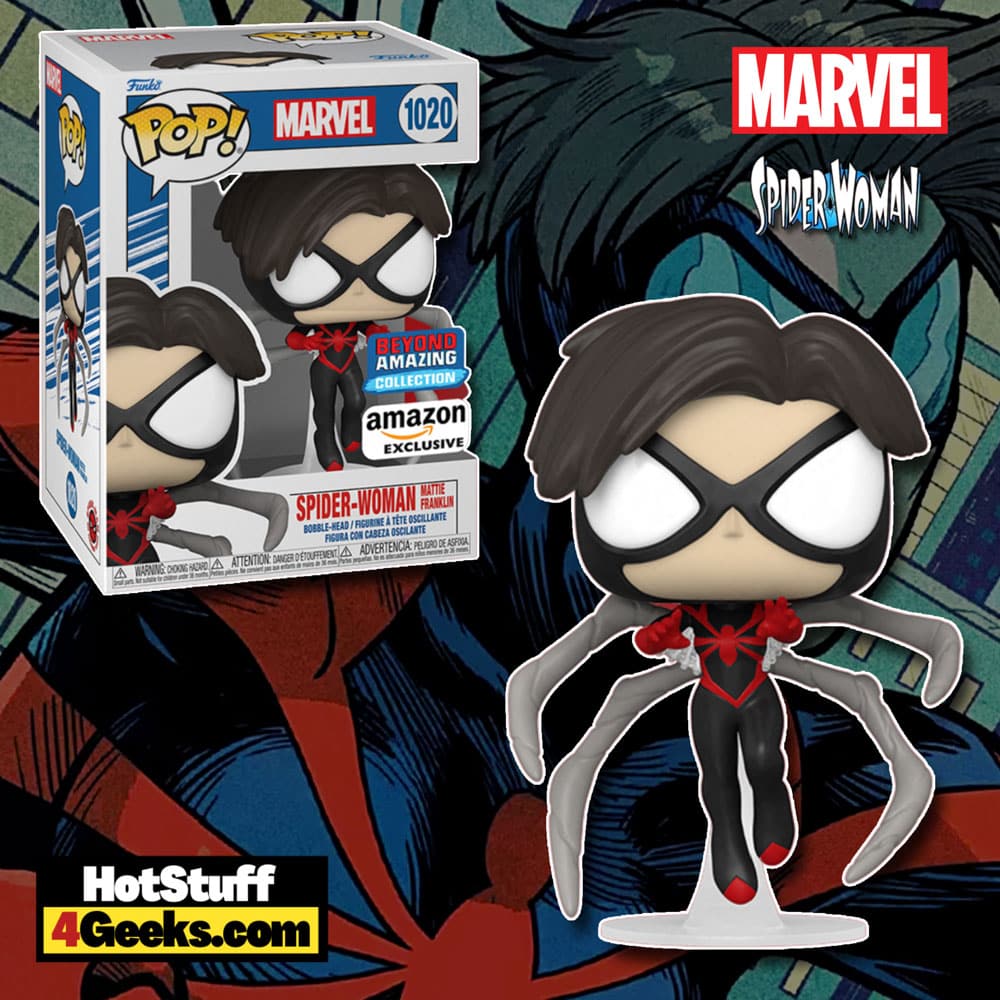 Mattie Franklin was subject to Norman Osborn's magical experiment at a young age. The Ritual left her with extraordinary powers. She then decided to use her powers the same way her role model (Spider-Man) did, becoming Spider-Woman!
Norman Osborn had just returned from the grave and decided to organize an arcane ritual called the Gathering of the Five, which was supposed to make him mega-powerful.
As the name suggests, the ritual required the presence of 5 participants: three would receive power, knowledge, or immortality, while the other two would risk being cursed with madness or death.
Jeremy Franklin, Osborn's former partner, declined the dangerous invitation, but Mattie, his teenage daughter of only 15, somehow managed to take his place.
Things went wrong, and Osborn would not get his coveted power, becoming even more insane and dangerous. However, Mattie had better luck and received superhuman abilities and the ability to fly.
Mattie was a big fan of Spider-Man, who had decided to retire from tights temporarily.
Wanting to use her powers for good and thus honor her idol, Mattie adopted the wall-crawler's identity.
She debuted (with a bad copy of Spidey's costume) in The Amazing Spider-Man vol. 2 #5 (1999).
However well-intentioned, the real Spider-Man had to come out of retirement and come to her rescue to prevent the young girl from dying in a fight against a powerful supervillain.
Despite this fact, Mattie decided to continue fighting crime and adopted the name Spider-Woman.
The young woman received the blessing of both the original Madame Web and Julia Carpenter, the previous Spider-Woman.
With these two women as mentors, Mattie got a solo series that would last only 18 issues. After its cancellation, anonymity and tragedy would follow.
Neglected by her single father, Mattie moved in with her aunt Marla, J. J Jameson's wife.
During the first series of Jessica Jones (Alias), we would discover that she had been kidnapped by a drug dealer who used her to manufacture MGH (Mutant Growth Hormone).
This powerful drug grants powers to humans and amplifies those of mutants and ex-mutants.
Fortunately, she was rescued by the two Jessicas (Drew and Jones) and began going to therapy, giving up her life as a superheroine forever.
Just when it seemed that poor Mattie might lead a quiet life away from the dangers of superheroic life, she was kidnapped by Sasha Kravinoff to be killed in a ritual sacrifice to bring her deceased son, Vladamir Kravinoff, back to life.
Subsequently, both Vladamir and Sasha would be killed by a resurrected Kraven. A cruel and sad farewell for a tormented character who never found his proper place within the arachnid universe.
Starting now, you can receive 10% off in-stock items with my special link at Entertainment Earth!
 Enjoy!
As an Amazon Associate I earn from qualifying purchases
Want more stuff like this?
Get the best viral stories straight into your inbox!
Don't worry, we don't spam