SDCC 2023: Tanjiro & Sakonji Urokodaki 2-Pack Funko Pops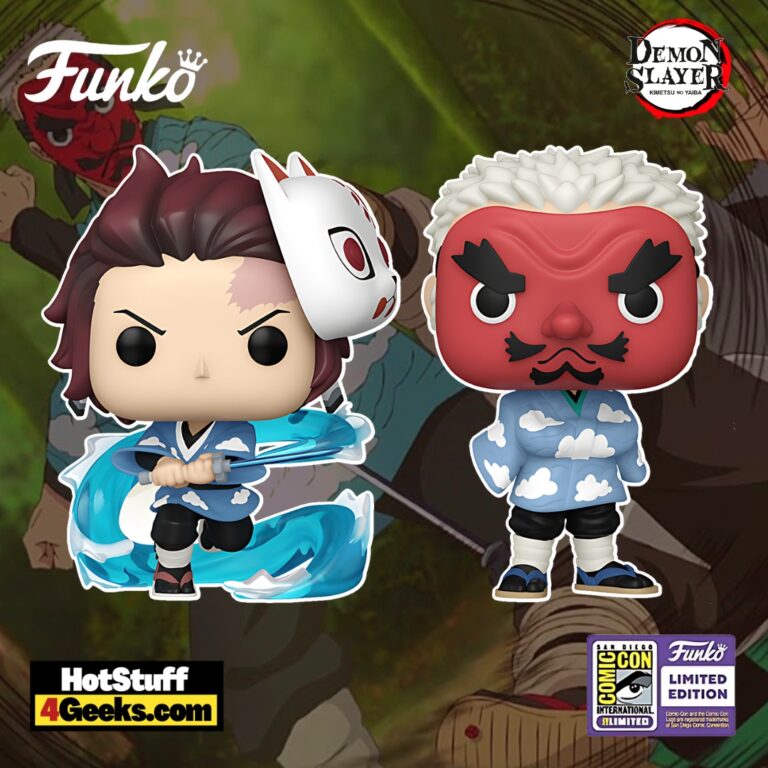 The new Funko POP! Demon Slayer– Tanjiro Kamado and Sakonji Urokodaki 2-pack Funko Pop! Vinyl Figures – SDCC 2023 and BoxLunch Shared Exclusive will be available online starting at 6 AM PT on Thursday, July 20, at the links below (click to jump!)
Unveiling the 2023 SDCC Exclusive: Funko POP! One Piece– Tanjiro Kamado and Sakonji Urokodaki
Get ready for an exclusive reveal from SDCC 2023 – a dynamic duo in the form of Funko Pop! Vinyl figures featuring the courageous Tanjiro Kamado and his wise mentor, Sakonji Urokodaki, from One Piece.
The Tanjiro Kamado Funko Pop! is a testament to his enduring spirit. His signature green-and-black checkered haori is flawlessly replicated, along with his unwavering gaze, a clear representation of his relentless determination to protect his sister and defeat demons.
In contrast, the Sakonji Urokodaki Funko Pop! encapsulates the aura of wisdom and discipline that he exudes.
His characteristic tengu mask and outfit are perfectly captured, lending the figure an air of mystery and depth synonymous with Urokodaki's character in the series.
This 2-pack set brilliantly commemorates the meaningful bond and the compelling narrative that intertwines Tanjiro and Urokodaki.
These figures don't just add value to a fan's collection but truly encapsulate the core of these special characters in a tangible form.
Anticipation is mounting, and we can't wait to welcome them into our collection.
The SDCC 2023 and BoxLunch Shared Exclusive Tanjiro Kamado and Sakonji Urokodaki 2-pack can be found at the links below as soon as the online sale begins (click to jump!)
Tanjiro and Urokodaki: A Tale of Mentorship and Resilience in Demon Slayer
When the world of anime is the topic of conversation, you'd be hard-pressed to find someone who hasn't heard about Demon Slayer.
Today, let's delve into the captivating bond between the protagonist, Tanjiro Kamado, and his mentor, Sakonji Urokodaki.
Starting his journey in the direst of circumstances, young Tanjiro finds himself thrust into a world of darkness and peril, tasked with the colossal responsibility of saving his sister, Nezuko, and avenging his family.
It's here, at the brink of despair, where Sakonji Urokodaki, a seasoned veteran of the Demon Slayer Corps, steps in.
Urokodaki, with his unyielding commitment to the Corps and years of demon-slaying experience, proves to be the guiding light Tanjiro needs.
But let's clarify: Urokodaki's, not your typical, nurturing mentor figure.
Oh no, he puts Tanjiro through a grueling regimen, pushing his physical and mental boundaries to their limits.
What emerges from this relentless training is not just a competent demon slayer but a hero of unyielding spirit.
But it's not just about the physical training. Urokodaki instills in Tanjiro the importance of understanding his foes.
He teaches that battling demons isn't just about brandishing a sword; it's about strategy, understanding their weaknesses, and controlling one's emotions.
In essence, Urokodaki equips Tanjiro with the tools to survive in a world teetering on the edge of darkness.
Urokodaki's relationship with Tanjiro goes beyond mentor and mentee.
He sees potential in the young man, witnessing a flame of determination that refuses to be snuffed out.
More than that, he admires Tanjiro's unwavering commitment to saving his sister Nezuko, who's turned into a demon.
Their bond showcases Urokodaki's capacity for compassion and understanding, even in a cruel world.
What makes this relationship more fascinating is Urokodaki's acceptance of Nezuko.
Despite being a demon, Nezuko's treated with kindness, mirroring Urokodaki's inherent belief that there's always room for redemption, even in the grimmest circumstances.
Urokodaki's mentorship of Tanjiro speaks volumes about the cyclical nature of knowledge and the importance of imparting wisdom to the younger generation.
He embodies the essence of 'passing the torch,' ensuring that the legacy of the Demon Slayer Corps remains unbroken.
In essence, the bond between Tanjiro and Urokodaki illustrates the compelling themes of mentorship, resilience, and sacrifice that run rampant throughout Demon Slayer.
Their tale is a testament to the power of unwavering determination and the bond formed through shared trials and tribulations.
They remind us that even in the darkest times, a mentor's guidance and the spirit of a determined disciple can ignite the most brilliant of lights.
Funko POP! Demon Slayer– Tanjiro Kamado and Sakonji Urokodaki 2-pack Funko Pop! Vinyl Figures – SDCC 2023 and BoxLunch Shared Exclusive
Available at:
Starting now, you can receive 10% off in-stock items with my special link at Entertainment Earth!
 Enjoy!
As an Amazon Associate I earn from qualifying purchases
Want more stuff like this?
Get the best viral stories straight into your inbox!
Don't worry, we don't spam