2023 NEW Mickey Mouse in Santa Outfit (Diamond) Funko Pop!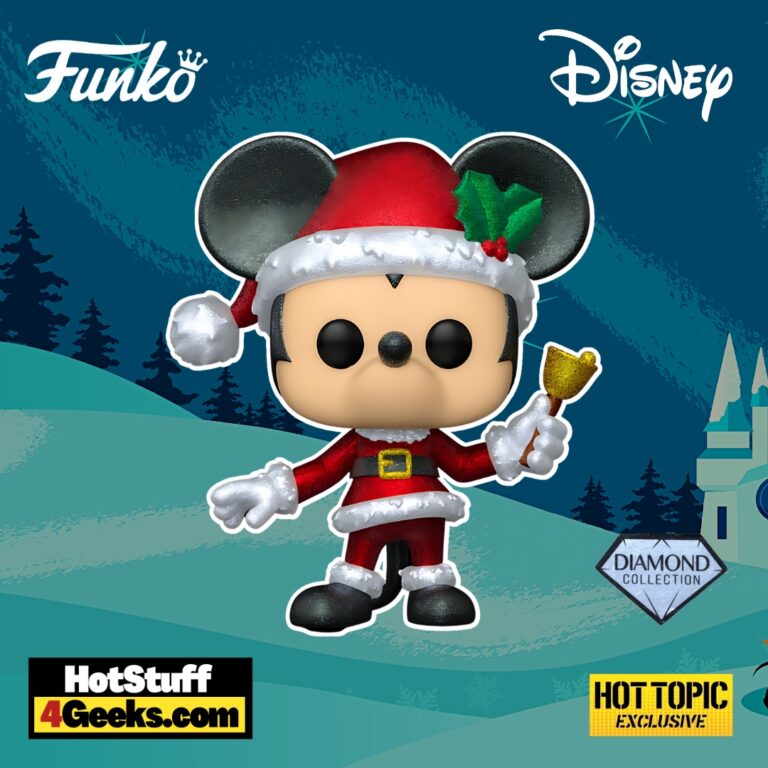 Just when you thought the holiday season couldn't get any more magical, a showstopper will make your spirits bright. Feast your eyes on the Funko Pop! Disney Holiday: Mickey Mouse in Santa Outfit (Diamond Glitter) Funko Pop! Vinyl Figure – Hot Topic Exclusive, a dazzling incarnation of everyone's favorite mouse that perfectly captures the essence of holiday cheer.
UPDATE: Now available for pre-order! To get your hands on this Pop Vinyl Figure, be sure to check out the links I've provided below – click to jump or scroll to continue reading!
Hold the holiday presses! Hot Topic has pulled a shiny new rabbit—or should we say, mouse—out of its hat.
It's none other than the Funko Pop! Disney Holiday: Mickey Mouse in Santa Outfit (Diamond Glitter) Vinyl Figure, exclusive to the Hot Topic lineup. Before you think, "Ah, another Mickey Mouse item," hold on a second.
This isn't your garden-variety Mickey. This is Mickey in all his holiday splendor, blinged from his iconic ears to his little red boots.
This piece captures the infectious spirit of Mickey, that indefinable 'je ne sais quoi' that has kept him alive in our hearts for generations.
Whether you're an ardent collector or a casual fan riding the Yuletide wave, this particular vinyl figure brings a splash of holiday enchantment that is uniquely Mickey.
A sparkling tribute to the mouse who started it all.
The Hot Topic Exclusive Mickey Mouse in Santa Outfit (Diamond Glitter) Funko Pop! can be found for order at the links below (click to jump!)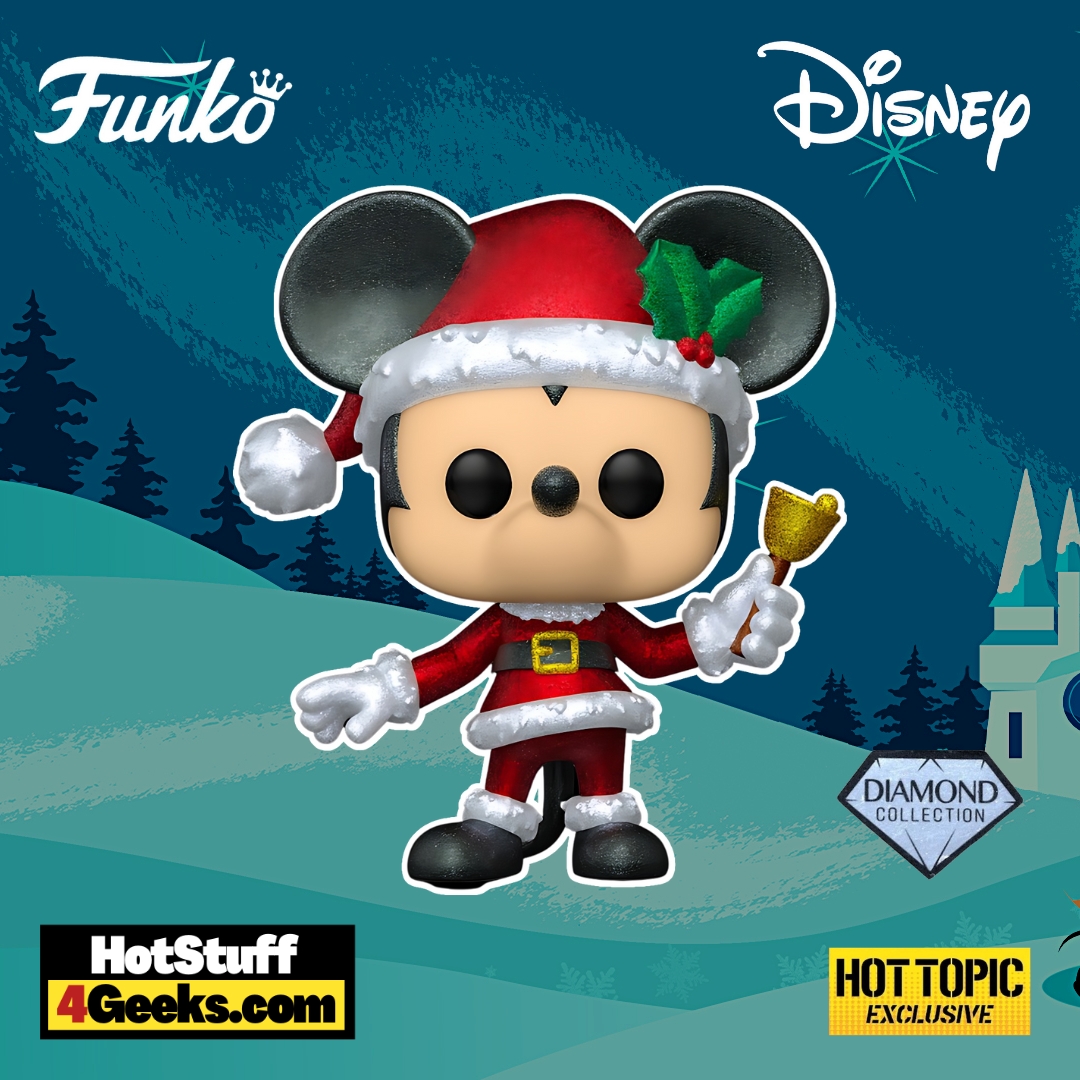 Unveiling the Enduring Magic Behind Mickey Mouse
Just uttering Mickey Mouse's name conjures memories of Sunday morning cartoons, theme park adventures, and that irresistible lineup of Disney merchandise.
Mickey's essence is more than just ink on a screen or pixels in a modern-day animation studio; he's a cultural phenomenon, a piece of Americana woven into the very fabric of our collective memory.
So what exactly is it that catapults this jolly rodent to eternal fame?
First up, let's talk about the art of the "sudden splash." In 1928, Mickey Mouse didn't just waltz onto the screen in "Steamboat Willie"; he burst into the world like a fireworks finale on the Fourth of July.
His debut didn't just break the mold; it obliterated it.
A cartoon character and his universe were brought to life with synchronized sound for the first time. It wasn't just a cartoon; it was a cinematic event
. Imagine the Beatles stepping onto American soil for the first time—that was Mickey Mouse for the world of animation.
Mickey also set the bar for, well, everything. If imitation is the sincerest form of flattery, Mickey must be blushing to Toontown.
This mouse was like the cool kid in school who rocked a fashion trend before it hit the department stores. Case in point? Sound and music in cartoons.
After Mickey did it, everybody had to have it.
But a character is more than just their trailblazing antics. It's about persona.
Think about this: if you see three circles arranged in a particular way, your brain screams, "Mickey!" before you can even blink.
His visual DNA is etched into our minds.
Yet, he's more than just a silhouette.
The character has been an enduring Good Samaritan in the world of animated chaos, a hero who doesn't need to don a cape to save the day.
And the laughs, let's not forget the laughs.
While he may not rival the slapstick clowns of the animation world, Mickey can serve up a comedic dish that tickles kids' funny bones and sends a knowing wink to adults. He's a jack-of-all-comedic-trades, if you will.
The sheer range of roles Mickey has adopted through the decades is dizzying.
From a steamboat captain to a wizard with a penchant for enchanted broomsticks, this mouse doesn't get typecast.
His enduring adaptability and design evolution only serve to make him more relevant.
He's like a fine wine, getting better with age and embracing the challenge of staying current without losing himself in the shuffle.
Lastly, it's impossible to talk about Mickey Mouse without acknowledging his superpower—the ability to make us all feel like kids again.
His charm, optimism, and can-do spirit are contagious.
Whether it's nostalgia or a new adventure you're after, Mickey delivers.
So here we are, over nine decades since his debut, still entranced by Mickey Mouse's magic.
How's that for staying power?
Starting now, you can receive 10% off in-stock items with my special link at Entertainment Earth!
 Enjoy!
As an Amazon Associate I earn from qualifying purchases
Want more stuff like this?
Get the best viral stories straight into your inbox!
Don't worry, we don't spam