2023 NEW Stranger Things: Max at Cemetery Funko Pop! Moment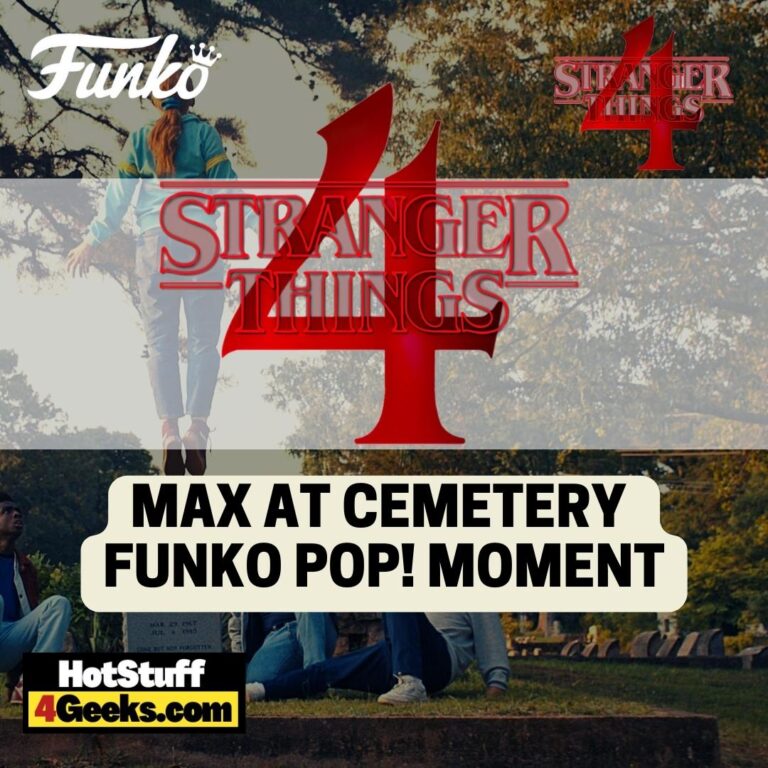 Not official until confirmed.
Introducing the remarkable Funko Pop! Television: Stranger Things Season 4: Max at Cemetery Funko Pop! Deluxe Moment Vinyl Figure – Exclusive (2023 release). It is a captivating collectible that promises to immerse fans into the enigmatic and eerie world of Hawkins once again. This exclusive piece is not just a testament to the show's intricacy and depth. Still, it also beautifully encapsulates a pivotal moment from season 4, allowing fans to relive Max's iconic cemetery scene.
To get your hands on this Pop Moment Vinyl Figure at its release, be sure to check out the links I've provided below – click to jump or scroll to continue reading!
From Screen to Shelf: Max's Cemetery Exclusive Funko Pop! Unveiled
There's fresh excitement buzzing in the collectible realm, and it's about the exclusive release of Stranger Things Season 4: Max at Cemetery Funko Pop! Deluxe Moment Vinyl Figure.
Nestled in the vast sea of pop culture icons, this gem dazzles with intricate detailing and sharpness, bringing Max's memorable cemetery scene to vivid life.
But what really steals the spotlight is the impeccable artistry. Every curve, color gradient, and emotion has been captured, making it an enchanting representation of the iconic Stranger Things moment.
What sets it apart isn't just its authenticity to the series but the layers of depth the vinyl figure offers. With her intense gaze and dynamic pose, Max is more than a simple rendition.
The piece transports fans right back to that eerie, atmospheric episode, amplifying the nostalgia tenfold.
For ardent admirers, it's not merely an addition to the collection, but a piece of Hawkins' magic encased in vinyl.
The Exclusive Max at Cemetery Funko Pop! Moment is coming soon. I'll update more information in the long run. Check the pre-order availability at the links below (click to jump!)
Stranger Things 4's Crown Jewel: The Max Cemetery Scene
There are some moments in television history that become iconic, taking viewers by storm and etching into their memory forever.
The Max Cemetery Scene in Stranger Things 4 is one of those masterpieces, and I'm here to make a case for it.
With its delicious '80s nostalgia and supernatural shenanigans, Stranger Things has provided audiences with many standout sequences.
But this season, amidst the synth beats and neon lights, there's a particular scene that's nothing short of mesmerizing.
Why, you ask? The sheer emotional rawness of it all. Max, a character we've known and loved, is caught in an enthralling psychological confrontation with Vecna in the Upside Down.
It's a tangible face-off with grief and guilt. And while the Upside Down has its own menacing charm, the poignant melody of Kate Bush's "Running Up That Hill" amplifies the tension and the turmoil.
That song isn't merely background noise—it's a key player, acting as Max's lifeline.
But here's the thing: It's not just about the music or the eerie setting. It's also about the familiar faces that we, as viewers, have grown attached to.
Max's friends, those ever-resilient kids from Hawkins, Indiana, are right there with her.
Their relentless effort to save her, their belief in the bond they share, their sheer refusal to give up—it's all a testament to the indomitable human spirit.
To friendship. To hope.
Now, every captivating scene needs a villain, and Vecna fits the bill perfectly.
He taunts Max using the image of her deceased stepbrother Billy, preying on her deepest fears and insecurities.
The portrayal of Vecna manipulating Max's emotions, exploiting her survivor's guilt, and echoing potential suicidal feelings is both gut-wrenching and chilling.
And yet, it's in this bleakness that the brilliance shines through. The sequence stands out not because it's dark but because of the contrasting glimmers of hope.
Max, in the throes of her pain and terror, finds solace in her memories—dancing with Lucas, laughing with Eleven, and being a regular teenager.
It's a powerful reminder of life's brighter moments, even in the face of overwhelming darkness.
Some might argue it's the Upside Down's spooky aesthetic, or Vecna's menacing aura, that makes the scene so compelling.
But for me, it's all about Max. This isn't just about external threats.
It's a deep dive into the internal battles of a young girl faced with grief, loneliness, and the weight of her emotions.
The scene offers an insightful look into mental health struggles—without explicitly labeling them.
It resonates with anyone who's faced their own demons, reminding us of the importance of connection and the strength we derive from those we love.
The Max Cemetery Scene, with its raw emotion, stunning visuals, and powerful storytelling, is truly in a league of its own. It's the crown jewel of a stellar season.
And while we eagerly await what the Duffer brothers have in store for us next, this scene will undoubtedly remain a standout for years to come.
Funko Pop! Television: Stranger Things Season 4: Max at Cemetery Funko Pop! Deluxe Moment Vinyl Figure – Exclusive (2023 release)
Available at (soon):
As an Amazon Associate I earn from qualifying purchases
Want more stuff like this?
Get the best viral stories straight into your inbox!
Don't worry, we don't spam