2023 NEW Boruto with Chakra Blade Funko Pop! AAA Exclusive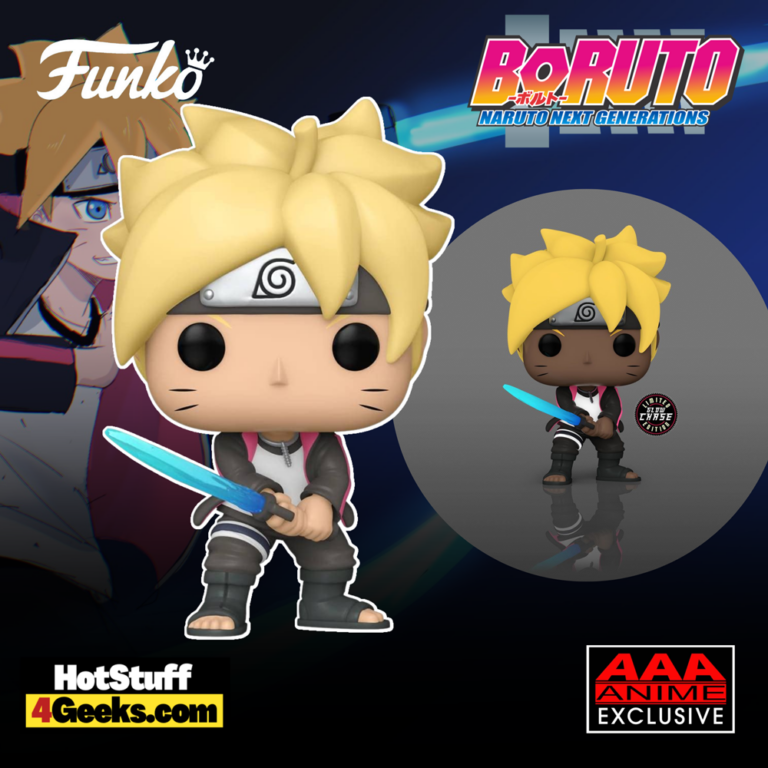 A long time ago, in a galaxy far, far away…oh wait. Wrong universe. Let me start again. Have you heard the news? The new Funko Pop! Boruto: Naruto Next Generation –  Boruto with Chakra Blade with Glow-In-The-Dark (GITD) Chase Funko Pop! Vinyl Figure – AAA Anime Exclusive is here! That's right. Our favorite ninja has upgraded to a Chakra Saber. It's like Boruto's been taking lessons from a Jedi or something!
The pop figure is now available for pre-order at the links below – click to jump or scroll to continue reading!
What do you get when you combine Naruto's electrifying world with a lightsaber's futuristic elegance? A force to be reckoned with: The Chakra Blade!
But don't worry. This isn't your average Jedi mind trick – I'm talking about a whole new level of ninja awesomeness.
For those uninitiated, chakra is the vital energy that flows within every living being in the Naruto universe.
Ninjas can tap into their chakra to perform extraordinary feats, from walking on water to summoning gigantic creatures.
It's like the lifeblood of a ninja's power and is about to get much cooler.
Imagine harnessing the raw power of chakra and wielding it like a sword.
That's precisely what the Chakra Blade is all about! This jaw-dropping weapon combines the cutting-edge technology of a saber with the boundless energy of chakra.
The result? A weapon that's not only stylish but packs a serious punch.
And this Pop! is loaded with enough chakra to power a small village.
So, if you're a fan of the Naruto franchise or just love collecting funky-looking Pop!, this one is worth adding to your collection.
Get ready for some extreme ninja action, my friends!
The AAA Anime Exclusive Boruto with Chakra Blade with Glow Chase Funko Pop! is now available for pre-order at the links below (click to jump!)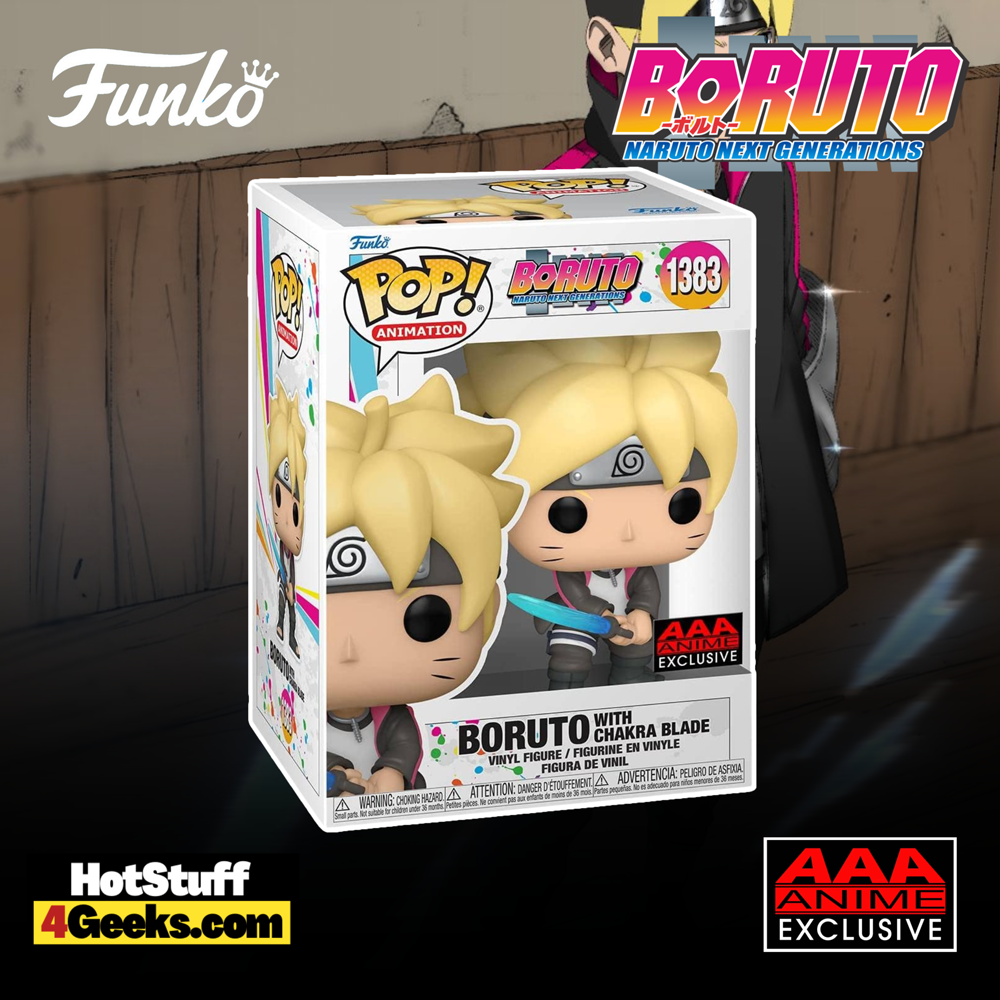 In a fantastic collision of universes, imagine the incredible powers of Naruto's chakra blades meeting the awe-inspiring prowess of Star Wars lightsabers.
Though these two worlds may seem unrelated at first glance, there's a surprising similarity between their powerful, energy-based weapons.
While lightsabers have become synonymous with Star Wars, chakra blades are more enigmatic in the Naruto universe.
First appearing in chapter #119, the initial chakra blades were crafted from unique metals that enabled users like Asuma Sarutobi to infuse their chakra into the weapon.
These enhanced blades boast exceptional sharpness and durability compared to ordinary weapons.
Fast forward to chapter #18 of Boruto, where the Special Ninja Weapons group unveiled a new generation of chakra blades.
This advanced design closely resembled the lightsaber, featuring a hilt that emitted a radiant energy blade when activated.
Lightsabers are powered by an intense energy source modulated by Kyber crystals.
While they're impressive on their own, the force-sensitive wielder truly elevates their capabilities.
A skilled Force user harnesses the lightsaber's versatility for offense, defense, and practical applications in ways few other handheld weapons can match.
In contrast, chakra blades draw power from the user's chakra reserves.
These potent weapons essentially become an extension of the user's chakra, allowing their strength to be directly influenced by the wielder's abilities.
The chakra blade's destructive potential is extraordinary for someone like Naruto, blessed with immense chakra reserves.
Even for those with lesser reserves, honing their jutsu skills can significantly enhance the chakra blade's power.
However, this formidable weapon comes with a caveat: wielding it drains the user's chakra, necessitating rest and recovery.
Check more Boruto pops:
Funko Pop! Boruto: Naruto Next Generation –  Boruto with Chakra Blade with Glow-In-The-Dark Chase Funko Pop! Vinyl Figure – AAA Anime Exclusive
Available at:
Starting now, you can receive 10% off in-stock items with my special link at Entertainment Earth!
 Enjoy!
As an Amazon Associate I earn from qualifying purchases
Want more stuff like this?
Get the best viral stories straight into your inbox!
Don't worry, we don't spam