2022 NEW Moon Knight With Weapon Funko Pop! Exclusive
Marc Specter is your average guy. Until, of course, a mighty deity calls upon him for help and he dons the mantle of the Moon Knight.
Now, if you can't get enough of this supernatural story, you can keep him at your side in all his avatar action.
This Funko Pop! Marvel Studios: Moon Knight – Moon Knight With Weapon Funko Pop! Vinyl Figure – Funko Shop Exclusive shows off the cloak, the cowl, and all of his adventurous antics.
You can find this pop figure below (click to jump!)
Even within the Marvel Universe, Moon Knight is a bit of an enigma.
Moon Knight is a confusing guy, even for a superhero. He's a vigilante with multiple personalities, each with its own fighting style and area of expertise.
Maybe that's why he's such a good fighter – he's got an army of people inside his head all trying to take control. It must be pretty chaotic in there.
But despite all his baggage, Moon Knight is still a hero, and he's even managed to get his own TV series.
So whether you're an avid fan of the comics or just looking for a fun new addition to your collection, this figure is sure to please.
The exclusive Moon Knight With Weapon Funko Pop! is dropping today at 9.30 AM PT and can be found at the links below (click to jump!)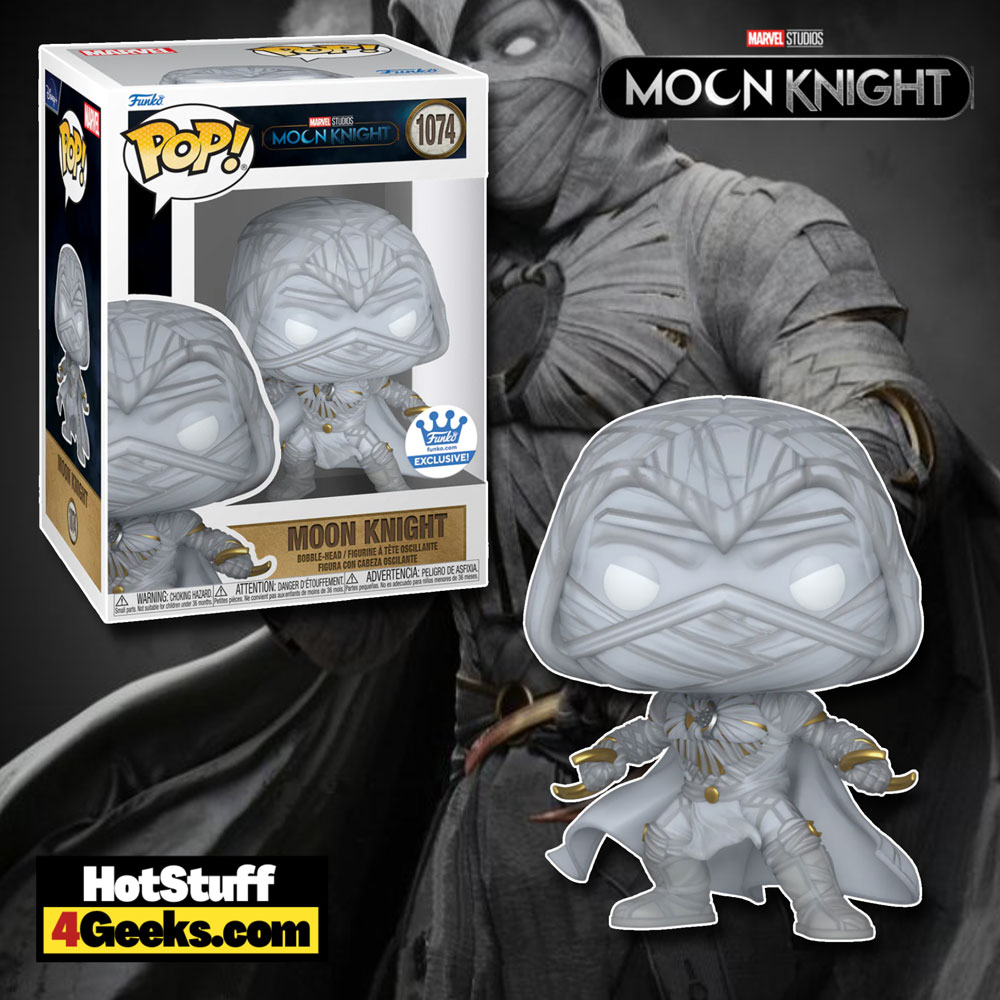 Moon Knight is a vigilante from the Marvel comics universe who first appeared in 1974.
A former Marine, he now fights crime using the powers granted to him by the Egyptian god Khonshu.
He is known for his erratic behavior and his tendency to use excessive force, which has led some to label him as a vigilante.
He is distinguished from other vigilantes by using multiple identities, which he uses to confuse his enemies and gain the upper hand in combat.
Moon Knight is also notable for his dedication to justice, which is often borderline obsessive.
In addition, he is an expert martial artist and has access to advanced technology, making him a formidable opponent for even the most powerful villains.
His unique relationship with Khonshu gives him a unique perspective on justice, which he uses extensively in his battle against evil.
Despite his many strengths, Moon Knight is often plagued by self-doubt and mental instability, making him one of the most complex and interesting characters in the Marvel Universe.
Check out more Moon Knight pops here.
Funko Pop! Marvel Studios: Moon Knight – Moon Knight With Weapon Funko Pop! Vinyl Figure – Funko Shop Exclusive
Available at:
Starting now, you can receive 10% off in-stock items with my special link at Entertainment Earth!
 Enjoy!
As an Amazon Associate I earn from qualifying purchases
Want more stuff like this?
Get the best viral stories straight into your inbox!
Don't worry, we don't spam