The Force Fizzes: 2023 NEW Ahsoka TV Series Funko Sodas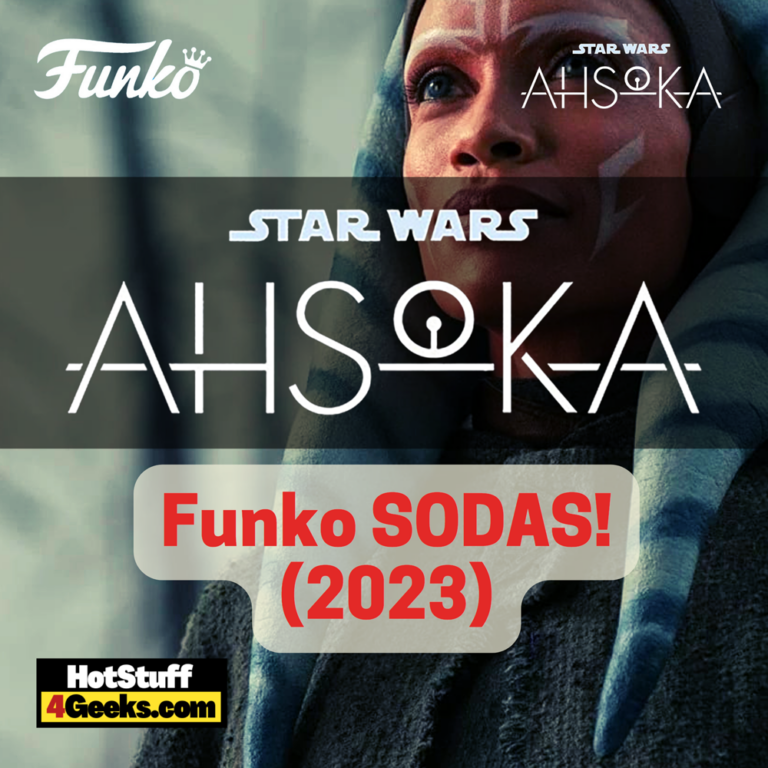 Not official until confirmed.
Unleash your inner Jedi with the coolest collectible in the galaxy. Say hello to the ultimate collectible for Ahsoka Tano fans – introducing the Star Wars: Ahsoka Funko Sodas, the perfect blend of Star Wars charm and fizzy fun!
As Ahsoka Tano leaps into the limelight with her own TV series on Disney+, fans are fizzing with excitement, and the collectibles market is bubbling over.
Enter Ahsoka Funko Sodas, a refreshing addition to any fan's memorabilia that packs a carbonated punch of nostalgia with a twist.
Inspired by the groundbreaking new series, these effervescent figurines give Ahsoka enthusiasts a chance to toast to her enthralling adventures.
Like a can of pop that's been shaken up and is ready to explode, these Ahsoka Funko Sodas burst onto the scene with perplexing detail and contagious enthusiasm.
Each collectible can hold the potential to uncover a chase variant, ensuring that the quest for the ultimate Ahsoka collection is as exhilarating as her on-screen escapades.
So here's the Ahsoka Funko Sodas list for this release:
Ahsoka Funko Soda Vinyl Figure
Anakin Funko Soda Vinyl Figure
Obi-Wan Funko Soda Vinyl Figure
Padme Funko Soda Vinyl Figure
Captain Rex Funko Soda Vinyl Figure
Mace Windu Funko Soda Vinyl Figure
Darth Maul Funko Soda Vinyl Figure
Cad Bane Funko Soda Vinyl Figure
Asaji Ventrus Funko Soda Vinyl Figure – Specialty Series Exclusive
Star Wars: Ahsoka Funko Soda Vinyl Figures are an unconfirmed release. It is only official when or if Funko announces it. I'll update more information in the long run.

In the vast galaxy of Star Wars characters, Ahsoka Tano shines like a supernova.
Introduced in the 2008 animated film Star Wars: The Clone Wars, Ahsoka quickly captured the hearts of fans with her wit, courage, and unwavering loyalty.
As a Padawan under the tutelage of Anakin Skywalker, Ahsoka played an integral role in the Clone Wars, and her story has since expanded through various mediums.
Today, we'll take a thrilling hyperspace journey to explore Ahsoka's fascinating character arc, her unforgettable battles, and her indelible mark on the Star Wars universe.
From humble beginnings as a youngling plucked from her home planet of Shili, Ahsoka's path was destined for greatness.
As the Padawan of the Chosen One himself, Ahsoka quickly demonstrated that she could hold her own with the best of the Jedi Order.
Her unique dual-wielding lightsaber style, featuring a shorter shoto saber, left her adversaries quaking in their space boots.
Ahsoka's keen wit and adaptability were evident in her ability to outsmart her opponents and escape from even the trickiest of situations.
Her uncanny talent for resourcefulness was matched only by her trademark snark, making her a character who could banter with the best of them.
The Clone Wars saw Ahsoka grow from a headstrong and impulsive Padawan to a skilled and insightful Jedi.
However, her world was turned upside-down when she was framed for a bombing at the Jedi Temple.
Though eventually exonerated, Ahsoka's faith in the Order was shattered, leading her to forge her own path as a rogue Force-wielder.
Ahsoka Tano's journey has spanned multiple TV series, novels, and even a live-action appearance in The Mandalorian.
Through it all, she has remained a beacon of hope, integrity, and resilience. Ahsoka's steadfast refusal to give in to despair or the dark side serves as an inspiration to us all.
Ahsoka Tano's enduring appeal lies in her incredible character development, her legendary battles, and her unwavering commitment to justice.
As a fan-favorite heroine, Ahsoka has proven that she can stand toe-to-toe with the likes of Luke Skywalker and Rey in the hearts of Star Wars enthusiasts.
It's no secret that Ahsoka Tano has become a beacon of hope and resilience for Star Wars aficionados everywhere.
So, it's only natural that her new adventure inspires a bubbly burst of collectible goodness.
These effervescent Funko Sodas boast a perplexing amount of detail, celebrating our beloved heroine with each enchanting incarnation.
So, grab your lightsabers, hop into your X-wing, and let your excitement for these tantalizing Sodas soar higher than a Mandalorian on a jetpack.
May the fizz be with you!
Starting now, you can receive 10% off in-stock items with my special link at Entertainment Earth!
 Enjoy!
As an Amazon Associate I earn from qualifying purchases
Want more stuff like this?
Get the best viral stories straight into your inbox!
Don't worry, we don't spam