2022 NEW Demon Slayer Funko Pops! - Wave 2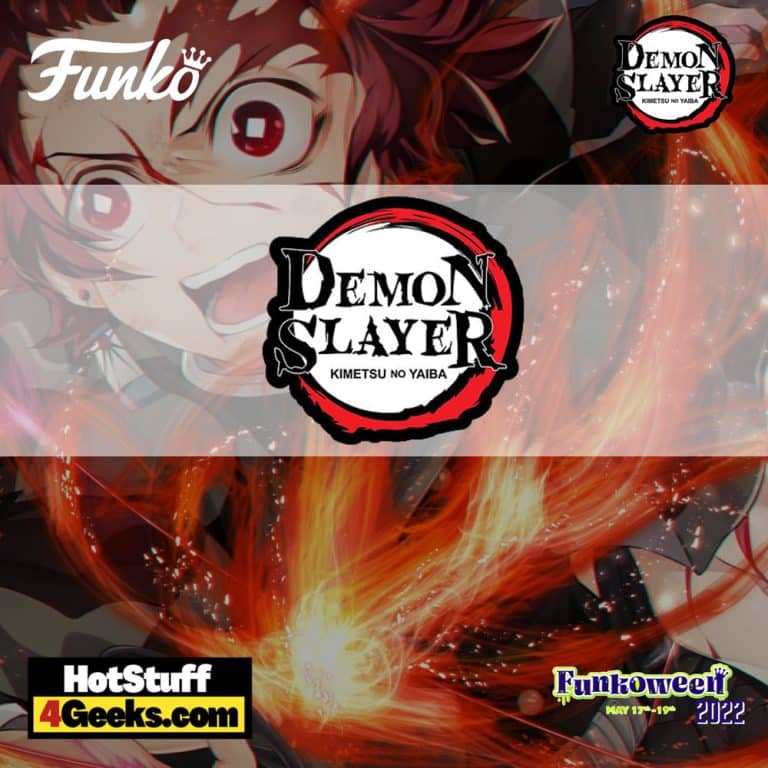 Not official until confirmed.
Demon Slayer fans are especially happy in 2022, as Funko is delivering a new full wave of Demon Slayer Funko Pops based on the popular anime series. Announced during the 2021 Funkoween reveals, the initial Funko Pop Demon Slayer set was quite massive for a first wave. And now wave 2 from Funkoween 2022 is quite huge as well.
Now that the Demon Slayer: Kimetsu no Yaiba's second season is over, we are left with a mixture of nostalgia and a feeling that this was the best season so far, which makes us even more excited for the third season that has already been confirmed!
The official announcement specified that season 3 adapts the Swordsmith Village arc, a chronological sequence of season 2.
Fans are already anxious to know what's next! But while we're waiting for what's to come, Funko presents us with new Demon Slayer pop figures. Fortunately!
Here's the breakdown for Demon Slayer Wave 2:
Demon Slayer – Tanjiro Eating Noodles Funko Pop! Vinyl Figure
Demon Slayer – Rui Funko Pop! Vinyl Figure
Demon Slayer – Kanao Funko Pop! Vinyl Figure
Demon Slayer – Mitsuri Funko Pop! Vinyl Figure
Demon Slayer – Sabito Funko Pop! Vinyl Figure
Demon Slayer – Tanjiro and Nezuko 2-Pack Funko Pop! Vinyl Figures
Demon Slayer – Rengoku (In Flames) Funko Pop! Vinyl Figure
Demon Slayer – Akaza Funko Pop! Vinyl Figure
Demon Slayer – Enmu Funko Pop! Vinyl Figure
Demon Slayer Funko Pop! wave 2 is an unconfirmed release. It is only official when or if Funko announces it. I'll update more information in the long run.

Since the release of its manga in 2016 and the anime adaptation in 2019, Demon Slayer by Koyoharu Gotouge has become a vast and growing success.
The anime has 2 seasons so far, all available on Netflix, Crunchyroll, and Funimation.
The series stands out for its beautiful animation and charismatic characters. However, the narrative follows the basic manual of the anime style: an unlikely young man on a journey full of overcoming to become a hero, who meets companions and improves his skills.
But if you have never heard of it and are curious about what Demon Slayer is, I have prepared a summary to explain everything about this work that could become the next fever on the level of Knights of the Zodiac or Dragon Ball. Check it out!
The narrative of Demon Slayer is set in Japan in the early 20th century. It shows the story of Tanjiro Kamado, a gentle young man who one day discovers that demons have murdered his family. He then decides to become a Demon Slayer to avenge his family and help his sister Nezuko, the only survivor of the attack who is turning into a demon.
Surprisingly, Nezuko still shows signs of human emotions and thoughts. So the two of them set off on a journey across Japan to put an end to the demons and help prevent others from suffering from the same tragedy that struck their family.
But of course, no one becomes a demon hunter overnight. Tanjiro will have to undergo tough training to enter a secret society of hunters that have been waging war against demons for centuries.
While training, Tanjiro discovers that demons are actually humans, feed on other people to become stronger, and possess supernatural abilities such as super strength, magic, and regeneration. He can only kill a demon by being beheaded with weapons made of a special alloy, injected with high doses of poison extracted from wisteria flowers, or exposed to sunlight.
On the other hand, the hunters are fully human but use special breathing techniques that give them more incredible speed, strength, and endurance to face the powerful demons.
Funko Pop! Animation: Demon Slayer Wave 2
Starting now, you can receive 10% off in-stock items and free shipping on $39+ orders with my special link at Entertainment Earth!
You can also use CODE: 4geeks anytime. Enjoy!
As an Amazon Associate I earn from qualifying purchases
Want more stuff like this?
Get the best viral stories straight into your inbox!
Don't worry, we don't spam